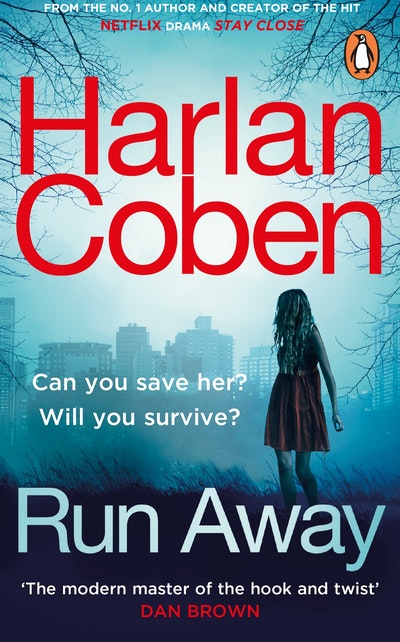 Published:

6 August 2019

ISBN:

9781784751173

Imprint:

Arrow

Format:

Paperback

Pages:

384

RRP:

$22.99
Run Away
from the #1 bestselling creator of the hit Netflix series The Stranger
---
---
---
The brilliant new thriller from the international bestselling author described by Dan Brown as 'the modern master of the hook and twist'.

From the #1 bestselling author and creator of hit Netflix series THE STRANGER
"Run Away confirms one of the world's finest thriller writers is at the very top of his game." PETER JAMES
"Coben never, ever lets you down - but this one is really special." LEE CHILD
______________________
YOUR DAUGHTER IS MISSING.
YOU'LL RISK ANYTHING TO FIND HER.
And then you see her, frightened and clearly in trouble.
You approach her, beg her to come home.
SHE RUNS.
You follow her into a dark, dangerous world where no-one is safe and murder is commonplace.
NOW IT'S YOUR LIFE ON THE LINE...
______________________
"The modern master of the hook and twist" DAN BROWN
"A twisty thriller that'll keep you up way past any sensible lights out time" HEAT
"Wonderful ... yet another winner" RICHARD OSMAN
"The king of twisty thrillers returns. This is worth turning off your phone for!" CLOSER
"[Coben's] writing and storytelling are firing on all cylinders and the seemingly straightforward tale takes a sharp turn when it's least expected" DAILY MAIL"Run Away is Harlan Coben at the height of his narrative mastery... as a thriller it's a narcotic... unmissable." SHOTS MAGAZINE
"The award-winning Coben once again gets his hook into you and twists to keep you snared." RTE GUIDE
"Few of Harlan Coben's thrillers are anything less than gripping, but every now and again he writes one that exceeds his own high standards. Run Away is one." THE TIMES ONLINE
"A twisty, disturbing and poignant thriller" WOMAN
Published:

6 August 2019

ISBN:

9781784751173

Imprint:

Arrow

Format:

Paperback

Pages:

384

RRP:

$22.99
A twisty thriller that'll keep you up way past any sensible lights out time *****.

Heat
Run Away confirms one of the world's finest thriller writers is at the very top of his game.

Peter James
Coben never, ever lets you down – but this one is really special.

Lee Child
The plot is stuffed with spicy, sharply observed characters and snappy exchanges.

Sunday Times
With Run Away, Coben's writing and storytelling are firing on all cylinders.

Daily Mail
A true master of the twisty thriller

Heat
Few of Harlan Coben's thrillers are anything less than gripping, but every now and again he writes one that exceeds his own high standards. Run Away is one.

The Times
Wonderful ... yet another winner

Richard Osman
An edge of your seat read from the bestselling crime writer

Bella
Run Away is Harlan Coben at the height of his narrative mastery... as a thriller it's a narcotic... unmissable.

Shots Magazine
A twisty and disturbing thriller.

Woman's Weekly
I stayed up all night and read it in one pass

Elizabeth Hurley
The master of the unexpected twist is back with a page-turning thriller that never goes quite where you expect.

Event Magazine
Another polished pacy thriller with a smart plot and a strong emotional core from Coben one of the absolute masters of the art.

The People
The award-winning Coben once again gets his hook into you and twists to keep you snared.

RTE Guide
In Harlan Coben's compulsive thrillers, every step the protagonists take to try to get themselves out of trouble creates two new dangers, each worse than the one before

Morning Star Online
A twisty, disturbing and poignant thriller

Woman
Coben's USP is how families are torn apart by secrets. He is a clever plotter, too, always pulling the rug from under your feet, even – as here – on the last page.

The Sun
Another perfect domestic thriller from Harlan Coben, who makes the art of the thrill and suspense look so deceptively easy…

Crimetime