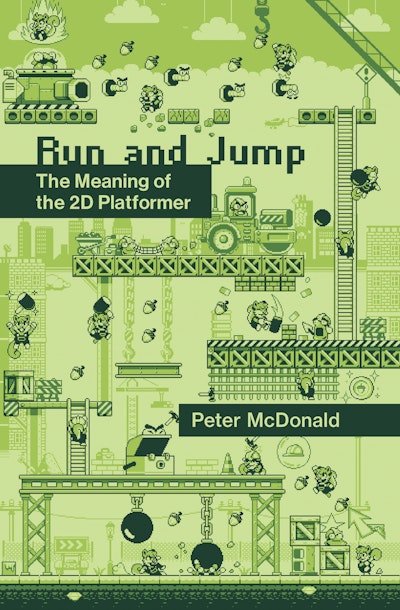 Published:

12 March 2024

ISBN:

9780262547390

Imprint:

MIT Press Academic

Format:

Paperback

Pages:

192

RRP:

$79.99
Run and Jump
The Meaning of the 2D Platformer
---
---
How abstract design decisions in 2D platform games create rich worlds of meaning for players.
Since the 1980s, 2D platform games have captivated their audiences. Whether the player scrambles up the ladders in Donkey Kong or leaps atop an impossibly tall pipe in Super Mario Bros., this deceptively simple visual language has persisted in our cultural imagination of video games. In Run and Jump, Peter McDonald surveys the legacy of 2D platform games and examines how abstract and formal design choices have kept players playing. McDonald argues that there is a rich layer of meaning underneath, say, the quality of an avatar's movement, the pacing and rhythm of level design, the personalities expressed by different enemies, and the emotion elicited by collecting a coin.
To understand these games, McDonald draws on technical discussions by game designers as well as theoretical work about the nature of signs from structuralist semiotics. Interspersed throughout are design exercises that show how critical interpretation can become a tool for game designers to communicate with their players. With examples drawn from over forty years of game history, and from games made by artists, hobbyists, iconic designers, and industry studios, Run and Jump presents a comprehensive—and engaging—vision of this slice of game history.
Published:

12 March 2024

ISBN:

9780262547390

Imprint:

MIT Press Academic

Format:

Paperback

Pages:

192

RRP:

$79.99