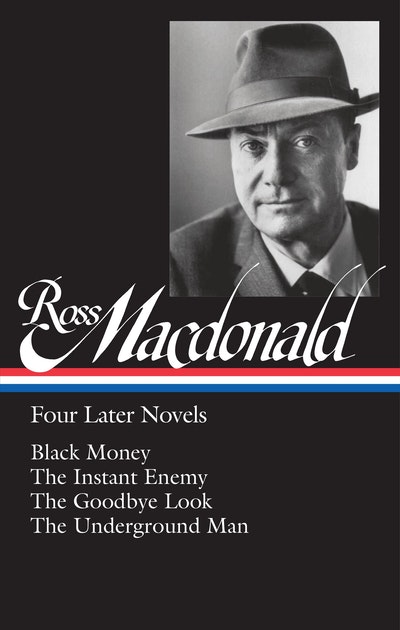 Published:

15 July 2017

ISBN:

9781598535341

Imprint:

Library of America

Format:

Hardback

Pages:

908

RRP:

$69.99
Ross Macdonald
Four Novels Of The 1950s
---
---
---
The Library of America caps its three-volume edition of the writer who stands with Hammett and Chandler as a master of the modern crime novel
From his vantage point in Southern California—and through the eyes of his great creation, private eye Lew Archer—Ross Macdonald (the pseudonymn of Kenneth Millar) fashions a haunting, startlingly immediate vision of modern America: a swirling mix of sexual exploitation, intergenerational conflict, racial animosities, and ecological disaster.
In Black Money, Archer is hired to find a wealthy man gone missing and soon finds himself investigating a suspicious seven-year-old suicide. The case becomes a peeling away of many levels of deception, delusion, and false identity. Exploring themes of immigration and border-crossing central to Macdonald's own life, Black Money also pays homage to The Great Gatsby, one of his favorite books.
The Instant Enemy begins with Archer's search for a runaway teenage daughter and her troubled, possibly murderous boyfriend, a search that uncovers a morass of hidden wrongs. In an emotionally intense work that reflects the chaos and conflicts of his family's troubled past, Macdonald gives indelible and ultimately tragic expression to the generational conflict and drug culture of the DJHCs.
An investigation into "a rather peculiar burglary" takes a drastic turn with the discovery of a body in an abandoned car on a beach in The Goodbye Look, the book that sealed Macdonald's reputation as the preeminent crime novelist of his time. Tracking a stolen heirloom, Archer follows a trail of violence that lays bare a miasma of buried secrets and unforgotten traumas.
"In our day," wrote Eudora Welty, "it is for such a novel as The Underground Man that the detective form exists." A raging wildfire stirred by the Santa Ana winds serves as prelude to a chain of kidnapping and murder. Youthful rebellion is pitted against the hypocrisies of the older generation in a novel, in Welty's estimation, "not only exhilaratingly well done; it is also very moving."
LIBRARY OF AMERICA is an independent nonprofit cultural organization founded in 1979 to preserve our nation's literary heritage by publishing, and keeping permanently in print, America's best and most significant writing. The Library of America series includes more than 300 volumes to date, authoritative editions that average 1,000 pages in length, feature cloth covers, sewn bindings, and ribbon markers, and are printed on premium acid-free paper that will last for centuries.
Published:

15 July 2017

ISBN:

9781598535341

Imprint:

Library of America

Format:

Hardback

Pages:

908

RRP:

$69.99