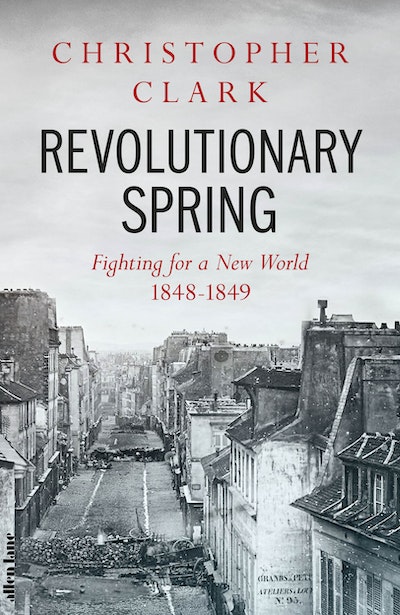 Published:

1 August 2023

ISBN:

9780241347669

Imprint:

Allen Lane

Format:

Hardback

Pages:

896

RRP:

$75.00
Revolutionary Spring
Fighting for a New World 1848-1849
---
---
---
An exhilarating reappraisal of one of the most dramatic years in European history
'People embraced each other, shook hands, joy radiated from every eye, there was no limit to the celebrations . . .'
There can be few more exciting or frightening moments in European history than the spring of 1848. Almost as if by magic, in city after city, from Palermo to Paris to Venice, huge crowds gathered, sometimes peaceful and sometimes violent, and the political order that had held sway since the defeat of Napoleon simply collapsed.
Christopher Clark's spectacular new book recreates with verve, wit and insight this extraordinary period. Some rulers gave up at once, others fought bitterly, but everywhere new politicians, beliefs and expectations surged forward. The role of women in society, the end of slavery, the right to work, national independence and the final emancipation of the Jews all became live issues.
In a brilliant series of set-pieces, Clark conjures up both this ferment of new ideas and then the increasingly ruthless and effective series of counter-attacks launched by regimes who still turned out to have many cards to play. But even in defeat, exiles spread the ideas of 1848 around the world and - for better and sometimes much worse - a new and very different Europe emerged from the wreckage.
Published:

1 August 2023

ISBN:

9780241347669

Imprint:

Allen Lane

Format:

Hardback

Pages:

896

RRP:

$75.00
Praise for Revolutionary Spring
Exhilarating, heroic, horrifying and tragic, the events of the mid-19th century in Europe invite a good retelling ... Christopher Clark's new book is, arguably, the best to date ... deeply researched, rich, engaging and though-provoking. There is now no better place to turn for readers who want to immerse themselves in this period and to reflect on how it resonates today.

Mike Rapport, Literary Review
Exhilarating, heroic, horrifying and tragic, the events of the mid-19th century in Europe invite a good retelling ... Christopher Clark's new book is, arguably, the best to date ... deeply researched, rich, engaging and though-provoking. There is now no better place to turn for readers who want to immerse themselves in this period and to reflect on how it resonates today.

Mike Rapport, Literary Review
Exhilarating, heroic, horrifying and tragic, the events of the mid-19th century in Europe invite a good retelling ... Christopher Clark's new book is, arguably, the best to date ... deeply researched, rich, engaging and though-provoking. There is now no better place to turn for readers who want to immerse themselves in this period and to reflect on how it resonates today.

Mike Rapport, Literary Review
Exhilarating, heroic, horrifying and tragic, the events of the mid-19th century in Europe invite a good retelling ... Christopher Clark's new book is, arguably, the best to date ... deeply researched, rich, engaging and though-provoking. There is now no better place to turn for readers who want to immerse themselves in this period and to reflect on how it resonates today.

Mike Rapport, Literary Review
Exhilarating, heroic, horrifying and tragic, the events of the mid-19th century in Europe invite a good retelling ... Christopher Clark's new book is, arguably, the best to date ... deeply researched, rich, engaging and though-provoking. There is now no better place to turn for readers who want to immerse themselves in this period and to reflect on how it resonates today.

Mike Rapport, Literary Review
Exhilarating, heroic, horrifying and tragic, the events of the mid-19th century in Europe invite a good retelling ... Christopher Clark's new book is, arguably, the best to date ... deeply researched, rich, engaging and though-provoking. There is now no better place to turn for readers who want to immerse themselves in this period and to reflect on how it resonates today.

Mike Rapport, Literary Review
An engrossing dissection of a revolutionary year in European society.

The Independent
An engrossing dissection of a revolutionary year in European society.

The Independent
An engrossing dissection of a revolutionary year in European society.

The Independent
An engrossing dissection of a revolutionary year in European society.

The Independent
An engrossing dissection of a revolutionary year in European society.

The Independent
An engrossing dissection of a revolutionary year in European society.

The Independent
Refreshingly original... it's fascinating, suspenseful, revelatory, alive. Familiar characters are given vibrancy and previously unknown players emerge from the shadows.. Clark's prose is beautiful but also crystal clear

Gerard de Groot, The Times
Refreshingly original... it's fascinating, suspenseful, revelatory, alive. Familiar characters are given vibrancy and previously unknown players emerge from the shadows.. Clark's prose is beautiful but also crystal clear

Gerard de Groot, The Times
Refreshingly original... it's fascinating, suspenseful, revelatory, alive. Familiar characters are given vibrancy and previously unknown players emerge from the shadows.. Clark's prose is beautiful but also crystal clear

Gerard de Groot, The Times
Refreshingly original... it's fascinating, suspenseful, revelatory, alive. Familiar characters are given vibrancy and previously unknown players emerge from the shadows.. Clark's prose is beautiful but also crystal clear

Gerard de Groot, The Times
Refreshingly original... it's fascinating, suspenseful, revelatory, alive. Familiar characters are given vibrancy and previously unknown players emerge from the shadows.. Clark's prose is beautiful but also crystal clear

Gerard de Groot, The Times
Refreshingly original... it's fascinating, suspenseful, revelatory, alive. Familiar characters are given vibrancy and previously unknown players emerge from the shadows.. Clark's prose is beautiful but also crystal clear

Gerard de Groot, The Times
Magnificent, authoritative and deeply-researched... a supreme work of scholarship.

Simon Heffer, The Telegraph
Magnificent, authoritative and deeply-researched... a supreme work of scholarship.

Simon Heffer, The Telegraph
Magnificent, authoritative and deeply-researched... a supreme work of scholarship.

Simon Heffer, The Telegraph
Magnificent, authoritative and deeply-researched... a supreme work of scholarship.

Simon Heffer, The Telegraph
Magnificent, authoritative and deeply-researched... a supreme work of scholarship.

Simon Heffer, The Telegraph
Magnificent, authoritative and deeply-researched... a supreme work of scholarship.

Simon Heffer, The Telegraph
Full of characters, colour and story, but also makes the arresting case that the revolutions ... changed Europe and the world in ways felt to this day... the history teacher you wished you'd had.

Jonathan Freedland, Daily Mail
Full of characters, colour and story, but also makes the arresting case that the revolutions ... changed Europe and the world in ways felt to this day... the history teacher you wished you'd had.

Jonathan Freedland, Daily Mail
Full of characters, colour and story, but also makes the arresting case that the revolutions ... changed Europe and the world in ways felt to this day... the history teacher you wished you'd had.

Jonathan Freedland, Daily Mail
Full of characters, colour and story, but also makes the arresting case that the revolutions ... changed Europe and the world in ways felt to this day... the history teacher you wished you'd had.

Jonathan Freedland, Daily Mail
Full of characters, colour and story, but also makes the arresting case that the revolutions ... changed Europe and the world in ways felt to this day... the history teacher you wished you'd had.

Jonathan Freedland, Daily Mail
Full of characters, colour and story, but also makes the arresting case that the revolutions ... changed Europe and the world in ways felt to this day... the history teacher you wished you'd had.

Jonathan Freedland, Daily Mail
Magnificent... does a remarkable job weaving together the myriad strands that make up the narrative, allowing us to see the events in granular detail and with synoptic, Europe-wide vision.

Kenan Malik, Observer
Magnificent... does a remarkable job weaving together the myriad strands that make up the narrative, allowing us to see the events in granular detail and with synoptic, Europe-wide vision.

Kenan Malik, Observer
Magnificent... does a remarkable job weaving together the myriad strands that make up the narrative, allowing us to see the events in granular detail and with synoptic, Europe-wide vision.

Kenan Malik, Observer
Magnificent... does a remarkable job weaving together the myriad strands that make up the narrative, allowing us to see the events in granular detail and with synoptic, Europe-wide vision.

Kenan Malik, Observer
Magnificent... does a remarkable job weaving together the myriad strands that make up the narrative, allowing us to see the events in granular detail and with synoptic, Europe-wide vision.

Kenan Malik, Observer
Magnificent... does a remarkable job weaving together the myriad strands that make up the narrative, allowing us to see the events in granular detail and with synoptic, Europe-wide vision.

Kenan Malik, Observer
Clark has achieved the impossible: a synoptic history of a subject which defies synopsis... this is history on an epic scale... a masterpiece and one of the best history books you will read this decade.

Jonathan Boff, History Today
Clark has achieved the impossible: a synoptic history of a subject which defies synopsis... this is history on an epic scale... a masterpiece and one of the best history books you will read this decade.

Jonathan Boff, History Today
Clark has achieved the impossible: a synoptic history of a subject which defies synopsis... this is history on an epic scale... a masterpiece and one of the best history books you will read this decade.

Jonathan Boff, History Today
Clark has achieved the impossible: a synoptic history of a subject which defies synopsis... this is history on an epic scale... a masterpiece and one of the best history books you will read this decade.

Jonathan Boff, History Today
Clark has achieved the impossible: a synoptic history of a subject which defies synopsis... this is history on an epic scale... a masterpiece and one of the best history books you will read this decade.

Jonathan Boff, History Today
Clark has achieved the impossible: a synoptic history of a subject which defies synopsis... this is history on an epic scale... a masterpiece and one of the best history books you will read this decade.

Jonathan Boff, History Today
Thrills with unexpected energy ... this is narrative history in the grand style ... superb.

Abigail Green, Times Literary Supplement
Thrills with unexpected energy ... this is narrative history in the grand style ... superb.

Abigail Green, Times Literary Supplement
Thrills with unexpected energy ... this is narrative history in the grand style ... superb.

Abigail Green, Times Literary Supplement
Thrills with unexpected energy ... this is narrative history in the grand style ... superb.

Abigail Green, Times Literary Supplement
Thrills with unexpected energy ... this is narrative history in the grand style ... superb.

Abigail Green, Times Literary Supplement
Thrills with unexpected energy ... this is narrative history in the grand style ... superb.

Abigail Green, Times Literary Supplement
A marvel of research and analysis. No corner of Europe, from the Ukrainian borderlands to the Greek islands, escapes his gaze.. a titanic monument to historical scholarship.

Dominic Sandbrook, Sunday Times
A marvel of research and analysis. No corner of Europe, from the Ukrainian borderlands to the Greek islands, escapes his gaze.. a titanic monument to historical scholarship.

Dominic Sandbrook, Sunday Times
A marvel of research and analysis. No corner of Europe, from the Ukrainian borderlands to the Greek islands, escapes his gaze.. a titanic monument to historical scholarship.

Dominic Sandbrook, Sunday Times
A marvel of research and analysis. No corner of Europe, from the Ukrainian borderlands to the Greek islands, escapes his gaze.. a titanic monument to historical scholarship.

Dominic Sandbrook, Sunday Times
A marvel of research and analysis. No corner of Europe, from the Ukrainian borderlands to the Greek islands, escapes his gaze.. a titanic monument to historical scholarship.

Dominic Sandbrook, Sunday Times
A marvel of research and analysis. No corner of Europe, from the Ukrainian borderlands to the Greek islands, escapes his gaze.. a titanic monument to historical scholarship.

Dominic Sandbrook, Sunday Times
Scintillating ... [a] magnificent chronicle of the events leading up to and beyond 1848 ... he tackles the complexity by giving sufficient space to the often thrilling stories of every uprising.

Economist
Scintillating ... [a] magnificent chronicle of the events leading up to and beyond 1848 ... he tackles the complexity by giving sufficient space to the often thrilling stories of every uprising.

Economist
Scintillating ... [a] magnificent chronicle of the events leading up to and beyond 1848 ... he tackles the complexity by giving sufficient space to the often thrilling stories of every uprising.

Economist
Scintillating ... [a] magnificent chronicle of the events leading up to and beyond 1848 ... he tackles the complexity by giving sufficient space to the often thrilling stories of every uprising.

Economist
Scintillating ... [a] magnificent chronicle of the events leading up to and beyond 1848 ... he tackles the complexity by giving sufficient space to the often thrilling stories of every uprising.

Economist
Scintillating ... [a] magnificent chronicle of the events leading up to and beyond 1848 ... he tackles the complexity by giving sufficient space to the often thrilling stories of every uprising.

Economist
Magnificent ... Sophisticated analysis and beautiful prose ... The author vividly depicts a Europe grasping toward the future.

Michael F. Bishop, Wall Street Journal
Magnificent ... Sophisticated analysis and beautiful prose ... The author vividly depicts a Europe grasping toward the future.

Michael F. Bishop, Wall Street Journal
Magnificent ... Sophisticated analysis and beautiful prose ... The author vividly depicts a Europe grasping toward the future.

Michael F. Bishop, Wall Street Journal
Magnificent ... Sophisticated analysis and beautiful prose ... The author vividly depicts a Europe grasping toward the future.

Michael F. Bishop, Wall Street Journal
Magnificent ... Sophisticated analysis and beautiful prose ... The author vividly depicts a Europe grasping toward the future.

Michael F. Bishop, Wall Street Journal
Magnificent ... Sophisticated analysis and beautiful prose ... The author vividly depicts a Europe grasping toward the future.

Michael F. Bishop, Wall Street Journal
Combines over-arching analysis and explanation with a ground-level reporter's skill at narrating events and capturing character with vividness and compassion … a historian working at the height of his powers.

Michael Ignatieff, CEU Review of Books
Combines over-arching analysis and explanation with a ground-level reporter's skill at narrating events and capturing character with vividness and compassion … a historian working at the height of his powers.

Michael Ignatieff, CEU Review of Books
Combines over-arching analysis and explanation with a ground-level reporter's skill at narrating events and capturing character with vividness and compassion … a historian working at the height of his powers.

Michael Ignatieff, CEU Review of Books
Combines over-arching analysis and explanation with a ground-level reporter's skill at narrating events and capturing character with vividness and compassion … a historian working at the height of his powers.

Michael Ignatieff, CEU Review of Books
Combines over-arching analysis and explanation with a ground-level reporter's skill at narrating events and capturing character with vividness and compassion … a historian working at the height of his powers.

Michael Ignatieff, CEU Review of Books
Combines over-arching analysis and explanation with a ground-level reporter's skill at narrating events and capturing character with vividness and compassion … a historian working at the height of his powers.

Michael Ignatieff, CEU Review of Books