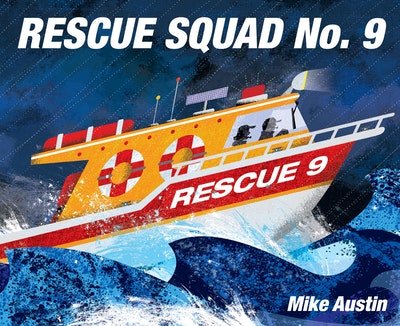 Published:

28 August 2017

ISBN:

9781101936658

Imprint:

RH USA Kids Trade

Format:

Board Book

Pages:

40

RRP:

$14.99
Rescue Squad No. 9
---
---
---
This high-action (yet toddler-friendly) beat-by-beat look at an emergency response joins Fire Engine No. 9 in board book format!
Rescue Squad No. 9 must spring into action when a young sailor and her dog are stranded during a storm!
Follow the crew as they scramble aboard their helicopter and speedboat, racing through the waves and winds to the rescue. The high action is communicated through minimal sound words and bold graphic art reminiscent of that in Donald Crews's transportation books. For more action and adventure from Mike Austin, check out Fire Engine No. 9!
Published:

28 August 2017

ISBN:

9781101936658

Imprint:

RH USA Kids Trade

Format:

Board Book

Pages:

40

RRP:

$14.99
Praise for Rescue Squad No. 9
Following Fire Engine No. 9 (2015), Austin looks at maritime emergency vehicles.In Austin' s second No. 9 book, the youngest readers find a gripping, exciting ocean rescue conducted by a mixed-race, mixed-gender team using intriguing vehicles and tools: helicopter and boat, with assists from the lighthouse and trucks on the dock. The crew seems to be going through its ordinary duties when the weather changes and a distress call comes in. The text is minimal: words repeat and appear in typeface that increases in size to convey urgency: "MAYDAY! MAYDAY! MAYDAY! // GO! GO! GO!" Bold, graphically splashy artwork captures the stormy, swelling sea and the rescue in motion. A sailboat has crashed against rocks with a sailor and dog on board. Dramatic tension is heightened when horizontal scenes switch to vertical when the helicopter drops the Billy Pugh basket to pick up the stranded boaters. Never heard that term before? Don't worry: endpapers feature the pieces of equipment and their names. All's well that ends well. The squad gets the duo safely to shore as the sun comes out. An endnote includes tips for caregivers on water safety, and readers already savvy about the subject will be pleased to see that both the sailor and the dog are wearing life jackets. "Hooray! Hooray!" (Picture book. 2-5) — Kirkus Reviews (Starred Review) 6/1/16