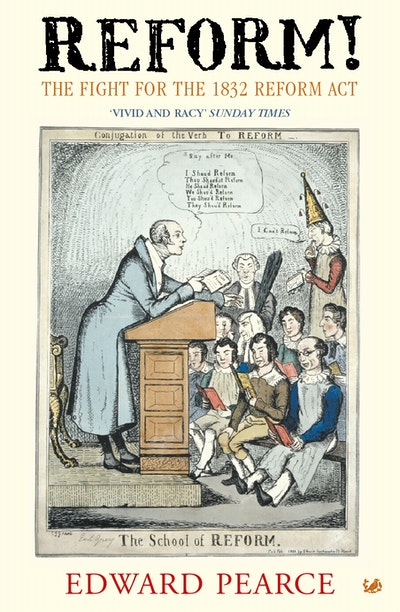 Published:

1 August 2011

ISBN:

9781446420300

Imprint:

Vintage Digital

Format:

EBook

Pages:

352
Reform!
The Fight for the 1832 Reform Act
---
---
'An attractively vivid and racy account of events that otherwise might have run the risk of possessing a distinctly musty flavour.' Anthony Howard, Sunday Times
There may be a civil war, starting in the Midlands. The Birmingham garrison have rough-sharpened their swords and barricades have gone up in the town. Wellington is trying to form a government without a majority. The Duke says 'The English people are usually quiet; if not, there are ways of making them.' These are the Days of May, High Summer of English Reform. The new Whig government has staggered everyone with a reform bill more drastic than all expectations, one to wipe out rotten boroughs and enfranchise industrial towns. It has passed the Commons, been thrown out by the Lords, then, in an election, is massively endorsed. Now in May 1832, the Lords are again blocking it. Political unions formed to promote reform are denounced for Jacobinism and revolution. One Tory, John Croker, hopes that 'the coming revolutionary regime' will let Princess Victoria 'live quietly as Miss Guelph'. King William IV, influenced by the Court and Queen Adelaide, refuses to make new peers; stalemate may turn into street fighting. The struggle is recorded here. The players, painted vividly, speak in their own voices from 170-year-old Hansards: the radicals, Cobbett and Hunt; the Ultras, Wetherell and Eldon, resisting all reform; Lord Chancellor Brougham, drunk and brilliant in a great speech; Lord Alport, who manages the nightmare legislative struggle, tempted by suicide; a mad backbencher demanding a day of fasting and penitence. Here too are the riots and the quiet politics of British constitutional reform. The outcome - the 1832 Act - is the most important event in the last 300 years of parliamentary history.
Published:

1 August 2011

ISBN:

9781446420300

Imprint:

Vintage Digital

Format:

EBook

Pages:

352
An attractively vivid and racy account of events that otherwise might have run the risk of possessing a distinctly musty flavour

Anthony Howard, Sunday Times