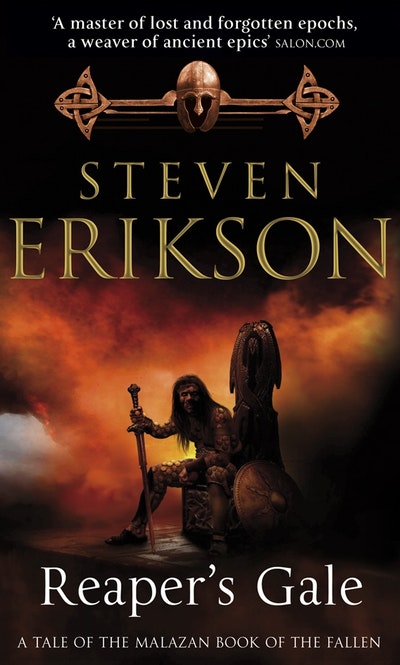 Published:

2 June 2008

ISBN:

9780553813166

Imprint:

Bantam

Format:

Paperback

Pages:

1280

RRP:

$22.99
Reaper's Gale
The Malazan Book of the Fallen 7
---
---
---
The seventh awesome chapter in the most ambitious and acclaimed fantasy series of recent years.
The Letherii Empire is in turmoil. Rhulad Sengar, the Emperor of a Thousand Deaths, spirals into madness, while the Errant, once a farseeing god, appears suddenly blind to the future. Driven by the corruption and self-interest, the empire edges ever-closer to all-out war with its neighbouring kingdoms. And the great Edur fleet draws ominously ever closer. With Karsa Orlong and Icarium Lifestealer among its warriors, that blood will be spilled is certain.
But a band of fugitives look to escape from Lether. One of them, Fear Sengar, seeks the soul of Scabandari Bloodeye, for he hopes that with its help, they might halt the Tiste Edur and so save the emperor, his brother. But another is Scabandari's old enemy: Silchas Ruin, brother of Anomander Rake. He carries scars inflicted by Scabandari, and such bloodshed cannot go unanswered. There is to be a reckoning and it will be on an unimaginable scale...
Published:

2 June 2008

ISBN:

9780553813166

Imprint:

Bantam

Format:

Paperback

Pages:

1280

RRP:

$22.99
Extraordinarily enjoyable...Erikson is a master of lost and forgotten epochs, a weaver of ancient epics.

SALON.COM
This is true myth in the making, a drawing upon fantasy to recreate histories and legends as rich as any found within our culture.

INTERZONE
This masterwork of imagination may be the high watermark of epic fantasy.

GLEN COOK, author of The Black Company series
Gripping, fast-moving, delightfully dark...Erikson brings a punchy, mesmerizing writing style into the genre of epic fantasy.

ELIZABETH HAYDON
The most significant work of epic fantasy since Stephen R. Donaldson's Chronicles of Thomas Covenant.

SF SITE