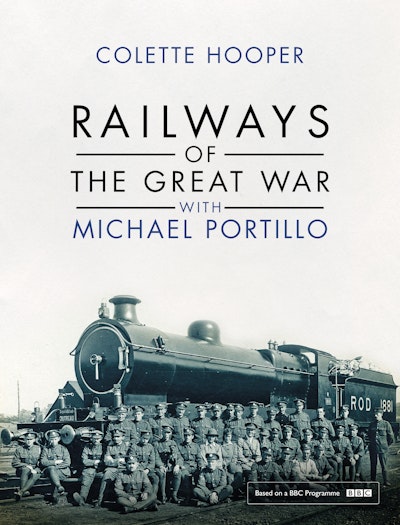 Published:

24 July 2014

ISBN:

9781473510302

Imprint:

Transworld Digital

Format:

EBook

Pages:

240
Railways of the Great War with Michael Portillo
---
---
The illustrated companion to the new Great British Railway Journeys series, exploring the role of the railways during the First World War.
From the exploits of railwaymen at the Front to the secrets of railway spies who worked behind enemy lines; the manufacture of munitions in railway workshops to the role of railways in post-war remembrance – this book explores some of the remarkable stories of the railway war. Individually, each illuminates a different aspect of the conflict. Taken together, they provide us with a fresh perspective on the First World War as a whole.The Great War was the quintessential railway war. Railways helped to precipitate this mechanized conflict: they defined how it was fought and kept the home front moving; they conveyed millions to the trenches and evacuated the huge numbers of wounded. The railways sustained a terrible war of attrition and, ultimately, bore witness to its end.
In Railways of the Great War, Michael Portillo and Colette Hooper tell the forgotten story of the war on the tracks and explore the numerous ways in which Britain's locomotives, railway companies and skilled railway workforce moulded the course of the conflict. From mobilizing men and moving weapons, to transporting food for troops and later taking grieving relatives to the battlefields on which their loved ones had fallen, the railways played a central role throughout this turbulent period in our history.
Published:

24 July 2014

ISBN:

9781473510302

Imprint:

Transworld Digital

Format:

EBook

Pages:

240