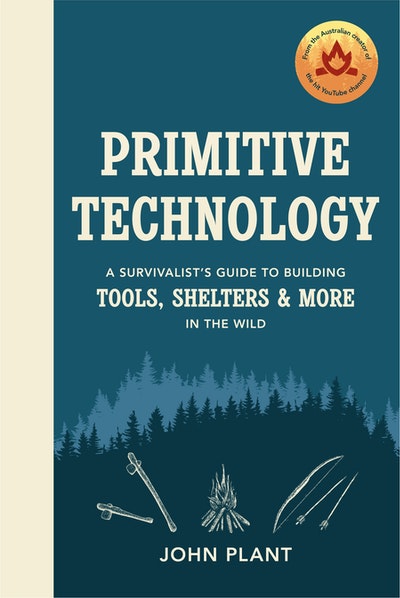 Published:

5 November 2019

ISBN:

9781529105834

Imprint:

Ebury Press

Format:

Trade Paperback

Pages:

192

RRP:

$35.00
Primitive Technology
A Survivalist's Guide to Building Tools, Shelters & More in the Wild
---
---
---
Alongside the unlikely internet cult star, Primitive Technology, learn how to make things in the wild completely from scratch using no modern tools or materials
Disconnect from digital and reconnect with your inner caveman
If there were ever a book to make you switch off the TV, unplug the gaming console and reconnect with nature, Primitive Technology is it. It will teach you the everyday skills that both the expert and the novice will need to craft resources from scratch from your natural surroundings and truly experience the wilderness.
Author Primitive Technology, one of the world's most authoritative figures, has been going into the bush bare-handed for over 25 years, learning his craft from no master and developing a unique and alien approach to bushcraft not seen anywhere else.
For the first time, John Plant imparts his much sought-after knowledge to show us the fundamental skills needed to build a shelter, from lighting a fire and creating an axe head to crafting a spear and making a kiln. Using step-by-step instructions and practical illustrations, this is a must-have book for anyone who wants to learn a new skill, get outdoors and reconnect with nature like never before.
Published:

5 November 2019

ISBN:

9781529105834

Imprint:

Ebury Press

Format:

Trade Paperback

Pages:

192

RRP:

$35.00
Video
Primitive Technology: 4 years of primitive technology
4 years of primitive technology... please read my personal note from me to you, below. Subscribe: http://bit.ly/subPT | Never miss a video! Enable 'ALL' Notifications! Pre-order my new book, out Nov. 1: https://penguinrandomhouse.com/primitive-technology This video coincides with the release of my new book "Primitive technology", which releases exactly 4 years and 6 months since my first video post on this channel. This video compilation, as well as the book, outlines all the skills and achievements I've attained in this time period using research, hard work and trial and error. Writing this book is something I wanted to do even before making videos and launching this channel. I wanted to offer something tangible that benefited those who had the same keen interest in primitive technology as I do. With that, I thank each and every one of you for your continued support throughout the years, and I really hope you enjoy the book. You can pre-order here: https://penguinrandomhouse.com/primitive-technology - John Plant Follow Primitive Technology: Wordpress: https://primitivetechnology.wordpress.com/ Patreon: https://patreon.com/user?u=2945881 Watch More Primitive Technology: Latest Uploads: https://youtube.com/playlist?list=PLGnWLXjIDnpBR4xqf3FO-xFFwE-ucq4Fj&playnext=1 Pyrotechnology: https://youtube.com/playlist?list=PLGnWLXjIDnpBVRqu5lz5JGaQxjPs7q3CJ&playnext=1 Shelter: https://youtube.com/playlist?list=PLGnWLXjIDnpBBsdKZb-vy30o88SIxItp2&playnext=1 Weapons: https://youtube.com/playlist?list=PLGnWLXjIDnpA-XGDrrmVgBnSXx15i2Awp&playnext=1 Popular Videos: https://youtube.com/playlist?list=PLGnWLXjIDnpAb29Lrdki5BPjTpMon8zla&playnext=1 About Primitive Technology: Primitive technology is a hobby where you build things in the wild completely from scratch using no modern tools or materials. These are the strict rules: If you want a fire, use a fire stick - An axe, pick up a stone and shape it - A hut, build one from trees, mud, rocks etc. The challenge is seeing how far you can go without utilizing modern technology. I do not live in the wild, but enjoy building shelter, tools, and more, only utilizing natural materials. To find specific videos, visit my playlist tab for building videos focused on pyrotechnology, shelter, weapons, food & agriculture, tools & machines, and weaving & fiber.