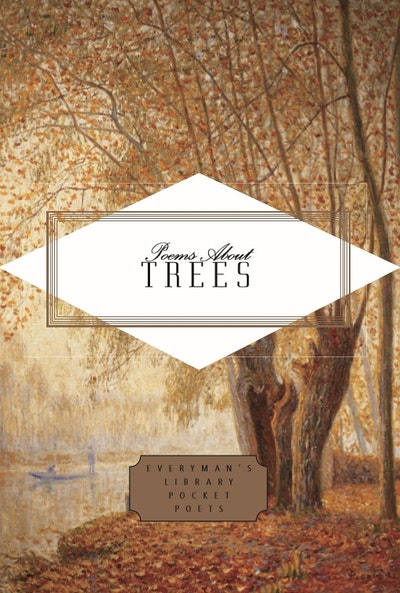 Published:

3 October 2019

ISBN:

9781841598178

Imprint:

Everyman

Format:

Hardback

Pages:

256

RRP:

$22.99
Poems About Trees
---
---
An international array of writers, from Homer and Virgil to Wordsworth, Whitman, and Thoreau, from Su Tung P'o and Basho to Czeslaw Milosz and Seamus Heaney, has celebrated sacred groves, wild woodlands, and bountiful orchards— and the results include some of our most beloved poems.
For thousands of years humans have variously worshipped trees, made use of them, admired them, and destroyed them— and poets have long chronicled the relationship.
In this collection, Robert Frost's "Birches," Marianne Moore's "The Camperdown Elm," Gerard Manley Hopkins's "Binsey Poplars," and Zbigniew Herbert's "Sequoia" stand tall beside Eugenio Montale's "The Lemon Trees," Yves Bonnefoy's "The Apples," Bertolt Brecht's "The Plum Tree," D. H. Lawrence's "The Almond Tree," and A. E. Housman's "Loveliest of Trees." Whether showing their subjects being planted or felled, cherished or lamented, towering in forests or ?owering in backyards, the poems collected here pay lyrical tribute to these majestic beings with whom we share the earth.
Published:

3 October 2019

ISBN:

9781841598178

Imprint:

Everyman

Format:

Hardback

Pages:

256

RRP:

$22.99