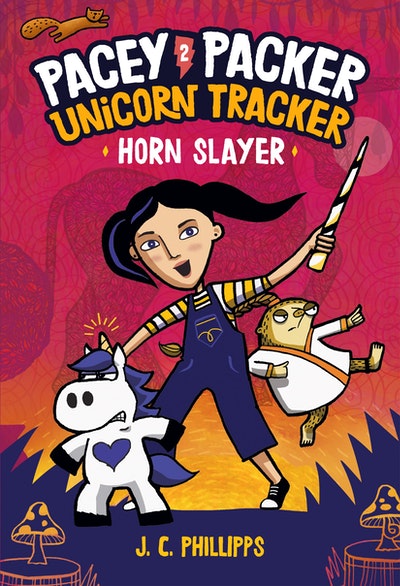 Published:

17 August 2021

ISBN:

9781984850577

Imprint:

RHUS Children's Books

Format:

Hardback

Pages:

224

RRP:

$27.99
Pacey Packer Unicorn Tracker 2
Horn Slayer
---
---
Pacey and Slasher the Unicorn are back and THIS time it's personal in this laugh-out-loud graphic novel series with ATTITUDE that's just right for fans of Phoebe and Her Unicorn, Bad Guys, and anyone who loves (or hates!) unicorns!
The last time Pacey Packer was in Rundalyn, the world of unicorns, she sliced the horn off of Arkane, the Evil Apha Unicorn, and took away his power. KI-AHHHH! TAKE THAT BAD GUYS! Now the unicorns and other creatures under Arkane's rule call her . . . THE HORN SLAYER!
Pacey may be a LEGEND in the world of unicorns, but she didn't finish the job. With Slasher's help, can she use the power of the unicorn horn to rescue the statue kids and escape the fury of the Great (but seriously horn-less and now SERIOUSLY mad at her) Arkane?!
Published:

17 August 2021

ISBN:

9781984850577

Imprint:

RHUS Children's Books

Format:

Hardback

Pages:

224

RRP:

$27.99