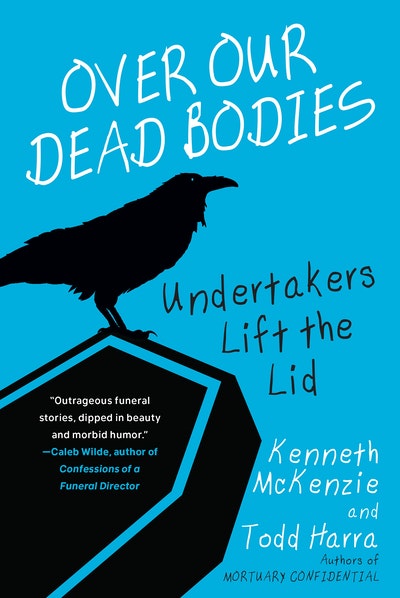 Published:

8 October 2021

ISBN:

9780806541419

Imprint:

Kensington

Format:

Paperback

Pages:

256

RRP:

$29.99
Over Our Dead Bodies
---
---
 With humor and heart, Over Our Dead Bodies does for the undertaking profession what Mary Roach's Stiff did for cadavers, and, like Caitlin Doughty's Will My Cat Eat My Eyeballs? gives us permission to embrace our morbid curiosity. From the authors of Mortuary Confidential.
Not knowing what to do, I sat on the church steps and waited. As the gravity of my failure began to well up in me, I began to cry . . .
I HAD LOST THE HEARSE!
From a dysfunctional family who turn their mother's wake into a full-blown riot, to funeral crashers looking for free meals, to a horse-drawn hearse taking the dearly departed for the ride of their afterlife, these accounts from actual undertakers will have you laughing, thinking, and gasping in disbelief. A literal graveyard of wild coincidences, slapstick humor, and touching moments, Over Our Dead Bodies explores the lighter side of the dead, the living, and the lone undertaker who has to make it all go as planned—even if it doesn't.
"Charming and disarming . . . you'll see the 'fun' in funeral, humanity included."
—Raymond Mungo, author of Famous Long Ago
"Great fun. These guys can bury me any day."
—Tim Cockey, author of the Hearse mysteries
Praise for Mortuary Confidential
"As unpredictable and lively as a bunch of drunks at a New Orleans funeral."
—Joe R. Lansdale
"Sick, funny, and brilliant! I love this book."
—Jonathan Maberry
"These true mortuary tales are poignant—and suddenly, gaspingly, in-your-face funny."
—Booklist
Published:

8 October 2021

ISBN:

9780806541419

Imprint:

Kensington

Format:

Paperback

Pages:

256

RRP:

$29.99