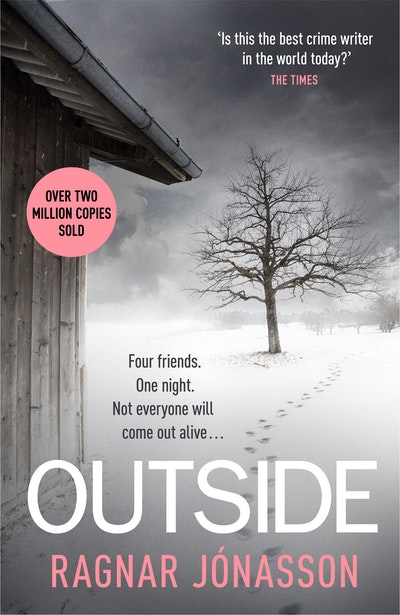 Published:

15 May 2022

ISBN:

9780241493656

Imprint:

Michael Joseph

Format:

Hardback

Pages:

352

RRP:

$39.99
Outside
The heart-pounding new mystery soon to be a major motion picture
---
---
---
Four friends. One night. Not everyone will come out alive . . . The ice-cold new stand-alone mystery from 'world-class crime writer' Ragnar Jónasson
In a deadly Icelandic snowstorm, four friends break into an abandoned hunting lodge, hoping to wait out the storm until morning.
But nothing can prepare them for what's inside...
With no other option, they are forced to spend a terrifying night in the cabin: watching as intently and silently as they themselves are being watched. As the night darkens, old secrets spill into the light, and tensions rise between the four friends. Soon it's clear that what they've discovered in the cabin is far from the only mystery lurking there.
Nor the only thing to be afraid of...
Published:

15 May 2022

ISBN:

9780241493656

Imprint:

Michael Joseph

Format:

Hardback

Pages:

352

RRP:

$39.99
Praise for Ragnar Jónasson

-
Jónasson is an automatic must-read for me . . . possibly the best Scandi writer working today

Lee Child
A master of the Icelandic thriller.

New York Post
Invigorating Iceland-set slice of Nordic Noir

Daily Mail
Fiendishy clever

Financial Times
Triumphant conclusion to the trilogy. Only Ragnar Jónasson has rendered hindsight so heartbreaking

Sunday Times (on the Hidden Iceland trilogy)
Triumphant . . . Chilling, creepy, perceptive, almost unbearably tense

Ian Rankin
Is this the best crime writer in the world today? . . . He's truly a master of his genre

The Times Online
It is nothing less than a landmark in modern crime fiction

The Times
A world-class crime writer. One of the most astonishing plots of modern crime fiction.

The Sunday Times
The author describes the difficult conditions of the four main characters in such a brilliant way that in an instant the reader finds himself in unfamiliar surroundings which neither the reader nor the characters can control

Morgunbladid
Chillingly terrifying, brilliantly entertaining, captivating the reader from page one. Impossible to put down

Frettabladid
Ragnar Jonasson has a gift for crafting clever whodunnits while conveying the intimidating beauty of his native Iceland

Vogue Scandinavia
Dark, chilling and utterly gripping

Shari Lapena
Such a tense, gripping read

Anthony Horowitz
The red hot crime writer from the frozen north . . . One of the most important voices on the international crime scene

The Times
Jónasson has the full measure of the Nordic noir genre, and pushes all the buttons

Financial Times
Expertly Plotted

Guardian
A superb page-turner, Outside breathes fresh and unsettling life into the classic locked room mystery

Kevin Wignall
Raw with cold and rich in atmosphere, Outside is an Arctic Inspector Calls for a new generation

Matt Wesolowski
A stunningly original take on the looked-room mystery, where fear of a treacherous snowstorm outside an isolated hut is matched by mistrust among the terrified occupants. Tense. Very tense

Michael Ridpath
Four friends find safety from a snowstorm in a remote Icelandic hut - or so they think. Jónasson's twisting, elegantly crafted story will keep you hooked till the very last page

William Ryan
Ragnar Jónasson is so skilled in depicting the environment where the story takes place, it becomes one of the characters. It is so atmospheric, I am immediately transported to the Icelandic moors, feeling the cold all the way to the bones. I read with bated breath, my heart pounding with the looming knowledge that soon something bad is about to happen

Sara Blædel
Entertaining, suspenseful and twisty. Highly recommended for fans of Ragnar Jonasson and suspense thrillers in general

Mystery Tribune
Jonasson is a connoisseur of 'unrelenting darkness'; the atmosphere of paranoid claustrophobia [Jonasson] creates is so intense you can't help gripping the book as tightly as possible

The Times
Lord of the Flies for grown-ups

Times Radio
A shivery delight

Kirkus Reviews
Chilling thriller by the king of Icelandic noir . . . so gripping I can't put it down

Fiona Cummings
Jonasson offers an intense standalone, taking to new heights his unrivalled skill for using winter as an unpredictable plot-twister . . . There is so much to like here: the complexity of the quartet's relationships, Jonasson's powerful, streamlined writing, and the parallels between an unforgiving setting and the characters' seething grudges. Readers will be drawn into Jonasson's forbidding Iceland landscape, where it's anyone's guess who will make it out alive

Booklist
Entertaining, suspenseful and twisty. Overall, highly recommended for fans of Ragnar Jonasson and suspense thrillers in general

Mystery Tribune
His best yet . . . Having read all of Jonasson's previous offerings. Outside confirms that here is an author at the top of his game, with complete command of his audience

On Magazine
Yet another humdinger from Iceland's finest crime writer

Ryan Tubridy
Jonasson is a master at exploring the impact of claustrophobia brought on by darkness and enclosed spaces. He an avid fan of Agatha Christie, and Outside is an adaptation, with an Icelandic twist, of the classic locked-door mystery

Canberra Times
Jónasson's spare prose and brisk pacing make for an immersive read . . . Outside is an intriguing study of isolation, claustrophobia and the particular menace to be found in beautiful yet unforgiving terrain

Private Eye
Jonasson is a master at two aspects of Icelandic noir: one is the description of his country's withering weather; the other is the handling of murderous plots that are tangled beyond all expectations. He's in top form in both specialties this time out

Toronto Star
Jonasson and translator Victoria Cribb do a fine job of setting the scene, developing the characters, and keeping readers in suspense with a tight, clean, noir prose style

Associated Press
It takes a truly talented writer to work with a thin outline like that and turn it into a classic, and that is exactly what Jónasson has done here. I believe he has penned the Icelandic version of Quentin Tarantino's Reservoir Dogs

Book Reporter