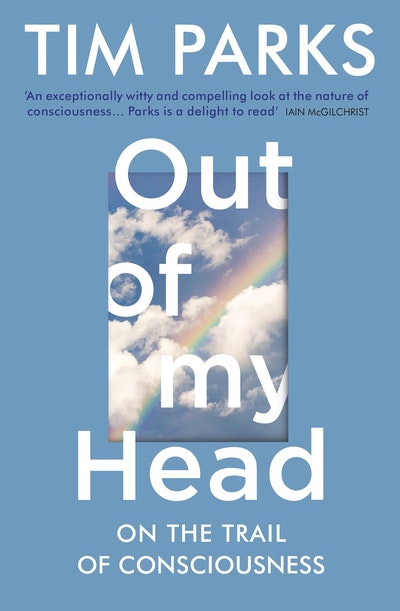 Published:

18 February 2020

ISBN:

9781784705985

Imprint:

Vintage

Format:

Paperback

Pages:

320

RRP:

$19.99
Out of My Head
On the Trail of Consciousness
---
---
Bestselling author Tim Parks embarks on an entertaining quest to understand the theories of consciousness
Is my experience real?
Or just a movie in my head?
Am I no more than a super computer?
You are your brain, neuroscientists tell us. Everything happens in there. Yet even the most sophisticated brain scan cannot tell us who we are. Nothing in our neurons remotely suggests the rich nature of our experience, the colours, sounds and smells that make up our lives.
When Tim Parks came across a radical new theory of consciousness, he set on a quest that moves through one sparkling encounter after another to arrive at the deepest of questions: what stuff exactly is consciousness made of? And where is it? Inside or out?
'An exceptionally witty and compelling look at the nature of consciousness… Parks is a delight to read' Iain McGilchrist
'[It has] wit, humanity and insight… Parks is an entertaining companion throughout' Mail on Sunday
Published:

18 February 2020

ISBN:

9781784705985

Imprint:

Vintage

Format:

Paperback

Pages:

320

RRP:

$19.99
Praise for Out of My Head
By describing his efforts to understand the phenomenon of consciousness in the form of a candid and entertaining journal-cum-memoir, Tim Parks has made a difficult subject interesting and accessible. He is an amateur in this crowded field but he presents professional neuroscientists with some challenging questions.

David Lodge
Tim Parks considers midlife crisis, a Pixar cartoon and 'spread mind' theory in his thoughtful quest to understand consciousness....Consciousness is weighty philosophical and scientific ground, yet Parks plots a chatty, accessible path through impenetrable academic papers and conferences on his quest to understand more about being human

Observer
[A] fantastic journey into the human brain...Parks makes an excellent point about what he calls the "internalist" position (that our picture of reality is just that: a subjective one, concocted by our brains), which is that it flatters our sense of our own importance, making of us creators of our own effectively unique worlds.

Will Self, New Statesman
An exceptionally witty and compelling look at the nature of consciousness... In tackling consciousness, the full frontal assault, as often practised by philosophers and, in a different way, by neuroscientists, can only get us so far. Tim Parks' new book is a refreshing attempt to creep up on the hard question obliquely; and to take the argument deeper into the very realm of our embodied experience than it usually goes. The result is lucid, witty and engaging: a deft philosophical juggling act providing, in an honourable tradition, more questions than answers... A confessed outsider to both academic philosophy and neuroscience, Parks demonstrates the truth that sometimes the outsider sees most of the game. And he has done his homework... Parks is not only excellent company, but a worthy debating partner. He is a delight to read.

Ian McGilchrist, The Tablet
Parks, who is best-known for his Toujours Provence-like memoirs of life in Italy, succeeds admirably in bringing difficult ideas down a level. Eleanora Gallitelli, his Italian partner, who accompanies him to a psychiatric hospital in Heidelberg for research purposes, also helps. Gallitelli recently told me that she is deaf in one ear. The story of her sudden irreparable deafness — how her brain began to develop a mind of its own, playing tricks with spatial awareness and balance — is quite brilliantly told here. Parks writes well enough to appeal to the layman and the mind boffin alike. Out of My Head is pleasurably nutty, self-regarding and at times quite hilarious.

Evening Standard
With wit, humanity and insight… [Parks] tackles a question that the greatest philosophical and scientific minds have struggled with for centuries: what is consciousness?... Parks is an entertaining companion throughout

Mail on Sunday
A lucid investigation into the nature of experience and its grounding in the brain. Many readers will delight in Parks's vivid rendering of complex ideas. He has a masterful capacity to entertain theories of the nature of consciousness not as abstract objects of academic scrutiny but as living concerns. These concerns illuminate from within his personal reflections on meditation, love, age, and dreaming.

Australian Book Review
A brisk, chatty and light-hearted account of Parks's encounters with neurologists and philosophers looking for the location of consciousness

Alan Ryan, New Statesman, *Books of the Year*