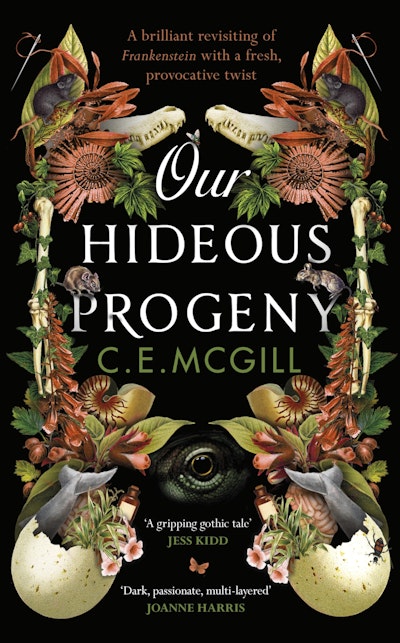 Published:

2 May 2023

ISBN:

9780857529053

Imprint:

Doubleday

Format:

Trade Paperback

Pages:

400

RRP:

$32.99
Our Hideous Progeny
A thrilling Gothic Adventure
---
---
---
When Mary - a scientist struggling to make her mark in 1850s London - discovers journals belonging to her great-uncle, Victor Frankenstein, she embarks on what might be the greatest adventure of all....
'Compelling and utterly absorbing... an artfully crafted debut' SUSAN STOKES-CHAPMAN, author of PANDORA
'A gripping Gothic tale of grief and ambition, passion and intrigue' JESS KIDD, author of THE NIGHT SHIP
'A wonderful book; dark, passionate, multi-layered' JOANNE HARRIS, author of CHOCOLAT
'A fantastic read: I felt everything about Mary, her simmering anger and her intellectual delight' FREYA MARSKE, author of THE LAST BINDING trilogy
'Witty, dark and sharp as a scalpel...brilliantly captures what it's like to be a woman in a man's world' LIZZIE POOK, author of MOONLIGHT AND THE PEARLER'S DAUGHTER
________
Mary is the great-niece of Victor Frankenstein. She knows her great uncle disappeared in mysterious circumstances in the Arctic but she doesn't know why or how...
The 1850s is a time of discovery and London is ablaze with the latest scientific theories and debates, especially when a spectacular new exhibition of dinosaur sculptures opens at the Crystal Palace. Mary, with a sharp mind and a sharper tongue, is keen to make her name in this world of science, alongside her geologist husband Henry, but without wealth and connections, their options are limited.
But when Mary discovers some old family papers that allude to the shocking truth behind her great-uncle's past, she thinks she may have found the key to securing their future... Their quest takes them to the wilds of Scotland, to Henry's intriguing but reclusive sister Maisie, and to a deadly chase with a rival who is out to steal their secret...
Published:

2 May 2023

ISBN:

9780857529053

Imprint:

Doubleday

Format:

Trade Paperback

Pages:

400

RRP:

$32.99
Praise for Our Hideous Progeny
Our Hideous Progeny takes inspiration from Mary Shelley's masterpiece along with the Victorian fascination with scientific innovation and the prehistoric world. This wonderful debut evolves into a gripping Gothic tale of grief and ambition, passion and intrigue.

JESS KIDD, author of THE NIGHT SHIP
Our Hideous Progeny takes inspiration from Mary Shelley's masterpiece along with the Victorian fascination with scientific innovation and the prehistoric world. This wonderful debut evolves into a gripping Gothic tale of grief and ambition, passion and intrigue.

JESS KIDD, author of THE NIGHT SHIP
Our Hideous Progeny takes inspiration from Mary Shelley's masterpiece along with the Victorian fascination with scientific innovation and the prehistoric world. This wonderful debut evolves into a gripping Gothic tale of grief and ambition, passion and intrigue.

JESS KIDD, author of THE NIGHT SHIP
Our Hideous Progeny takes inspiration from Mary Shelley's masterpiece along with the Victorian fascination with scientific innovation and the prehistoric world. This wonderful debut evolves into a gripping Gothic tale of grief and ambition, passion and intrigue.

JESS KIDD, author of THE NIGHT SHIP
Our Hideous Progeny takes inspiration from Mary Shelley's masterpiece along with the Victorian fascination with scientific innovation and the prehistoric world. This wonderful debut evolves into a gripping Gothic tale of grief and ambition, passion and intrigue.

JESS KIDD, author of THE NIGHT SHIP
Our Hideous Progeny takes inspiration from Mary Shelley's masterpiece along with the Victorian fascination with scientific innovation and the prehistoric world. This wonderful debut evolves into a gripping Gothic tale of grief and ambition, passion and intrigue.

JESS KIDD, author of THE NIGHT SHIP
Our Hideous Progeny takes inspiration from Mary Shelley's masterpiece along with the Victorian fascination with scientific innovation and the prehistoric world. This wonderful debut evolves into a gripping Gothic tale of grief and ambition, passion and intrigue.

JESS KIDD, author of THE NIGHT SHIP
Our Hideous Progeny takes inspiration from Mary Shelley's masterpiece along with the Victorian fascination with scientific innovation and the prehistoric world. This wonderful debut evolves into a gripping Gothic tale of grief and ambition, passion and intrigue.

JESS KIDD, author of THE NIGHT SHIP
Our Hideous Progeny takes inspiration from Mary Shelley's masterpiece along with the Victorian fascination with scientific innovation and the prehistoric world. This wonderful debut evolves into a gripping Gothic tale of grief and ambition, passion and intrigue.

JESS KIDD, author of THE NIGHT SHIP
A wonderful book; dark, passionate, multi-layered and rich with enticing detail.

JOANNE HARRIS, author of CHOCOLAT and THE STRAWBERRY THIEF
A wonderful book; dark, passionate, multi-layered and rich with enticing detail.

JOANNE HARRIS, author of CHOCOLAT and THE STRAWBERRY THIEF
A wonderful book; dark, passionate, multi-layered and rich with enticing detail.

JOANNE HARRIS, author of CHOCOLAT and THE STRAWBERRY THIEF
A wonderful book; dark, passionate, multi-layered and rich with enticing detail.

JOANNE HARRIS, author of CHOCOLAT and THE STRAWBERRY THIEF
A wonderful book; dark, passionate, multi-layered and rich with enticing detail.

JOANNE HARRIS, author of CHOCOLAT and THE STRAWBERRY THIEF
A wonderful book; dark, passionate, multi-layered and rich with enticing detail.

JOANNE HARRIS, author of CHOCOLAT and THE STRAWBERRY THIEF
A wonderful book; dark, passionate, multi-layered and rich with enticing detail.

JOANNE HARRIS, author of CHOCOLAT and THE STRAWBERRY THIEF
A wonderful book; dark, passionate, multi-layered and rich with enticing detail.

JOANNE HARRIS, author of CHOCOLAT and THE STRAWBERRY THIEF
A wonderful book; dark, passionate, multi-layered and rich with enticing detail.

JOANNE HARRIS, author of CHOCOLAT and THE STRAWBERRY THIEF
Exquisitely written, brimming with imagery both beautiful and shocking, this daring debut makes the rivalries of the Victorian scientific establishment thrilling and urgent, bringing us a story worthy of Mary Shelley.

SEAN LUSK, author of THE SECOND SIGHT OF ZACHARY CLOUDESLEY
Exquisitely written, brimming with imagery both beautiful and shocking, this daring debut makes the rivalries of the Victorian scientific establishment thrilling and urgent, bringing us a story worthy of Mary Shelley.

SEAN LUSK, author of THE SECOND SIGHT OF ZACHARY CLOUDESLEY
Exquisitely written, brimming with imagery both beautiful and shocking, this daring debut makes the rivalries of the Victorian scientific establishment thrilling and urgent, bringing us a story worthy of Mary Shelley.

SEAN LUSK, author of THE SECOND SIGHT OF ZACHARY CLOUDESLEY
Exquisitely written, brimming with imagery both beautiful and shocking, this daring debut makes the rivalries of the Victorian scientific establishment thrilling and urgent, bringing us a story worthy of Mary Shelley.

SEAN LUSK, author of THE SECOND SIGHT OF ZACHARY CLOUDESLEY
Exquisitely written, brimming with imagery both beautiful and shocking, this daring debut makes the rivalries of the Victorian scientific establishment thrilling and urgent, bringing us a story worthy of Mary Shelley.

SEAN LUSK, author of THE SECOND SIGHT OF ZACHARY CLOUDESLEY
Exquisitely written, brimming with imagery both beautiful and shocking, this daring debut makes the rivalries of the Victorian scientific establishment thrilling and urgent, bringing us a story worthy of Mary Shelley.

SEAN LUSK, author of THE SECOND SIGHT OF ZACHARY CLOUDESLEY
Exquisitely written, brimming with imagery both beautiful and shocking, this daring debut makes the rivalries of the Victorian scientific establishment thrilling and urgent, bringing us a story worthy of Mary Shelley.

SEAN LUSK, author of THE SECOND SIGHT OF ZACHARY CLOUDESLEY
Exquisitely written, brimming with imagery both beautiful and shocking, this daring debut makes the rivalries of the Victorian scientific establishment thrilling and urgent, bringing us a story worthy of Mary Shelley.

SEAN LUSK, author of THE SECOND SIGHT OF ZACHARY CLOUDESLEY
Exquisitely written, brimming with imagery both beautiful and shocking, this daring debut makes the rivalries of the Victorian scientific establishment thrilling and urgent, bringing us a story worthy of Mary Shelley.

SEAN LUSK, author of THE SECOND SIGHT OF ZACHARY CLOUDESLEY
A fantastic read: I felt everything about Mary, her simmering anger and her intellectual delight, so very clearly.

FREYA MARSKE, author of THE LAST BINDING TRILOGY
A fantastic read: I felt everything about Mary, her simmering anger and her intellectual delight, so very clearly.

FREYA MARSKE, author of THE LAST BINDING TRILOGY
A fantastic read: I felt everything about Mary, her simmering anger and her intellectual delight, so very clearly.

FREYA MARSKE, author of THE LAST BINDING TRILOGY
A fantastic read: I felt everything about Mary, her simmering anger and her intellectual delight, so very clearly.

FREYA MARSKE, author of THE LAST BINDING TRILOGY
A fantastic read: I felt everything about Mary, her simmering anger and her intellectual delight, so very clearly.

FREYA MARSKE, author of THE LAST BINDING TRILOGY
A fantastic read: I felt everything about Mary, her simmering anger and her intellectual delight, so very clearly.

FREYA MARSKE, author of THE LAST BINDING TRILOGY
A fantastic read: I felt everything about Mary, her simmering anger and her intellectual delight, so very clearly.

FREYA MARSKE, author of THE LAST BINDING TRILOGY
A fantastic read: I felt everything about Mary, her simmering anger and her intellectual delight, so very clearly.

FREYA MARSKE, author of THE LAST BINDING TRILOGY
A fantastic read: I felt everything about Mary, her simmering anger and her intellectual delight, so very clearly.

FREYA MARSKE, author of THE LAST BINDING TRILOGY
A gut busting adventure to escape into. I loved it. Loved the setting, the characters, the high stakes. What an exceptionally talented writer. Can't wait to talk about this to everyone.

ERICKA WALLER, author of DOG DAYS
A gut busting adventure to escape into. I loved it. Loved the setting, the characters, the high stakes. What an exceptionally talented writer. Can't wait to talk about this to everyone.

ERICKA WALLER, author of DOG DAYS
A gut busting adventure to escape into. I loved it. Loved the setting, the characters, the high stakes. What an exceptionally talented writer. Can't wait to talk about this to everyone.

ERICKA WALLER, author of DOG DAYS
A gut busting adventure to escape into. I loved it. Loved the setting, the characters, the high stakes. What an exceptionally talented writer. Can't wait to talk about this to everyone.

ERICKA WALLER, author of DOG DAYS
A gut busting adventure to escape into. I loved it. Loved the setting, the characters, the high stakes. What an exceptionally talented writer. Can't wait to talk about this to everyone.

ERICKA WALLER, author of DOG DAYS
A gut busting adventure to escape into. I loved it. Loved the setting, the characters, the high stakes. What an exceptionally talented writer. Can't wait to talk about this to everyone.

ERICKA WALLER, author of DOG DAYS
A gut busting adventure to escape into. I loved it. Loved the setting, the characters, the high stakes. What an exceptionally talented writer. Can't wait to talk about this to everyone.

ERICKA WALLER, author of DOG DAYS
A gut busting adventure to escape into. I loved it. Loved the setting, the characters, the high stakes. What an exceptionally talented writer. Can't wait to talk about this to everyone.

ERICKA WALLER, author of DOG DAYS
A gut busting adventure to escape into. I loved it. Loved the setting, the characters, the high stakes. What an exceptionally talented writer. Can't wait to talk about this to everyone.

ERICKA WALLER, author of DOG DAYS
Darkly brilliant and sumptuously gothic, this atmospheric debut left me reeling

C.J. COOKE, author of THE LIGHTHOUSE WITCHES
Darkly brilliant and sumptuously gothic, this atmospheric debut left me reeling

C.J. COOKE, author of THE LIGHTHOUSE WITCHES
Darkly brilliant and sumptuously gothic, this atmospheric debut left me reeling

C.J. COOKE, author of THE LIGHTHOUSE WITCHES
Darkly brilliant and sumptuously gothic, this atmospheric debut left me reeling

C.J. COOKE, author of THE LIGHTHOUSE WITCHES
Darkly brilliant and sumptuously gothic, this atmospheric debut left me reeling

C.J. COOKE, author of THE LIGHTHOUSE WITCHES
Darkly brilliant and sumptuously gothic, this atmospheric debut left me reeling

C.J. COOKE, author of THE LIGHTHOUSE WITCHES
Darkly brilliant and sumptuously gothic, this atmospheric debut left me reeling

C.J. COOKE, author of THE LIGHTHOUSE WITCHES
Darkly brilliant and sumptuously gothic, this atmospheric debut left me reeling

C.J. COOKE, author of THE LIGHTHOUSE WITCHES
Darkly brilliant and sumptuously gothic, this atmospheric debut left me reeling

C.J. COOKE, author of THE LIGHTHOUSE WITCHES
Compelling and utterly absorbing, Our Hideous Progeny is an artfully crafted debut that echoes the dark essence of Mary Shelley's Frankenstein while maintaining a fascinating originality all of its own.

SUSAN STOKES-CHAPMAN, author of PANDORA
Compelling and utterly absorbing, Our Hideous Progeny is an artfully crafted debut that echoes the dark essence of Mary Shelley's Frankenstein while maintaining a fascinating originality all of its own.

SUSAN STOKES-CHAPMAN, author of PANDORA
Compelling and utterly absorbing, Our Hideous Progeny is an artfully crafted debut that echoes the dark essence of Mary Shelley's Frankenstein while maintaining a fascinating originality all of its own.

SUSAN STOKES-CHAPMAN, author of PANDORA
Compelling and utterly absorbing, Our Hideous Progeny is an artfully crafted debut that echoes the dark essence of Mary Shelley's Frankenstein while maintaining a fascinating originality all of its own.

SUSAN STOKES-CHAPMAN, author of PANDORA
Compelling and utterly absorbing, Our Hideous Progeny is an artfully crafted debut that echoes the dark essence of Mary Shelley's Frankenstein while maintaining a fascinating originality all of its own.

SUSAN STOKES-CHAPMAN, author of PANDORA
Compelling and utterly absorbing, Our Hideous Progeny is an artfully crafted debut that echoes the dark essence of Mary Shelley's Frankenstein while maintaining a fascinating originality all of its own.

SUSAN STOKES-CHAPMAN, author of PANDORA
Compelling and utterly absorbing, Our Hideous Progeny is an artfully crafted debut that echoes the dark essence of Mary Shelley's Frankenstein while maintaining a fascinating originality all of its own.

SUSAN STOKES-CHAPMAN, author of PANDORA
Compelling and utterly absorbing, Our Hideous Progeny is an artfully crafted debut that echoes the dark essence of Mary Shelley's Frankenstein while maintaining a fascinating originality all of its own.

SUSAN STOKES-CHAPMAN, author of PANDORA
Compelling and utterly absorbing, Our Hideous Progeny is an artfully crafted debut that echoes the dark essence of Mary Shelley's Frankenstein while maintaining a fascinating originality all of its own.

SUSAN STOKES-CHAPMAN, author of PANDORA
In this gothic adventure, debut novelist McGill builds on Shelley's iconic story by adding sharp-minded female protagonist Mary, who sets out to discover the truth about her great-uncle Victor Frankenstein's disappearance in the Arctic.

STYLIST, 'The best new feminist retellings of classic stories to read in 2023'
In this gothic adventure, debut novelist McGill builds on Shelley's iconic story by adding sharp-minded female protagonist Mary, who sets out to discover the truth about her great-uncle Victor Frankenstein's disappearance in the Arctic.

STYLIST, 'The best new feminist retellings of classic stories to read in 2023'
In this gothic adventure, debut novelist McGill builds on Shelley's iconic story by adding sharp-minded female protagonist Mary, who sets out to discover the truth about her great-uncle Victor Frankenstein's disappearance in the Arctic.

STYLIST, 'The best new feminist retellings of classic stories to read in 2023'
In this gothic adventure, debut novelist McGill builds on Shelley's iconic story by adding sharp-minded female protagonist Mary, who sets out to discover the truth about her great-uncle Victor Frankenstein's disappearance in the Arctic.

STYLIST, 'The best new feminist retellings of classic stories to read in 2023'
In this gothic adventure, debut novelist McGill builds on Shelley's iconic story by adding sharp-minded female protagonist Mary, who sets out to discover the truth about her great-uncle Victor Frankenstein's disappearance in the Arctic.

STYLIST, 'The best new feminist retellings of classic stories to read in 2023'
In this gothic adventure, debut novelist McGill builds on Shelley's iconic story by adding sharp-minded female protagonist Mary, who sets out to discover the truth about her great-uncle Victor Frankenstein's disappearance in the Arctic.

STYLIST, 'The best new feminist retellings of classic stories to read in 2023'
In this gothic adventure, debut novelist McGill builds on Shelley's iconic story by adding sharp-minded female protagonist Mary, who sets out to discover the truth about her great-uncle Victor Frankenstein's disappearance in the Arctic.

STYLIST, 'The best new feminist retellings of classic stories to read in 2023'
In this gothic adventure, debut novelist McGill builds on Shelley's iconic story by adding sharp-minded female protagonist Mary, who sets out to discover the truth about her great-uncle Victor Frankenstein's disappearance in the Arctic.

STYLIST, 'The best new feminist retellings of classic stories to read in 2023'
In this gothic adventure, debut novelist McGill builds on Shelley's iconic story by adding sharp-minded female protagonist Mary, who sets out to discover the truth about her great-uncle Victor Frankenstein's disappearance in the Arctic.

STYLIST, 'The best new feminist retellings of classic stories to read in 2023'
Witty, dark and sharp as a scalpel, it's a dazzling exploration of the macabre ambitions of Victorian science and a moving meditation on grief. C.E. McGill brilliantly captures what it's like to be a woman in a man's world.

LIZZIE POOK, author of MOONLIGHT AND THE PEARLER'S DAUGHTER
Witty, dark and sharp as a scalpel, it's a dazzling exploration of the macabre ambitions of Victorian science and a moving meditation on grief. C.E. McGill brilliantly captures what it's like to be a woman in a man's world.

LIZZIE POOK, author of MOONLIGHT AND THE PEARLER'S DAUGHTER
Witty, dark and sharp as a scalpel, it's a dazzling exploration of the macabre ambitions of Victorian science and a moving meditation on grief. C.E. McGill brilliantly captures what it's like to be a woman in a man's world.

LIZZIE POOK, author of MOONLIGHT AND THE PEARLER'S DAUGHTER
Witty, dark and sharp as a scalpel, it's a dazzling exploration of the macabre ambitions of Victorian science and a moving meditation on grief. C.E. McGill brilliantly captures what it's like to be a woman in a man's world.

LIZZIE POOK, author of MOONLIGHT AND THE PEARLER'S DAUGHTER
Witty, dark and sharp as a scalpel, it's a dazzling exploration of the macabre ambitions of Victorian science and a moving meditation on grief. C.E. McGill brilliantly captures what it's like to be a woman in a man's world.

LIZZIE POOK, author of MOONLIGHT AND THE PEARLER'S DAUGHTER
Witty, dark and sharp as a scalpel, it's a dazzling exploration of the macabre ambitions of Victorian science and a moving meditation on grief. C.E. McGill brilliantly captures what it's like to be a woman in a man's world.

LIZZIE POOK, author of MOONLIGHT AND THE PEARLER'S DAUGHTER
Witty, dark and sharp as a scalpel, it's a dazzling exploration of the macabre ambitions of Victorian science and a moving meditation on grief. C.E. McGill brilliantly captures what it's like to be a woman in a man's world.

LIZZIE POOK, author of MOONLIGHT AND THE PEARLER'S DAUGHTER
Witty, dark and sharp as a scalpel, it's a dazzling exploration of the macabre ambitions of Victorian science and a moving meditation on grief. C.E. McGill brilliantly captures what it's like to be a woman in a man's world.

LIZZIE POOK, author of MOONLIGHT AND THE PEARLER'S DAUGHTER
Witty, dark and sharp as a scalpel, it's a dazzling exploration of the macabre ambitions of Victorian science and a moving meditation on grief. C.E. McGill brilliantly captures what it's like to be a woman in a man's world.

LIZZIE POOK, author of MOONLIGHT AND THE PEARLER'S DAUGHTER
McGill's prose is rich and atmospheric, perfectly capturing the eerie and foreboding tone of the Gothic tradition. The characters are complex and layered . . . Our Hideous Progeny is a masterful work of Gothic horror that will leave readers on the edge of their seat.

GLAMOUR
McGill's prose is rich and atmospheric, perfectly capturing the eerie and foreboding tone of the Gothic tradition. The characters are complex and layered . . . Our Hideous Progeny is a masterful work of Gothic horror that will leave readers on the edge of their seat.

GLAMOUR
McGill's prose is rich and atmospheric, perfectly capturing the eerie and foreboding tone of the Gothic tradition. The characters are complex and layered . . . Our Hideous Progeny is a masterful work of Gothic horror that will leave readers on the edge of their seat.

GLAMOUR
McGill's prose is rich and atmospheric, perfectly capturing the eerie and foreboding tone of the Gothic tradition. The characters are complex and layered . . . Our Hideous Progeny is a masterful work of Gothic horror that will leave readers on the edge of their seat.

GLAMOUR
McGill's prose is rich and atmospheric, perfectly capturing the eerie and foreboding tone of the Gothic tradition. The characters are complex and layered . . . Our Hideous Progeny is a masterful work of Gothic horror that will leave readers on the edge of their seat.

GLAMOUR
McGill's prose is rich and atmospheric, perfectly capturing the eerie and foreboding tone of the Gothic tradition. The characters are complex and layered . . . Our Hideous Progeny is a masterful work of Gothic horror that will leave readers on the edge of their seat.

GLAMOUR
McGill's prose is rich and atmospheric, perfectly capturing the eerie and foreboding tone of the Gothic tradition. The characters are complex and layered . . . Our Hideous Progeny is a masterful work of Gothic horror that will leave readers on the edge of their seat.

GLAMOUR
McGill's prose is rich and atmospheric, perfectly capturing the eerie and foreboding tone of the Gothic tradition. The characters are complex and layered . . . Our Hideous Progeny is a masterful work of Gothic horror that will leave readers on the edge of their seat.

GLAMOUR
McGill's prose is rich and atmospheric, perfectly capturing the eerie and foreboding tone of the Gothic tradition. The characters are complex and layered . . . Our Hideous Progeny is a masterful work of Gothic horror that will leave readers on the edge of their seat.

GLAMOUR
'A real treat: a Victorian adventure novel cloaked in gothic imagery that dives into the museums and debate halls of London . . . a rollicking read'

SFX
'A real treat: a Victorian adventure novel cloaked in gothic imagery that dives into the museums and debate halls of London . . . a rollicking read'

SFX
'A real treat: a Victorian adventure novel cloaked in gothic imagery that dives into the museums and debate halls of London . . . a rollicking read'

SFX
'A real treat: a Victorian adventure novel cloaked in gothic imagery that dives into the museums and debate halls of London . . . a rollicking read'

SFX
'A real treat: a Victorian adventure novel cloaked in gothic imagery that dives into the museums and debate halls of London . . . a rollicking read'

SFX
'A real treat: a Victorian adventure novel cloaked in gothic imagery that dives into the museums and debate halls of London . . . a rollicking read'

SFX
'A real treat: a Victorian adventure novel cloaked in gothic imagery that dives into the museums and debate halls of London . . . a rollicking read'

SFX
'A real treat: a Victorian adventure novel cloaked in gothic imagery that dives into the museums and debate halls of London . . . a rollicking read'

SFX
'A real treat: a Victorian adventure novel cloaked in gothic imagery that dives into the museums and debate halls of London . . . a rollicking read'

SFX
A wonderfully rich, emotionally engaging tale with the flavour and appeal of a great 19th-century novel.

Guardian
A wonderfully rich, emotionally engaging tale with the flavour and appeal of a great 19th-century novel.

Guardian
A wonderfully rich, emotionally engaging tale with the flavour and appeal of a great 19th-century novel.

Guardian
A wonderfully rich, emotionally engaging tale with the flavour and appeal of a great 19th-century novel.

Guardian
A wonderfully rich, emotionally engaging tale with the flavour and appeal of a great 19th-century novel.

Guardian
A wonderfully rich, emotionally engaging tale with the flavour and appeal of a great 19th-century novel.

Guardian
A wonderfully rich, emotionally engaging tale with the flavour and appeal of a great 19th-century novel.

Guardian
A wonderfully rich, emotionally engaging tale with the flavour and appeal of a great 19th-century novel.

Guardian
A wonderfully rich, emotionally engaging tale with the flavour and appeal of a great 19th-century novel.

Guardian
A very tightly-written creative spin off of the tale of Frankenstein that beautifully captures the themes in the original, while adding more that will delight readers of historical fiction. Without a doubt, this is one of my favourite reads of the year.

FANTASYBOOKCRITIC.COM
A very tightly-written creative spin off of the tale of Frankenstein that beautifully captures the themes in the original, while adding more that will delight readers of historical fiction. Without a doubt, this is one of my favourite reads of the year.

FANTASYBOOKCRITIC.COM
A very tightly-written creative spin off of the tale of Frankenstein that beautifully captures the themes in the original, while adding more that will delight readers of historical fiction. Without a doubt, this is one of my favourite reads of the year.

FANTASYBOOKCRITIC.COM
A very tightly-written creative spin off of the tale of Frankenstein that beautifully captures the themes in the original, while adding more that will delight readers of historical fiction. Without a doubt, this is one of my favourite reads of the year.

FANTASYBOOKCRITIC.COM
A very tightly-written creative spin off of the tale of Frankenstein that beautifully captures the themes in the original, while adding more that will delight readers of historical fiction. Without a doubt, this is one of my favourite reads of the year.

FANTASYBOOKCRITIC.COM
A very tightly-written creative spin off of the tale of Frankenstein that beautifully captures the themes in the original, while adding more that will delight readers of historical fiction. Without a doubt, this is one of my favourite reads of the year.

FANTASYBOOKCRITIC.COM
A very tightly-written creative spin off of the tale of Frankenstein that beautifully captures the themes in the original, while adding more that will delight readers of historical fiction. Without a doubt, this is one of my favourite reads of the year.

FANTASYBOOKCRITIC.COM
A very tightly-written creative spin off of the tale of Frankenstein that beautifully captures the themes in the original, while adding more that will delight readers of historical fiction. Without a doubt, this is one of my favourite reads of the year.

FANTASYBOOKCRITIC.COM
A very tightly-written creative spin off of the tale of Frankenstein that beautifully captures the themes in the original, while adding more that will delight readers of historical fiction. Without a doubt, this is one of my favourite reads of the year.

FANTASYBOOKCRITIC.COM
Fans of Mexican Gothic by Silvia Moreno-Garcia and historical horror with a queer feminist twist will not be disappointed.

LIBRARY JOURNAL
Fans of Mexican Gothic by Silvia Moreno-Garcia and historical horror with a queer feminist twist will not be disappointed.

LIBRARY JOURNAL
Fans of Mexican Gothic by Silvia Moreno-Garcia and historical horror with a queer feminist twist will not be disappointed.

LIBRARY JOURNAL
Fans of Mexican Gothic by Silvia Moreno-Garcia and historical horror with a queer feminist twist will not be disappointed.

LIBRARY JOURNAL
Fans of Mexican Gothic by Silvia Moreno-Garcia and historical horror with a queer feminist twist will not be disappointed.

LIBRARY JOURNAL
Fans of Mexican Gothic by Silvia Moreno-Garcia and historical horror with a queer feminist twist will not be disappointed.

LIBRARY JOURNAL
Fans of Mexican Gothic by Silvia Moreno-Garcia and historical horror with a queer feminist twist will not be disappointed.

LIBRARY JOURNAL
Fans of Mexican Gothic by Silvia Moreno-Garcia and historical horror with a queer feminist twist will not be disappointed.

LIBRARY JOURNAL
Fans of Mexican Gothic by Silvia Moreno-Garcia and historical horror with a queer feminist twist will not be disappointed.

LIBRARY JOURNAL
For fans of queer fiction, imaginative historical fiction, admirers of Mary Shelley's Frankenstein (of course!), and readers fascinated by dinosaurs and paleontology.

BOOKLIST
For fans of queer fiction, imaginative historical fiction, admirers of Mary Shelley's Frankenstein (of course!), and readers fascinated by dinosaurs and paleontology.

BOOKLIST
For fans of queer fiction, imaginative historical fiction, admirers of Mary Shelley's Frankenstein (of course!), and readers fascinated by dinosaurs and paleontology.

BOOKLIST
For fans of queer fiction, imaginative historical fiction, admirers of Mary Shelley's Frankenstein (of course!), and readers fascinated by dinosaurs and paleontology.

BOOKLIST
For fans of queer fiction, imaginative historical fiction, admirers of Mary Shelley's Frankenstein (of course!), and readers fascinated by dinosaurs and paleontology.

BOOKLIST
For fans of queer fiction, imaginative historical fiction, admirers of Mary Shelley's Frankenstein (of course!), and readers fascinated by dinosaurs and paleontology.

BOOKLIST
For fans of queer fiction, imaginative historical fiction, admirers of Mary Shelley's Frankenstein (of course!), and readers fascinated by dinosaurs and paleontology.

BOOKLIST
For fans of queer fiction, imaginative historical fiction, admirers of Mary Shelley's Frankenstein (of course!), and readers fascinated by dinosaurs and paleontology.

BOOKLIST
For fans of queer fiction, imaginative historical fiction, admirers of Mary Shelley's Frankenstein (of course!), and readers fascinated by dinosaurs and paleontology.

BOOKLIST
Evocatively and compassionately, Our Hideous Progeny seeks a way to tell the stories of those whose tales cannot fit in one book, those poor creatures who remain lost or forgotten

NEW YORKER
Evocatively and compassionately, Our Hideous Progeny seeks a way to tell the stories of those whose tales cannot fit in one book, those poor creatures who remain lost or forgotten

NEW YORKER
Evocatively and compassionately, Our Hideous Progeny seeks a way to tell the stories of those whose tales cannot fit in one book, those poor creatures who remain lost or forgotten

NEW YORKER
Evocatively and compassionately, Our Hideous Progeny seeks a way to tell the stories of those whose tales cannot fit in one book, those poor creatures who remain lost or forgotten

NEW YORKER
Evocatively and compassionately, Our Hideous Progeny seeks a way to tell the stories of those whose tales cannot fit in one book, those poor creatures who remain lost or forgotten

NEW YORKER
Evocatively and compassionately, Our Hideous Progeny seeks a way to tell the stories of those whose tales cannot fit in one book, those poor creatures who remain lost or forgotten

NEW YORKER
Evocatively and compassionately, Our Hideous Progeny seeks a way to tell the stories of those whose tales cannot fit in one book, those poor creatures who remain lost or forgotten

NEW YORKER
Evocatively and compassionately, Our Hideous Progeny seeks a way to tell the stories of those whose tales cannot fit in one book, those poor creatures who remain lost or forgotten

NEW YORKER
Evocatively and compassionately, Our Hideous Progeny seeks a way to tell the stories of those whose tales cannot fit in one book, those poor creatures who remain lost or forgotten

NEW YORKER
Our Hideous Progeny opened its glorious mouth and swallowed me whole. I absolutely loved it.

JOANNE BURN, author of THE HEMLOCK CURE and THE BONE HUNTERS
Our Hideous Progeny opened its glorious mouth and swallowed me whole. I absolutely loved it.

JOANNE BURN, author of THE HEMLOCK CURE and THE BONE HUNTERS
Our Hideous Progeny opened its glorious mouth and swallowed me whole. I absolutely loved it.

JOANNE BURN, author of THE HEMLOCK CURE and THE BONE HUNTERS
Our Hideous Progeny opened its glorious mouth and swallowed me whole. I absolutely loved it.

JOANNE BURN, author of THE HEMLOCK CURE and THE BONE HUNTERS
Our Hideous Progeny opened its glorious mouth and swallowed me whole. I absolutely loved it.

JOANNE BURN, author of THE HEMLOCK CURE and THE BONE HUNTERS
Our Hideous Progeny opened its glorious mouth and swallowed me whole. I absolutely loved it.

JOANNE BURN, author of THE HEMLOCK CURE and THE BONE HUNTERS
Our Hideous Progeny opened its glorious mouth and swallowed me whole. I absolutely loved it.

JOANNE BURN, author of THE HEMLOCK CURE and THE BONE HUNTERS
Our Hideous Progeny opened its glorious mouth and swallowed me whole. I absolutely loved it.

JOANNE BURN, author of THE HEMLOCK CURE and THE BONE HUNTERS
Our Hideous Progeny opened its glorious mouth and swallowed me whole. I absolutely loved it.

JOANNE BURN, author of THE HEMLOCK CURE and THE BONE HUNTERS
Article
Article
Article