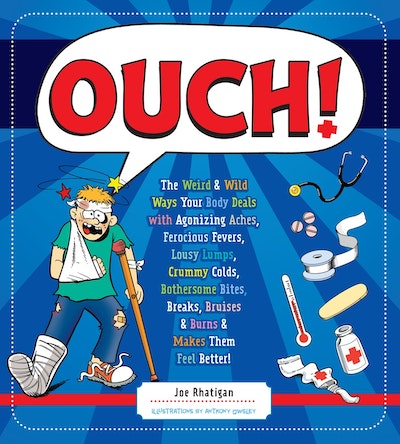 Published:

1 May 2015

ISBN:

9781623540531

Imprint:

Charlesbridge Adult

Format:

Trade Paperback

Pages:

80

RRP:

$16.99
Ouch!
The Weird & Wild Ways Your Body Deals with Agonizing Aches, Ferocious Fevers, Lousy Lumps, Crummy Colds, Bothersome Bites, Breaks, Bruises & Burns
---
---
Ow, yuck, EEW, ack!
From blisters, bruises, and bleeding to stings, sprains, and broken bones, there are so many things that bother the body. And whether a child has a crummy cold, a ferocious fever, a nasty bite, or a burn from touching a hot stove, pain is confusing and distressing. Why does it feel so bad? Can something make it stop? For all those kids who want to be doctors, scientists, or medical professionals, here's their first introduction to the way the body works.
OUCH! comforts hurting kids by explaining all the different ways they get injured and sick, how their body works, and what parents and doctors can do to make it all better again. It covers all the familiar childhood ailments—upset tummies, sore throats, earaches, allergies, infections, and even poison ivy.
Youngsters can explore the armor (like skin) that keeps the bad stuff out, the warriors that attack the stuff that does get in, and the "maintenance crew" that cleans up the mess and heals them. Whether they want to understand what's wrong and learn what they can expect, or get ready for a future career in medicine, this information—and the accompanying photos and fun illustrations—will take them there.
Published:

1 May 2015

ISBN:

9781623540531

Imprint:

Charlesbridge Adult

Format:

Trade Paperback

Pages:

80

RRP:

$16.99