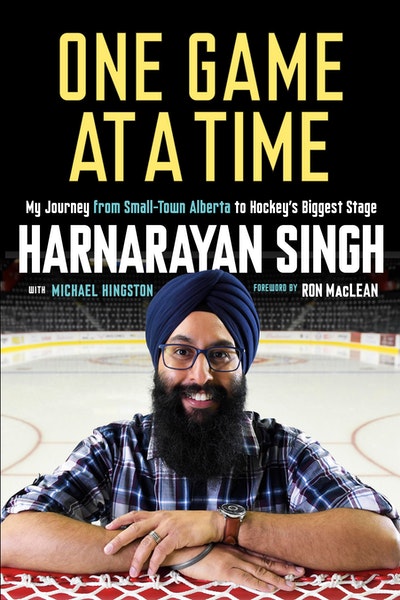 Published:

21 December 2020

ISBN:

9780771073892

Imprint:

McClelland & Stewart

Format:

Hardback

Pages:

320

RRP:

$44.99
One Game at a Time
---
---
From the distinct and vibrant voice behind Hockey Night in Canada Punjabi comes the story of pursuing a dream and defying the odds, reminding us all of hockey's power to unite.
BoninoBoninoBonino!
Ask a hockey fan if they have heard the wonderfully electric call of Nick Bonino's overtime-winning goal from the 2016 Stanley Cup Final and they will almost surely answer with a resounding yes! That's because video clips of the Hockey Night in Canada Punjabi broadcast immediately went viral, amplifying the profile of Harnarayan Singh, the voice behind the call.
Growing up in small-town Alberta, Harnarayan was like many other kids who dreamed about a life within the sanctum of the game they idolized. There was only one small difference—he didn't look like any of the other kids. After all, his dad was the only hero he had growing up who wore a turban to work, and as a teen, he watched the Sikh community be rolled up in the anti-immigrant rhetoric that swept the U.S. and Canada in the wake of September 11. Undeterred, Harnarayan worked his way from calling imaginary hockey games with his plastic toy microphone, to funding secret flights from Calgary to Toronto every weekend in the early days of Hockey Night in Canada Punjabi, to making history as the first Sikh to broadcast an NHL game in English.
Full of heart, humour, and bursting with personality (and maybe a few family prayers for Wayne Gretzky), Harnarayan tells his incredible and inspiring life story about how he overcame the social and cultural hurdles that forced him to break through the longstanding barriers and biases of the sport he loves. But more than that, Harnarayan blends his unabashed love of hockey with a refreshing and necessary positive message about what it means to be a Canadian in the world, making him one of the most influential ambassadors of the game today.
Published:

21 December 2020

ISBN:

9780771073892

Imprint:

McClelland & Stewart

Format:

Hardback

Pages:

320

RRP:

$44.99