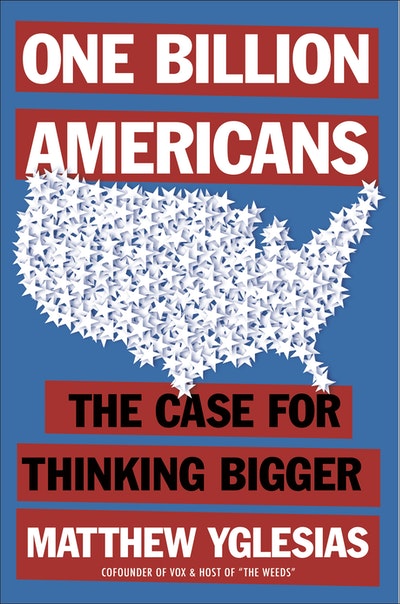 Published:

15 December 2020

ISBN:

9780593190210

Imprint:

Portfolio

Format:

Hardback

Pages:

320

RRP:

$55.00
One Billion Americans
The Case for Thinking Bigger
---
---
A bold case for massive population growth in the name of national greatness—from Vox co-founder and host of "The Weeds" podcast Matt Yglesias.


America is in decline. Fewer children are born each year due to financial pressure. Thousands flee our iconic cities with their housing shortages and broken infrastructure. While we tie ourselves into knots trying to stop the flow of immigrants, our exhausted economy deflates the heartland's already shrinking population. To survive China's impending global takeover (not to mention Russia), we can't afford to be weak. We need to get bigger, much bigger. We need one billion Americans.
In this timely and provocative book, Matthew Yglesias makes the case for massive population growth through humane family and immigration policy. Of course, more people requires more housing, not to mention better transportation, improved education, a revitalized welfare system, and climate change mitigation. Why not do it all, and stay on top forever?
Written with Yglesias's signature humor and analytic rigor, One Billion Americans challenges readers across the political spectrum to take decline seriously. Drawing on economic theory and research from leading policy experts, he offers ideas from around the globe—from Singapore's approach to traffic jams to Canada's town planning—that move us beyond left-right divides, to explore the practical and creative solutions our times call for.
Published:

15 December 2020

ISBN:

9780593190210

Imprint:

Portfolio

Format:

Hardback

Pages:

320

RRP:

$55.00