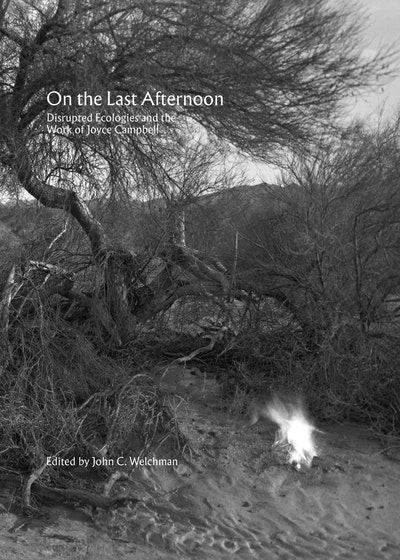 Published:

12 May 2020

ISBN:

9783956794445

Imprint:

MIT Press

Format:

Paperback

Pages:

320

RRP:

$69.99
On the Last Afternoon
Disrupted Ecologies and the Work of Joyce Campbell
---
---
A richly illustrated retrospective of interdisciplinary artist Joyce Campbell and her three decades of work in photography, film, and video.
On the Last Afternoon: Disrupted Ecologies and the Work of Joyce Campbell offers a number of portholes into the relations between photography, philosophy, ecology, material history, science fiction, and the care and reading of sacred and symbolic landscapes, as they have been engaged by artist Joyce Campbell over her near three-decade career. Richly illustrated with a full array of her various bodies of work in photography, film, and video, the publication complements and extends her major 2019 exhibition at Adam Art Gallery Te Pātaka Toi in Wellington, Aotearoa New Zealand. Bringing together new and existing writings by Christina Barton, Geoffrey Batchen, Elizabeth Grosz, Richard Niania, Bernard Stiegler, Mark von Schlegell, and John C. Welchman with the embedded wisdom and inherited narratives of her Māori and Pākehā collaborators, Campbell demonstrates the interconnectedness of complex biological, spiritual, and representational systems, and the potential of photography to resist the global techno-capitalist hegemony that underpins the exponential collapse of biodiversity and the decline of spirit in our contemporary era.
Raised in Aotearoa New Zealand's rural hinterland, before spending a decade in Southern California, Campbell's biography mirrors her practice, oscillating between New Zealand's verdant coasts and the smog-choked, climate-stressed systems of the Californian deserts. She has photographed in extreme conditions in North America, New Zealand, and Antarctica, using the full panoply of techniques from photography's two-hundred-year history. This publication is the outcome of a close collaboration with volume editor and contributor John C. Welchman (Professor of Art History, Theory and Criticism, University of California, San Diego, and Chair, Mike Kelley Foundation for the Arts).
Copublished with Adam Art Gallery Te Pātaka Toi at Victoria University of Wellington
Contributors
Christina Barton, Geoffrey Batchen, Joyce Campbell, Elizabeth Grosz, Tungāne Kani, Apikara Niania, Richard Niania, Mark von Schlegell, George Smith, Sebastian Smith, Vicky Smith, Bernard Stiegler, John C. Welchman
Published:

12 May 2020

ISBN:

9783956794445

Imprint:

MIT Press

Format:

Paperback

Pages:

320

RRP:

$69.99