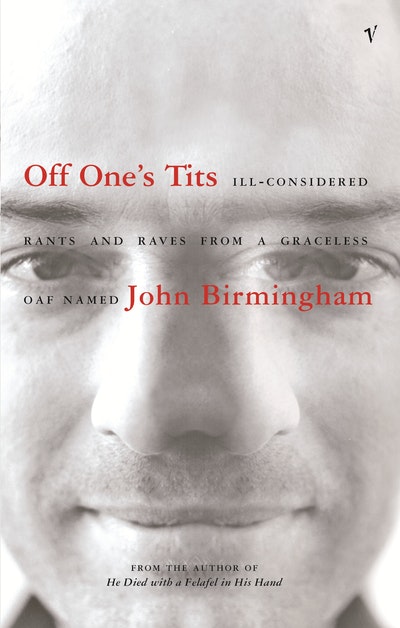 Published:

1 March 2002

ISBN:

9781740511285

Imprint:

Vintage Australia

Format:

Paperback

Pages:

408

RRP:

$24.99
Off One's Tits
---
---
An hilarious, terrifying and bizarre roller-coaster ride through the alien, familar and downright satanic terrain of bestselling writer John Birmingham, author of HE DIED WITH A FELAFEL IN HIS HAND and LEVIATHAN
'THE NATION'S PREMIER GONZO JOURNALIST...Happy is the country that has its history written and interpreted by writers of the calibre of Birmingham.'
PETER CRAVEN, THE AUSTRALIAN
'A FINE JOURNALIST with an eye for the blended spaces between black and white, RELENTLESS CERTAINTY AND A FORMIDABLE VOICE.' GRAEME BLUNDELL, THE AUSTRALIAN
In OFF ONE'S TITS, hilarious social observer and fearless investigator John Birmingham turns his attention to what has made this country great - its men and women - and what has made it an embarrassment - its politicians, big business and law enforcement agencies.
Half the book is an exploration and celebration of the wonderful world of men and the things they hold dear: booze, badness, bachelorhood, boxing, grog, misbehaving, masculinity, alcohol, footy, pork, piss and women. Scary stuff.
The other half is a sobering, hard-hitting, searing account of injustice of the worst kind, police violence, political inertia, political slime and political evil. REALLY scary stuff.
Intoxicatingly funny and soberingly compelling writing from both sides of one of our best and most surprising writers - enjoy!
Published:

1 March 2002

ISBN:

9781740511285

Imprint:

Vintage Australia

Format:

Paperback

Pages:

408

RRP:

$24.99