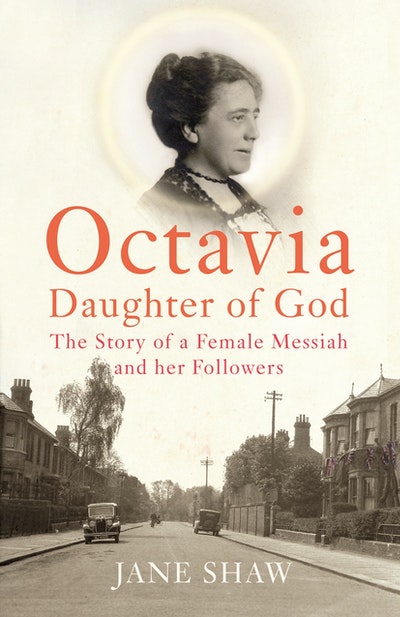 Published:

20 November 2017

ISBN:

9781787330276

Imprint:

Jonathan Cape

Format:

Trade Paperback

Pages:

416

RRP:

$49.99
Octavia, Daughter of God
---
---
The story of an extraordinary female religious community that emerged in Bedford following the First World War, whose members believed that a fifty-three year old vicar's widow was the daughter of God.
In 1919, in the wake of the upheaval of World War I, a remarkable group of English women came up with their own solution to the world's grief:a new religion. At the heart of the Panacea Society was a charismatic and autocratic leader, a vicar's widow named Mabel Barltrop. Her followers called her Octavia, and believed that she was the daughter of God, sent to build the New Jerusalem in Bedford.
Proclaiming the female aspects of God, Octavia attracted former suffragettes, middle-class Christian women and passionate spiritual seekers to Bedford, where they followed her in rigorous religious practices. She appointed twelve women as her apostles, and put the rest to work to spread her Word: that human beings, through Panacea, could achieve immortal life on earth.
Acclaimed historian Jane Shaw found the last living members of the Panacea Society, who revealed to her their immense, painstakingly-preserved archives. She discovered a utopian community that once had seventy residents, thousands of followers, and an international healing ministry that reached 130,000 people around the globe.
Octavia, Daughter of God is a fascinating group biography and a revelatory work of cultural and narrative history. Vividly told, by turns funny and tragic, it reveals in intimate detail the complex, out-sized personality of Octavia; the faith of her devoted followers, who believed they would never die; and the intricacies and intrigues of her close-knit community.
But Octavia, Daughter of God is also about a moment at the advent of modernity, when a generation of newly empowered women tried to re-make Christianity in their own image. Startlingly modern in their resolve and curiously reactionary in their social views and politics, their story is a portrait of an age. It offers a window into the anxieties and hopes of the interwar years through the lives of ordinary people who believed extraordinary things about God, this world and the next.
Published:

20 November 2017

ISBN:

9781787330276

Imprint:

Jonathan Cape

Format:

Trade Paperback

Pages:

416

RRP:

$49.99
Praise for Octavia, Daughter of God
Octavia, Daughter of God, is certainly not hagiography. Rather than condemning, Shaw seeks to sensitively explain and understand the Panaceans. She thus adds considerably to our knowledge about the varied paths that women followed in interwar Britain as they sought answers to the problems of their time

Jane Purvis, Times