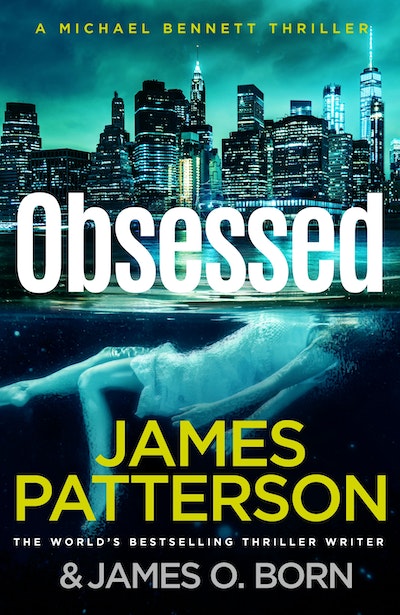 Published:

4 July 2023

ISBN:

9781529125368

Imprint:

Century

Format:

Trade Paperback

Pages:

384

RRP:

$32.99
Obsessed
The Sunday Times bestselling thriller (Michael Bennett 15)
---
---
---
Detective Michael Bennett must discover who's murdering glamorous young women - before his eldest daughter is targeted.
A serial killer with a dangerous infatuation...
Detective Michael Bennett and the NYPD are aboard a police boat in the Hudson River searching for a murder victim - a young college student.
They find her tossed in the dark waves, dressed for a night out. The gruesome sight fills Bennett with dread only a father could fathom.
As the obsessive killer extends his spree, a pattern emerges. One that Bennett's eldest daughter fits to a harrowing degree.
Now NYPD's top detective must lure the murderer into the light of day before the next deadly strike lands closer to home than Bennett could ever bear - as a parent and a protector.
Published:

4 July 2023

ISBN:

9781529125368

Imprint:

Century

Format:

Trade Paperback

Pages:

384

RRP:

$32.99
Patterson knows where our deepest fears are buried... there's no stopping his imagination

New York Times Book Review
Patterson knows where our deepest fears are buried... there's no stopping his imagination

New York Times Book Review
Patterson knows where our deepest fears are buried... there's no stopping his imagination

New York Times Book Review
Patterson knows where our deepest fears are buried... there's no stopping his imagination

New York Times Book Review
Patterson knows where our deepest fears are buried... there's no stopping his imagination

New York Times Book Review
Patterson knows where our deepest fears are buried... there's no stopping his imagination

New York Times Book Review
Patterson knows where our deepest fears are buried... there's no stopping his imagination

New York Times Book Review
Patterson knows where our deepest fears are buried... there's no stopping his imagination

New York Times Book Review
Patterson knows where our deepest fears are buried... there's no stopping his imagination

New York Times Book Review
Patterson knows where our deepest fears are buried... there's no stopping his imagination

New York Times Book Review
A writer with an unusual skill at thriller plotting

The Guardian
A writer with an unusual skill at thriller plotting

The Guardian
A writer with an unusual skill at thriller plotting

The Guardian
A writer with an unusual skill at thriller plotting

The Guardian
A writer with an unusual skill at thriller plotting

The Guardian
A writer with an unusual skill at thriller plotting

The Guardian
A writer with an unusual skill at thriller plotting

The Guardian
A writer with an unusual skill at thriller plotting

The Guardian
A writer with an unusual skill at thriller plotting

The Guardian
A writer with an unusual skill at thriller plotting

The Guardian
The master storyteller of our times

Hillary Rodham Clinton
The master storyteller of our times

Hillary Rodham Clinton
The master storyteller of our times

Hillary Rodham Clinton
The master storyteller of our times

Hillary Rodham Clinton
The master storyteller of our times

Hillary Rodham Clinton
The master storyteller of our times

Hillary Rodham Clinton
The master storyteller of our times

Hillary Rodham Clinton
The master storyteller of our times

Hillary Rodham Clinton
The master storyteller of our times

Hillary Rodham Clinton
The master storyteller of our times

Hillary Rodham Clinton
It's no mystery why James Patterson is the world's most popular thriller writer ... Simply put: nobody does it better

Jeffrey Deaver
It's no mystery why James Patterson is the world's most popular thriller writer ... Simply put: nobody does it better

Jeffrey Deaver
It's no mystery why James Patterson is the world's most popular thriller writer ... Simply put: nobody does it better

Jeffrey Deaver
It's no mystery why James Patterson is the world's most popular thriller writer ... Simply put: nobody does it better

Jeffrey Deaver
It's no mystery why James Patterson is the world's most popular thriller writer ... Simply put: nobody does it better

Jeffrey Deaver
It's no mystery why James Patterson is the world's most popular thriller writer ... Simply put: nobody does it better

Jeffrey Deaver
It's no mystery why James Patterson is the world's most popular thriller writer ... Simply put: nobody does it better

Jeffrey Deaver
It's no mystery why James Patterson is the world's most popular thriller writer ... Simply put: nobody does it better

Jeffrey Deaver
It's no mystery why James Patterson is the world's most popular thriller writer ... Simply put: nobody does it better

Jeffrey Deaver
It's no mystery why James Patterson is the world's most popular thriller writer ... Simply put: nobody does it better

Jeffrey Deaver
No one gets this big without amazing natural storytelling talent - which is what Jim has, in spades

Lee Child
No one gets this big without amazing natural storytelling talent - which is what Jim has, in spades

Lee Child
No one gets this big without amazing natural storytelling talent - which is what Jim has, in spades

Lee Child
No one gets this big without amazing natural storytelling talent - which is what Jim has, in spades

Lee Child
No one gets this big without amazing natural storytelling talent - which is what Jim has, in spades

Lee Child
No one gets this big without amazing natural storytelling talent - which is what Jim has, in spades

Lee Child
No one gets this big without amazing natural storytelling talent - which is what Jim has, in spades

Lee Child
No one gets this big without amazing natural storytelling talent - which is what Jim has, in spades

Lee Child
No one gets this big without amazing natural storytelling talent - which is what Jim has, in spades

Lee Child
No one gets this big without amazing natural storytelling talent - which is what Jim has, in spades

Lee Child
Patterson boils a scene down to the single, telling detail, the element that defines a character or moves a plot along. It's what fires off the movie projector in the reader's mind

Michael Connelly
Patterson boils a scene down to the single, telling detail, the element that defines a character or moves a plot along. It's what fires off the movie projector in the reader's mind

Michael Connelly
Patterson boils a scene down to the single, telling detail, the element that defines a character or moves a plot along. It's what fires off the movie projector in the reader's mind

Michael Connelly
Patterson boils a scene down to the single, telling detail, the element that defines a character or moves a plot along. It's what fires off the movie projector in the reader's mind

Michael Connelly
Patterson boils a scene down to the single, telling detail, the element that defines a character or moves a plot along. It's what fires off the movie projector in the reader's mind

Michael Connelly
Patterson boils a scene down to the single, telling detail, the element that defines a character or moves a plot along. It's what fires off the movie projector in the reader's mind

Michael Connelly
Patterson boils a scene down to the single, telling detail, the element that defines a character or moves a plot along. It's what fires off the movie projector in the reader's mind

Michael Connelly
Patterson boils a scene down to the single, telling detail, the element that defines a character or moves a plot along. It's what fires off the movie projector in the reader's mind

Michael Connelly
Patterson boils a scene down to the single, telling detail, the element that defines a character or moves a plot along. It's what fires off the movie projector in the reader's mind

Michael Connelly
Patterson boils a scene down to the single, telling detail, the element that defines a character or moves a plot along. It's what fires off the movie projector in the reader's mind

Michael Connelly
James Patterson is The Boss. End of.

Ian Rankin
James Patterson is The Boss. End of.

Ian Rankin
James Patterson is The Boss. End of.

Ian Rankin
James Patterson is The Boss. End of.

Ian Rankin
James Patterson is The Boss. End of.

Ian Rankin
James Patterson is The Boss. End of.

Ian Rankin
James Patterson is The Boss. End of.

Ian Rankin
James Patterson is The Boss. End of.

Ian Rankin
James Patterson is The Boss. End of.

Ian Rankin
James Patterson is The Boss. End of.

Ian Rankin