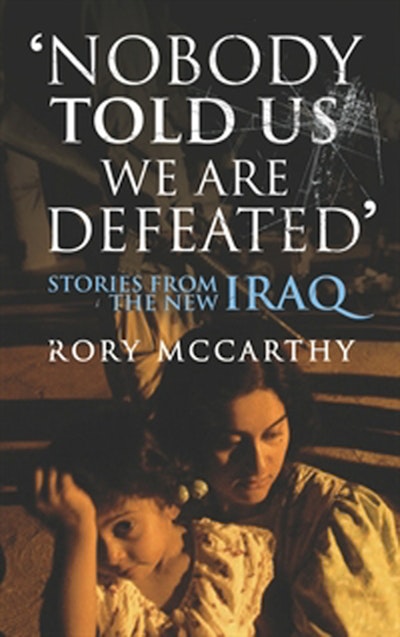 Published:

15 February 2011

ISBN:

9781446448014

Imprint:

Vintage Digital

Format:

EBook

Pages:

336
Nobody Told Us We Are Defeated
Stories from the new Iraq
---
---
---
There are many books about Iraq, but few that explore the thoughts and actions of the Iraqi people as they deal with occupation. As correspondent for the Guardian Rory McCarthy spent two and a half years on the ground. His brilliantly compelling, insightful book focuses on the lives of a group of Iraqis in order to retell the story from their point of view.
In May 2003 journalist Rory McCarthy went to Iraq to cover what was claimed to be the triumphant rebuilding of the country after the American invasion. Two years later he left a place teetering on the brink of civil war, whose inhabitants longed for the Americans to leave but feared what would happen if they did.
Throughout his stay, McCarthy was struck by how little the Iraqi point of view was represented in the media, drowned out by the message of the British and American occupying powers. This book is an attempt to recify that. By telling the stories of some of the Iraqis that McCarthy came to know, it reveals, more subtly and interestingly than any political rhetoric, the fatal extent to which they were misunderstood.
From the survivor of one of Sadaam's mass graves to the insurgents of Najaf, McCarthy shows us men and women living the dilemmas of Iraq from day to day, and making crucial decisions about where they stand. The result is a moving and important book that gives a remarkable overview of a nation in turmoil.
Published:

15 February 2011

ISBN:

9781446448014

Imprint:

Vintage Digital

Format:

EBook

Pages:

336
Praise for Nobody Told Us We Are Defeated
A brilliant, insightful account of how Iraqis have viewed our invasion. McCarthy meets ordinary and extraordinary Iraqis, taking considerable risks in doing so. This is some of the best writing about Iraq since the war began

Jon Snow
This is an excellent book, written with perception and empathy, it gives us rare access to the thinking of a population deeply traumatised by dictatorship, brutality and civil war

Toby Dodge, expert on Iraqi politics at the University of London and for the International Institute of Strategic Studies