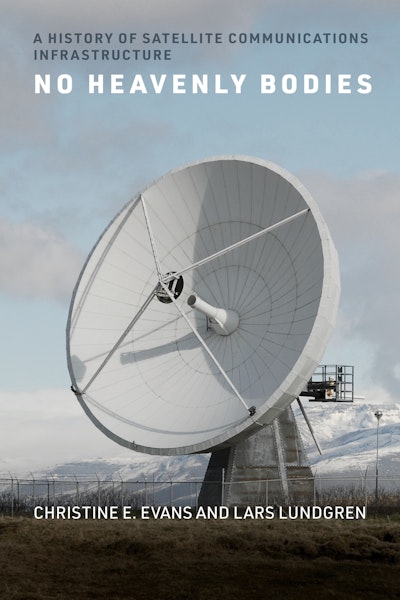 Published:

3 January 2024

ISBN:

9780262546904

Imprint:

MIT Press Academic

Format:

Paperback

Pages:

256

RRP:

$95.00
No Heavenly Bodies
A History of Satellite Communications Infrastructure
---
---
The compelling and little-known history of satellite communications that reveals the Soviet and Eastern European roles in the development of its infrastructure.
Taking its title from Hannah Arendt's description of artificial earth satellites, No Heavenly Bodies explores the history of the first two decades of satellite communications. Christine E. Evans and Lars Lundgren trace how satellite communications infrastructure was imagined, negotiated, and built across the Earth's surface, including across the Iron Curtain. While the United States' and European countries' roles in satellite communications are well documented, Evans and Lundgren delve deep into the role the Soviet Union and other socialist countries played in shaping the infrastructure of satellite communications technology in its first two decades.
Departing from the Cold War binary and the competitive framework that has animated much of space historiography and telecommunications history, No Heavenly Bodies focuses instead on interaction, cooperation, and mutual influence across the Cold War divide.
Evans and Lundgren describe the expansion of satellite communications networks as a process of negotiation and interaction, rather than a simple contest of technological and geopolitical prowess. In so doing, they make visible the significant overlaps, shared imaginaries, points of contact and exchange, and negotiated settlements that determined the shape of satellite communications in its formative decades.
Published:

3 January 2024

ISBN:

9780262546904

Imprint:

MIT Press Academic

Format:

Paperback

Pages:

256

RRP:

$95.00