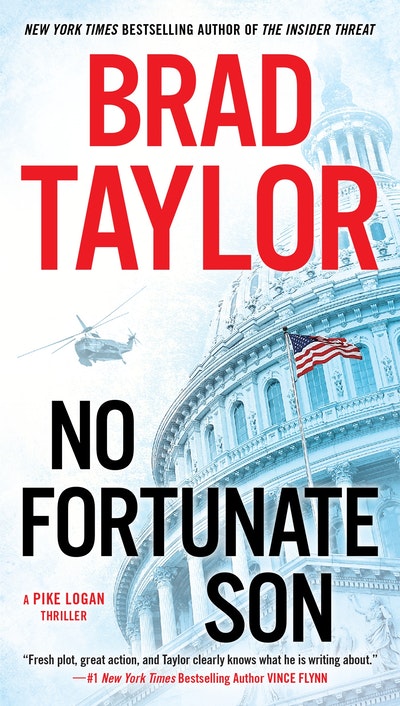 Published:

15 January 2017

ISBN:

9780451467690

Imprint:

Dutton

Format:

Paperback

Pages:

544

RRP:

$16.99
No Fortunate Son
---
---
A hostage situation places America's most powerful political elite at the mercy of its worst enemies in this Pike Logan thriller from retired Delta Force Operator and New York Times bestselling author Brad Taylor.
When veteran operator Pike Logan and partner Jennifer Cahill receive a letter from Blaisdell Consulting—the umbrella cover company for their real employer, a top secret counterterrorist unit called the Taskforce—they expect orders for their next mission-impossible tasking. Instead, they learn that their latest actions have gotten them fired, despite having saved thousands of innocent lives.
Pike's shock and fury is redirected when their commander, Colonel Kurt Hale, asks him and Jennifer for help with a personal matter: His niece Kylie, an exchange student in England, has gone missing. Neither Pike nor Jennifer understands how critical her disappearance will become.
Meanwhile, all Taskforce teams have been redirected to a developing situation. A terrorist organization has targeted military relatives of key members of the US government, including the vice president's son. Their seizure of hostages was far-reaching and meticulously coordinated, and the full extent of the threat—and potential demands—has thrown the government into turmoil. They face a terrible choice: Cease counter-terrorist operations, or watch hostages die one by one. How much is a single life worth? Unless the Taskforce can decipher the web of lies devised by their enemies, the United States is about to find out.
Published:

15 January 2017

ISBN:

9780451467690

Imprint:

Dutton

Format:

Paperback

Pages:

544

RRP:

$16.99
Praise for No Fortunate Son
Praise for No Fortunate Son "[E]dge-of-your-seat thriller...nonstop action, intricate story line, and jaw-dropping plot twists."—Publishers Weekly "Smoothly switching between third-person narration and Pike's first-person point of view, Taylor skillfully unfolds the story until it feels like you're on a frenzied ride. A surefire page-turner that is nearly impossible to put down."—Kirkus Reviews "Taylor has become the heir apparent to the late Vince Flynn, and his latest thriller featuring Pike Logan and his colleague and girlfriend Jennifer Cahill explodes with action from the first page… The surprises never stop, and the pace never relents. Logan and Cahill are a dream team, and military-thriller fans who seek realistic scenarios should consider Taylor mandatory reading."—Booklist "While there are countless authors who have tackled telling the stories of heroic men and women, only a few combine the ingredients of suspense, action, larger-than-life characters and some very appropriate dark humor in such satisfying measures. Whether he is picturing a country vista in some remote village or describing the antics of a spoiled military scion, Taylor writes with the accuracy of one who has been there."—Bookreporter.com "A chilling novel for our time, with a frighteningly realistic plot."—Huffington Post "Brad Taylor's Pike Logan books would still be great even if Taylor hadn't lived the kind of life about which he now writes. But he hits a new peak with the blisteringly effective No Fortunate Son ratcheting up both the professional and personal stakes for Logan's stalwart Taskforce team… With his latest, Taylor firmly entrenches himself on the level of James Rollins, Vince Flynn and Brad Thor as the modern master of the military thriller."—Providence Journal From the Hardcover edition.