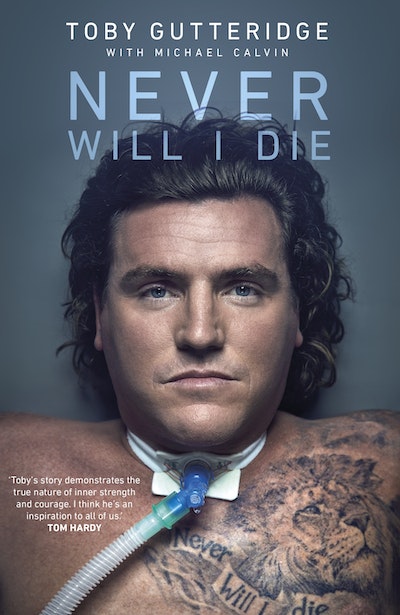 Published:

1 October 2022

ISBN:

9781787635463

Imprint:

Bantam Press

Format:

Hardback

Pages:

288

RRP:

$52.99
Never Will I Die
An extraordinary story of survival, hope and finding the meaning of life in the face of death
---
---
The powerful and deeply moving account of a Special Forces operator who suffered life changing injuries in Afghanistan. A passionate story of life triumphing over death, and a manifesto for overcoming adversity and appreciating what really matters in life.
'Toby's sheer grit and determination is a powerful testament to his character. His story demonstrates the true nature of inner strength and courage. I think he's an inspiration to all of us.'
Tom Hardy
'Inspirational. An amazing book.'
Jason Fox

------------------------------
There's no pain, no theatrical agony. No screaming, no shouting. The kill shot is catastrophic and conclusive. I slump silently on to my knees and topple forward, head first, into the dirt. The lads have seen enough death to assume mine is instantaneous. The lights are out. That's him gone.
Toby Gutteridge was only 24 when he was shot through the neck while operating behind enemy lines in Afghanistan. He survived despite not breathing for at least 20 minutes. Back in the UK, doctors recommended that his life support machine be switched off, but with the defiant spirit that would define his recovery, Toby pulled through.
Now quadriplegic, capable of movement only with his head, Toby has rebuilt his life. His is an extraordinary story of survival against overwhelming odds, and of the power of the human spirit to overcome extreme adversity. Brutally honest and authentic, he builds a compelling picture of the type of person produced by the Special Forces system, and tells of how one split second changed the course of his life forever.
Powerful and inspiring, Never Will I Die is a universal story about our search for purpose, and explores how extreme experience shows us what truly matters.
PRAISE FOR NEVER WILL I DIE
'Toby's truly humbling journey will realign your benchmark for the words determination, hero and inspiration.'
Victoria Pendleton CBE
'Toby has overcome more obstacle than anyone I know. His is a story of life triumphing over death, and shows the strength of the human spirit.'
Nims Purja
Published:

1 October 2022

ISBN:

9781787635463

Imprint:

Bantam Press

Format:

Hardback

Pages:

288

RRP:

$52.99
Praise for Never Will I Die
'A truly inspiring story of an amazingly driven individual who refused to go quietly and fought back against all the odds.'

Titch Cormack
'Inspirational. An amazing book.'

Jason Fox
'Toby's sheer grit and determination is a powerful testament to his character. His story demonstrates the true nature of inner strength and courage. I think he's an inspiration to all of us.'

Tom Hardy
'Toby has overcome more obstacle than anyone I know. His is a story of life triumphing over death, and shows the strength of the human spirit.'

Nims Purja
'A truly inspiring story of an amazingly driven individual who refused to go quietly and fought back against all the odds.'

Titch Cormack
'Toby is one of life's most inspirational men with an amazing life story. He has endured great adversity but continues to face life head on.'

Jodie Kidd
In international rugby we speak about putting your body on the line for your mates. Toby's inspirational story gives an unforgettable insight into the men who do that for real, in life or death situations. A remarkable book.

Dylan Hartley
Toby's truly humbling journey will realign your benchmark for the words determination, hero and inspiration.

Victoria Pendleton CBE
Nothing short of inspirational.

Ollie Ollerton
A compelling account of the commitment it takes to be a Special Forces operator and the very brutal consequence of laying it all on the line. Heroic.

Louis Tinsley, Former SBS Operator