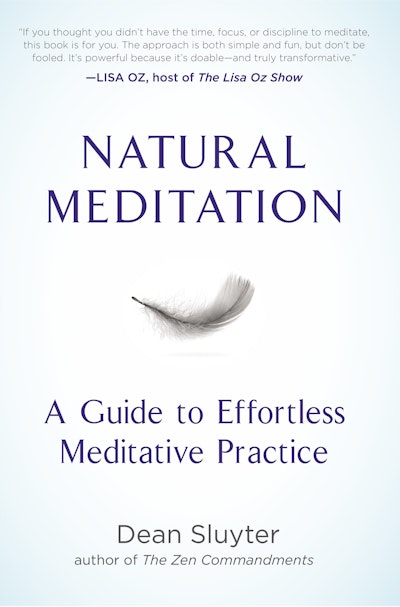 Published:

22 April 2015

ISBN:

9780399171413

Imprint:

Tarcher

Format:

Paperback

Pages:

272

RRP:

$26.99
Natural Meditation: A Guide to Effortless Meditative Practice
---
---
You'll find all the practical tips you need for adapting these methods to your daily life, even for a few minutes a day on the subway or in an office cubicle. And as your life opens to deep happiness, clarity, peace, and creative energy, you'll be inspired to keep on practicing—naturally.
There's no trying in meditation.
Just as water runs naturally downhill . . . just as leaves float naturally to the ground . . . anyone can settle naturally into meditation. Not trying, just allowing—not doing, just being.
The key is effortlessness. Whether you're a complete novice or you've 'tried it before,' if you can breathe you can meditate. Guided by veteran teacher Dean Sluyter's easygoing, down-to-earth approach, you'll test-drive a variety of meditative 'vehicles,' such as breath, sound, the senses, the sky, and the simple sense of 'I,' and discover which ones fit you best.
You'll find all the practical tips you need for adapting these methods to your daily life, even for a few minutes a day on the subway or in an office cubicle. And as your life opens to deep happiness, clarity, peace, and creative energy, you'll be inspired to keep on practicing—naturally.
Praise for Natural Meditation
'If you thought you didn't have the time, focus, or discipline to meditate, this book is for you.  The approach is both simple and fun, but don't be fooled.  It's powerful because it's doable – and truly transformative.'  Lisa Oz, host, The Lisa Oz Show
'Dean Sluyter is in the grand tradition of authors who interpret traditional enlightenment teachings and apply them to modern Western life. This book accomplishes that task with a rare combination of insight, clarity, wit, and pragmatic common sense.' Philip Goldberg, author, American Veda: From Emerson & the Beatles to Yoga & Meditation
'If you were going to read one book on meditation, this would be the one.'  Shiva Rea

Published:

22 April 2015

ISBN:

9780399171413

Imprint:

Tarcher

Format:

Paperback

Pages:

272

RRP:

$26.99