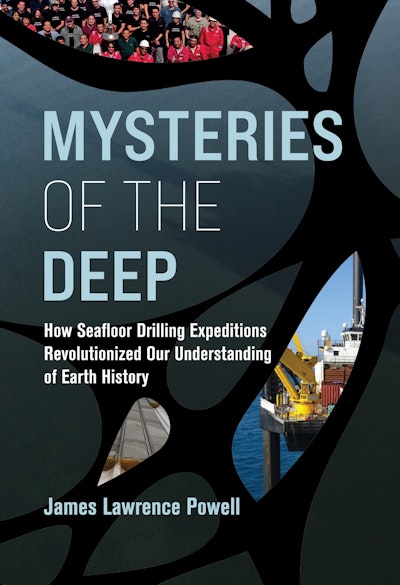 Published:

26 March 2024

ISBN:

9780262048927

Imprint:

MIT Press

Format:

Hardback

Pages:

256

RRP:

$65.00
Mysteries of the Deep
How Seafloor Drilling Expeditions Revolutionized Our Understanding of Earth History
---
---
A groundbreaking chronicle of scientific ocean drilling—a crowning achievement of the twentieth century—and how it shaped our knowledge of Earth's past.
Under the radar—or, rather, sonar—of most people and many scientists, for the last six decades ships have plied the world's oceans, mining the seafloor for its secrets—and quietly resolving confounding geological mysteries. Continental drift and plate tectonics. The origin of the Hawaiʻian Islands. The erstwhile disappearance of the Mediterranean. The mystery of the ice ages. All are part of the story told by deep-sea drilling—and chapters in the history that unfolds in Mysteries of the Deep. In a series of vignettes ranging from the voyage of the HMS Challenger in the 1870s to the adventures of research ship Chikyū in the 2020s, James Powell recounts the surprises the seafloor has yielded to the probing of scientists.
With a global, sometimes even extraterrestrial scope and a scientific reach that extends to every corner of geology and astrobiology, Powell's work recounts how cores extracted from the ocean floor have:
· produced insights into microbial life on Mars and the end of dinosaurs' tenure on Earth
· demonstrated that astronomical cycles control many geological events, and even human evolution
· used a past episode of global warming to reveal the peril of high temperatures today
· shown that global warming could melt enough Antarctic ice to drown the seacoasts
The mysteries uncovered by deep-sea drilling, and covered by Powell in this eye-opening book, are many and various, often surprising and sometimes alarming—consequential not just for the science of the seafloor, but for how we learn about our planet's past and what we can do about its future.
Published:

26 March 2024

ISBN:

9780262048927

Imprint:

MIT Press

Format:

Hardback

Pages:

256

RRP:

$65.00