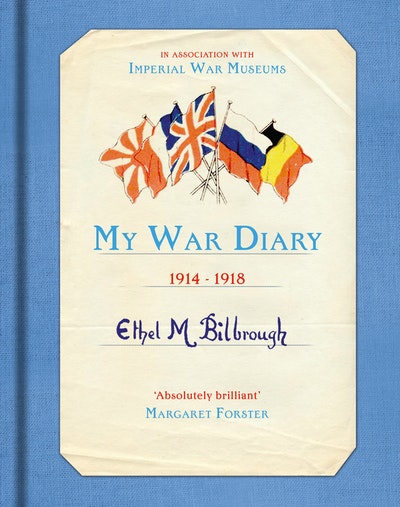 Published:

13 February 2018

ISBN:

9781473557154

Imprint:

Ebury Digital

Format:

EBook

Pages:

240
My War Diary 1914-1918
---
---
Life on the Home Front during the Great War, as Ethel Bilbrough, a housewife from Chislehurst in Kent, saw it
Part scrapbook, part memoir, this wonderfully colourful and eloquent diary brims with vivid observations, providing a rare snapshot of what life was like on the Home Front during the First World War.
Amateur artist, animal lover and keen writer of letters to the papers, Mrs Bilbrough witnessed the men leaving for war (her husband, Kenneth, a banker in the City, was fortunately too old to be called up); the horses at Waterloo waiting to be transported to France; bombings and airraids; the introduction of the Daylight Saving Bill and food price increases (her consternation as the price of a tin of tongue rose from 2/- to 4/6 is clear!). She also writes at her outrage at the shooting of British nurse Edith Cavell; her sadness when Lord Kitchener is drowned at sea; her alarm as Zeppelins flew over Kent and her anger at the wide-ranging German atrocities. Her relief as war ended is palpable ('PEACE! The armistice is signed, "the day" has come at last! And it is ours!').
Interspersed with her daily jottings are cuttings and cartoons, her own watercolours and drawings and the colourful flags that were sold to raise money for the troops. Charming yet moving, this diary gives us a taste of what it was really like to live through the Great War, seen from the perspective of an acute social observer.
Published:

13 February 2018

ISBN:

9781473557154

Imprint:

Ebury Digital

Format:

EBook

Pages:

240