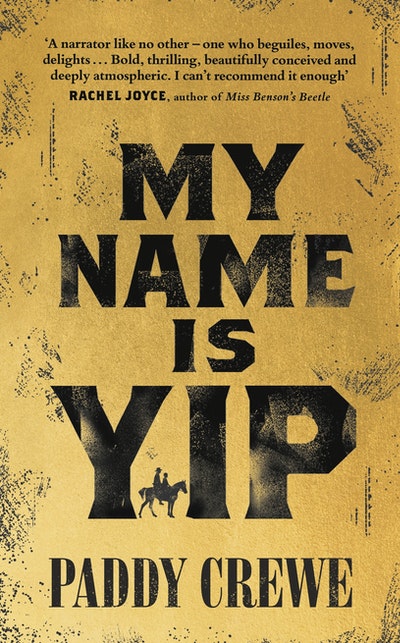 Published:

5 June 2022

ISBN:

9780857527912

Imprint:

Doubleday

Format:

Hardback

Pages:

384

RRP:

$39.99
My Name is Yip
A gold-rush adventure story of murder, friendship and redemption
---
---
---
A brilliantly original voice-driven debut story of courage, friendship and adventure through the wonders and horrors of the American frontier.
"MY NAME IS YIP TOLROY & I am a mute. I have made not a sound since the day of my birth, October 2nd, 1815. I will say that my life has been something of a trial but such is God's wish & so I must tell my story here on the page."
Yip Tolroy and his fiery Mama run the general store in Heron's Creek, Georgia. An uneventful life, until gold is discovered nearby and Yip is caught up in a bloody, grievous crime forcing him to flee. On the run, friendless and alone, he meets Dud Carter a savvy but unlikely companion. Together, they embark on a journey that thrusts them unwittingly into a world of menace and violence, of lust and revenge. And, as Yip and Dud's odyssey takes them further into the unknown - via travelling shows, escaped slaves and the greed of gold-hungry men - the pull of home only gets stronger. But what will they find there if they ever return?
'This is violent, anarchic American history with echoes of Sebastian Barry's Days Without End, but Paddy Crewe's take is startlingly original... Yip's tale is immersive and beautiful in unexpected places. On the strength of this sensational debut, you will be hearing a lot more about Paddy Crewe.' Antonia Senior, The Times Historical Fiction Book of the Month
Published:

5 June 2022

ISBN:

9780857527912

Imprint:

Doubleday

Format:

Hardback

Pages:

384

RRP:

$39.99
Praise for My Name is Yip
Mute but eloquent, Yip comes thrillingly into our midst to unfurl his singular and singing book of revelations. Murder, gold, lost fathers... Paddy Crewe has a 24-carat gift

Sebastian Barry, author of Days Without End
Yip Tolroy may not speak, but his voice soars off the page in Paddy Crewe's terrific debut novel. Both an entertaining tale of gold, murder and the impulse for revenge, and a tender coming-of-age story amid the lawlessness of the American frontier.

Paul Howarth, author of Only Killers and Thieves
My Name is Yip accelerates into a wild gallop. There are pleasures (and horrors too) in this picaresque of a plot, but its real power lies in Yip's distinctive voice. From his first words he springs from the page, entirely himself and impossible to resist. An exuberant and original debut.

Clare Clark, author of Savage Lands
What a marvel this novel by Paddy Crewe is, what an unlooked-for firecracker of fury and beauty and rage and hope. My Name Is Yip is a tremendous novel, one that both harks back and burns the way forward, that is built of sentences that sing and roar.

Laird Hunt, author of Neverhome
My Name is Yip is a thrilling adventure story brim-full of humour, strangeness and charm

Ian McGuire, Booker Prize longlisted author of The North Water
A rollicking picaresque... This memorable string of adventures reads like a one-of-a-kind mash-up of Charles Dickens and Cormac McCarthy.

Publishers Weekly
Paddy Crewe takes us on Yip's epic journey with meticulous skill. Told in a voice both idiosyncratic and poetic, this is a moving novel from a talented new writer.

Daniel Wiles, author of Mercia's Take
My Name is Yip is so utterly itself and vivid. I haven't read anything quite like it. A mesmeric and rollicking adventure told by a narrator like no other - one who beguiles, moves, delights and also had me so worried for him, I was on the edge of my seat. Bold, thrilling, beautifully conceived and deeply atmospheric. I can't recommend it enough. Superb to the last full stop.

Rachel Joyce, author of The Unlikely Pilgrimage of Harold Fry
I love the compelling narrator, somehow a cross between Charles Dickens's David Copperfield and Charles Portis's Mattie Ross. And like True Grit, Yip takes us on a wild ride.

Michael Punke, author of The Revenant and Ridgeline
Magnificent. My Name is Yip is a sheer joy. What a voice, what a story. Yip is an incredible character, up there with Owen Meany and Holden Caulfield for sheer unforgettableness. It's a glorious novel.

Donal Ryan, author of Strange Flowers
This is violent, anarchic American history with echoes of Sebastian Barry's Days Without End, but Paddy Crewe's take is startlingly original... Yip's tale is immersive and beautiful in unexpected places. On the strength of this sensational debut, you will be hearing a lot more about Paddy Crewe.

The Times, Historical Fiction Book of the Month
Bold and impressive... This is a book with a distinct rhythm. The timbre of Yip's voice and the constant movement of characters through desolate landscapes creates an energy that seduces the reader. Crewe is an author of huge imaginative range.

Literary Review
Paddy Crewe's ambitious, cinematic debut novel set during Georgia's gold rush in a semi-mythic American south that recalls both Cormac McCarthy's All the Pretty Horses and Faulkner's Light in August... A rollicking, page-turning wild west adventure, populated by a cast of arresting grotesques, with luminous imagery and an unforgettable protagonist... A remarkably vivid and energetic debut novel; a consummate linguistic performance.

Guardian
Unforgettable: rich with imagery, distinctive and convincing

The Times 'Best Books To Read This Summer'
Crewe has created a memorable hero - one who cannot speak, but in nonetheless an eloquent voice on the page.

Sunday Times 'Best Historical Fiction Books of 2022'
Recalls the first-person conjuration of Peter Carey's True History of the Kelly Gang and the brutality and lyricism of Cormac McCarthy's All the Pretty Horses... A thrilling bildungsroman adventure, full of reversals of fortune and getaways.

New Statesman