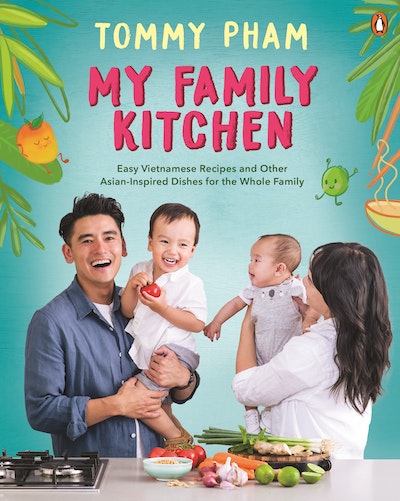 Published:

4 July 2023

ISBN:

9781761340888

Imprint:

Penguin

Format:

Paperback

Pages:

192

RRP:

$32.99
My Family Kitchen
Easy Vietnamese Recipes and Other Asian-Inspired Dishes for the Whole Family
---
---
From MasterChef favourite, dad and teacher Tommy Pham, this book – jam-packed with 60 recipes and fun kitchen activities – will help families to develop a love of food through cooking and play.
'As a teacher and a doting dad, Tommy brings an accessible sense of fun to the kitchen; home kitchens, where kids are encouraged to watch, learn and taste, are kitchens that foster future adults with a curiosity and appreciation for food that stays with them for life.' Melissa Leong

What up, fam?!

Join MasterChef favourite Tommy Pham in his family kitchen as he shows you how to create delicious, easy dishes full of fun and flavour. Jam-packed with over 60 recipes and playful activities, this book shares Tommy's best-loved recipes from his Vietnamese heritage alongside other scrumptious Asian-inspired meals and snacks – and adds twists and hacks for making meal time as smooth as possible. As a dad and primary school teacher, Tommy knows the value in getting kids involved in cooking and keeping them busy with entertaining activities that encourage laughter and play in the kitchen.
So, come on! Bring the family together and explore fresh and flavoursome food that everyone can enjoy.
Published:

4 July 2023

ISBN:

9781761340888

Imprint:

Penguin

Format:

Paperback

Pages:

192

RRP:

$32.99
Praise for My Family Kitchen
Full credit then to the ex-MasterChef Australia contestant Tommy Pham for headlining his recipes with their Vietnamese names, with English subtitles for those who need it. He spins the greatest hits – gỏi cuốn (rice paper rolls) and bún gà áp chảo (lemongrass and sesame oil chicken with vermicelli) – plus home-cooking wonders such as canh chua (sour fish soup) and bò kho (beef stew). The recipes – which serve "2 adults and 2 littles" – are adaptable for baby and toddler diets, which makes this a "family" cookbook in the truest sense of the word.

Yvonne Lam, The Guardian Australia
Instead of cooking two separate meals, Tommy's recipes are about saving time by raising your kids on the food that you like and tweaking the flavours in their servings slightly. Inspired by Tommy's heritage and memories of learning to cook with his mum growing up in the south western Sydney suburb Cabramatta, My Family Kitchen highlights the "fresh and fragrant" flavours of Vietnamese food.

Jessica G. Lynch, Better Homes and Gardens Australia
It's full of yummy (and super easy) recipes, plus a whole range of fun kitchen activities to get your kiddo interested in cooking.

HEJIRA CONVERY, KINDICARE