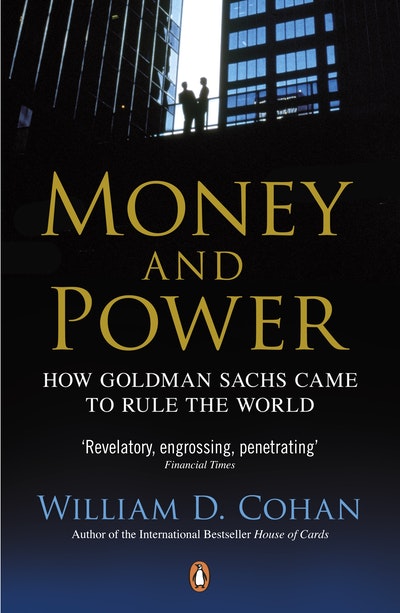 Published:

12 June 2012

ISBN:

9780241954065

Imprint:

Penguin Press

Format:

Paperback

Pages:

662

RRP:

$27.99
Money And Power
How Goldman Sachs Came To Rule The World
---
---
William D. Cohan's Money and Power: How Goldman Sachs Came to Rule the World is a chronicle of the most successful, iconic bank on Wall Street, from the firm's founding in 1869 to the present day.
Goldman Sachs are the investment bank all other banks - and most businesses - want to emulate; the firm with the best talent, the best clients, the best strategy. But is their success just down to the gilded magic of the 'Goldman way'?
William D. Cohan has gained unprecedented access to Goldman's inner circle - both on and off the record. In an astonishing story of clashing egos, backstabbing, sex scandals, private investigators, court cases and government cabals, he reveals what really lies beneath their gold-plated image.
'The best analysis yet of Goldman's increasingly tangled web of conflicts'
Economist
'Startling ... lifts the lid on Goldman's pivotal role in the meltdown'
Mail on Sunday
'Cohan portrays a firm that has grown so large and hungry that it's no longer long-term greedy but short-term vicious. And that's the wonder - and horror - of Goldman Sachs'
Businessweek
'Cohan's book tells of bitter power struggles and business cock-ups'
Guardian
'A definitive account of the most profitable and influential investment bank of the modern era'
The New York Times Book Review
William D. Cohan was an award-winning investigative journalist before embarking on a seventeen-year career as an investment banker on Wall Street. His first book, The Last Tycoons, about Lazard, won the 2007 Financial Times/Goldman Sachs Business Book of the Year Award and was a New York Times bestseller. His second book, House of Cards, also a bestseller, is an account of the last days of Bear Stearns & Co.

Published:

12 June 2012

ISBN:

9780241954065

Imprint:

Penguin Press

Format:

Paperback

Pages:

662

RRP:

$27.99