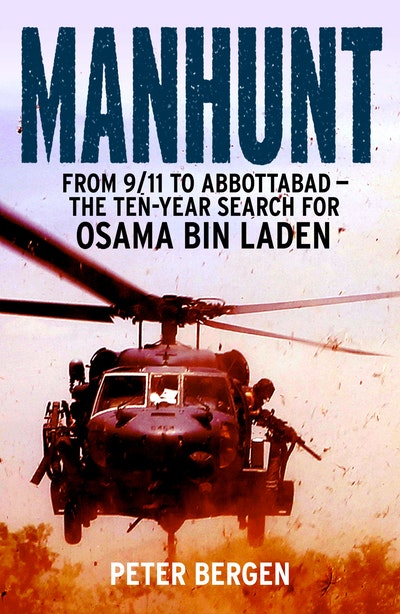 Published:

15 May 2013

ISBN:

9780099570226

Imprint:

Vintage

Format:

Paperback

Pages:

400

RRP:

$27.99
Manhunt
From 9/11 to Abbottabad - the Ten-Year Search for Osama bin Laden
---
---
The definitive account of the decade-long manhunt that killed the world's most wanted man, Osama bin Laden.
In 2012, Manhunt was chosen as the Sunday Times current affairs book of the year and in The Times as one of the best nonfiction books of the year.
Al Qaeda expert and CNN national security analyst Peter Bergen paints a multi-dimensional picture of the hunt for bin Laden over the past decade, as well as the recent campaign that gradually tightened the noose around him. Other key elements of the book include:
* A careful account of Obama's decision-making process throughout the final weeks and days during which the raid was planned, as well as what NSC cabinet members were advising him. The fascinating story of a group of (mostly female) analysts at the CIA in the HVT (High Value Target) section, who never gave up assembling the tiniest clues about OBL's whereabouts.
* The untold and action-packed history of the Joint Special Operations Command (JSOC) and the SEALs, which accounts for the confidence Obama had in tasking them with the mission.
* An analysis of what the death of OBL means for al Qaeda, for the wider jihadist movement that looked to him for inspiration and strategic guidance, and for Obama's legacy.
Published:

15 May 2013

ISBN:

9780099570226

Imprint:

Vintage

Format:

Paperback

Pages:

400

RRP:

$27.99
The book makes for a rattling and thoroughly researched read on the last days of the world's most notorious terrorist

Daily Telegraph
Tells the story of the search with considerable authority and conviction

Max Hastings, Sunday Times
His narrative has authority... Manhunt is packed with satisfying observations

The Economist
Meticulously reported, pacy and authoritative

Jason Burke, Observer
A very good, well-sourced account, as good on the White House, the military and the CIA as on what happened in Abbottabad, and as good as we're likely to get, short of an official version

Alan Judd, Spectator
Makes for a riveting read

Mail on Sunday
Painstakingly researched

Christopher Hirst, Independent
Grippingly narrated. Has the feel of a definitive work

Julian Borger, Guardian