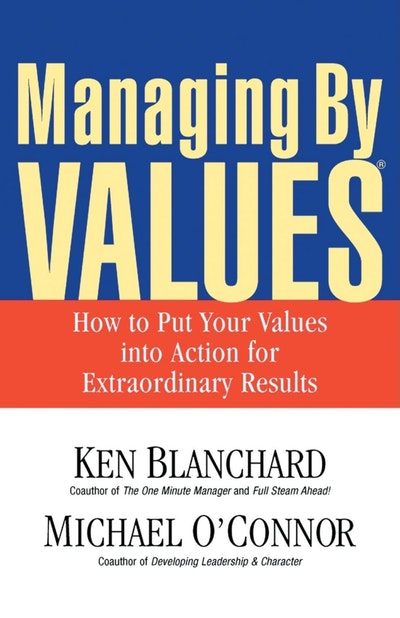 Published:

1 January 2018

ISBN:

9781576752746

Imprint:

Berrett-Koehler

Format:

Trade Paperback

Pages:

160

RRP:

$34.99
Managing By Values
---
---
Managing By Values describes how companies of all types can achieve greater success-measured not by volume or profits, but by the quality of life for employees and the quality service for customers.
By committing to a common purpose and shared values, any organization can adopt a way
doing business that allows all stakeholders-owners and shareholders, employees, customers
and clients- to win. Based on more than 25 years of research and application in organizations, Managing By Values details a practical game plan for clarifying your organization's core
values, communicating them throughout the organization, aligning these values with actual practices, and reaching an exciting new level of organizational success.
Published:

1 January 2018

ISBN:

9781576752746

Imprint:

Berrett-Koehler

Format:

Trade Paperback

Pages:

160

RRP:

$34.99
Praise for Managing By Values
"Managing by Values' is a powerful process... Employees report that we have a more productive and fulfilling workplace, which in turn is driving improved customer satisfaction and the resulting return for owners. MBV is the basis of continuous improvement in our company." --The Management Team, Holt Company of Ohio "This book describes an emerging type of company.... I've been part of this 'fortunate' journey and seen it produce great results with customers and employees, while increasing productivity and profits throughout the process. Managing by Values works!" --Erv Kamm, President and CE0, Digi International, Inc "Managing by Values' creates a positive and healthy employee culture that unleashes the power of the human spirit." --Paul Baszucki, CEC, Norstan Communications, Inc "The Managing by Values' process can be replicated in any organization, providing there is the commitment to do it." --Marcia Ballinger, Director Human Resources Development, BMC Industries, Inc. "The CFO Section was right on target. The thoughts and observations of how this process actually works agree with my own actual experience of it in practice." --David Hennessee, Chief Financial officer, The Holt Company