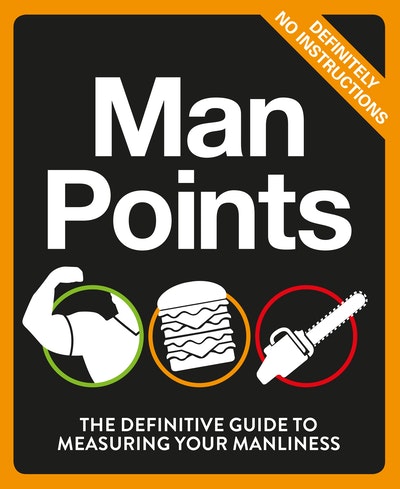 Published:

3 August 2015

ISBN:

9780091959975

Imprint:

Ebury Press

Format:

Paperback

Pages:

192

RRP:

$19.99
Man Points
The Definitive Guide to Measuring Your Manliness
---
---
The definitive guide to measuring your manliness
Every man knows that certain tasks earn you man points. Using an angle grinder, changing a tyre, starting a fire, getting the gunk out of the bottom of the sink. These are the things that separate the men from the boys. But how many man points you get is often the subject of heated debate. Finally such arguments can be laid to rest forever, with this definitive handbook.
Starting with everyday acts of manliness all the way through to the very heights of man-chievement, this is the ultimate guide to earning man points. From growing a beard to breaking down a door, getting the cap off a beer without a bottle opener to flying a plane, or from building a shed to firing a gun, Man Points allows you to rate and record your manly accomplishments.
Of course man points can be lost as well as won. Got something in your eye mate, or are you crying at The Notebook? Is that an instruction manual you're reading? And I hope that's not a hairdryerin your bottom drawer. Use the last section of this book to make sure you're not letting yourself down.
Includes a handy score sheet to tot up your man points, and a quick quiz to should you need to assess your manliness in a hurry.
Published:

3 August 2015

ISBN:

9780091959975

Imprint:

Ebury Press

Format:

Paperback

Pages:

192

RRP:

$19.99