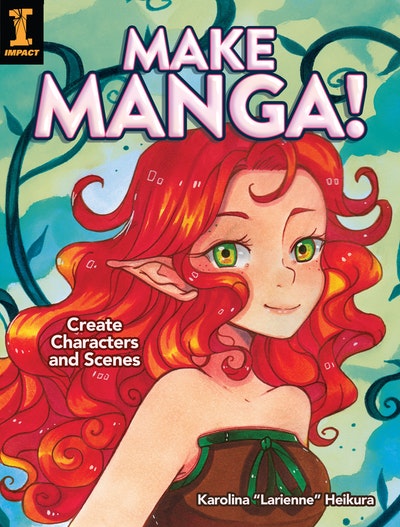 Published:

17 April 2018

ISBN:

9781440353017

Imprint:

Penguin

Format:

Paperback

Pages:

128

RRP:

$45.00
Make Manga!
Create Characters and Scenes
---
---
How to Make Your Own Exciting Manga Story!
An artist's greatest gift is his or her imagination. By learning how to create manga characters with personality--and place them in engaging backgrounds--you can tell any story you want to! First, learn the basics of sketching: how to draw faces, figures, expressions and clothing. Then, practice inspirational prompts on coloring, composition and creativity to inspire endless story ideas. Use symbolism, mood and accessories to draw fantastic or realistic scenes. Use both traditional and digital coloring techniques to find your own engaging manga style.
More than 30 step-by-step tutorials teach you:
   • The basics of human anatomy and manga-specific proportions
   • The fundamentals of coloring skin tones, clothing and backgrounds with markers, watercolor and digital enhancements
   • Compelling character ideas, like Gijinkas--cute personifications of food, nature and objects
   • How to incorporate all of those various elements to build a cool and complete scene
"Bring your own visions to life!" ~Karolina "Larienne" Heikura
Published:

17 April 2018

ISBN:

9781440353017

Imprint:

Penguin

Format:

Paperback

Pages:

128

RRP:

$45.00