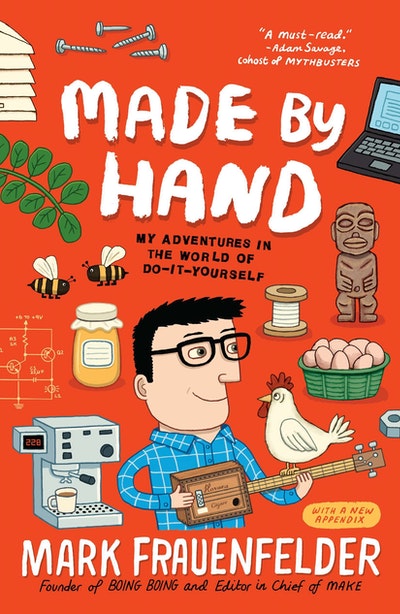 Published:

20 January 2012

ISBN:

9781591844433

Imprint:

Portfolio

Format:

Paperback

Pages:

256

RRP:

$26.99
Made by Hand: My Adventures in the World of Do-It-Yourself
---
---
'It's not merely good, it's foundation-shaking.'
- Seth Godin, Seth's Blog
From his unique vantage point as editor in chief of Make magazine, Mark Frauenfelder takes readers on an inspiring and surprising tour of the vibrant world of do-it-yourself.
He spent a year trying a variety of offbeat projects such as keeping chickens and bees, tricking out his espresso machine, whittling wooden spoons, making guitars out of cigar boxes, and doing citizen science with his daughters in the garage.  His whole family found that DIY helped them take control of their lives, offering deeply satisfying ways to spend time together.
Frauenfelder also reveals how DIY is changing our culture for the better.  He profiles fascinating 'alpha makers' leading various DIY movements and grills them for their best tips and insights.
'Rich, thought-provoking, and utterly readable.'
- Maya Donenfeld, maya*made
'Less a how-to book and more a rumination on the value of screwing up as a path to mastery, Made by Hand is impossible to set down once you start reading it.'
- James Gurney, creator of Dinotopia
'It's as inspiring as it is entertaining.  You'll never look at your lawn the same again!'
- Chris Anderson, editor in chief of Wired
'Made by Hand is a wonderful, thought-provoking, and timely book that shows us why and how we need to take back control or our lives.'
- A.J. Jacobs, author of The Guinea Pig Diaries and The Year of Living Biblically
'Human beings find their proper home not in large-scale corporate structures but in the struggle for individual agency.  You have to admire the doggedness with which the individuals in Made by Hand try to render their own world intelligible.'
- Matthew B. Crawford, author of Shop Class as Soulcraft
'Made by Hand is a wonderfully inspiring read and makes turning to a make-centric way of life feel not only approachable, but utopian.'
- Jaymi Heimbuch, TreeHugger
'Mark Frauenfelder's book is great.  He shows you how to make your own iPhone 4 out of and iPhone 3GS and an iPad!'
- Stephen Colbert

Published:

20 January 2012

ISBN:

9781591844433

Imprint:

Portfolio

Format:

Paperback

Pages:

256

RRP:

$26.99