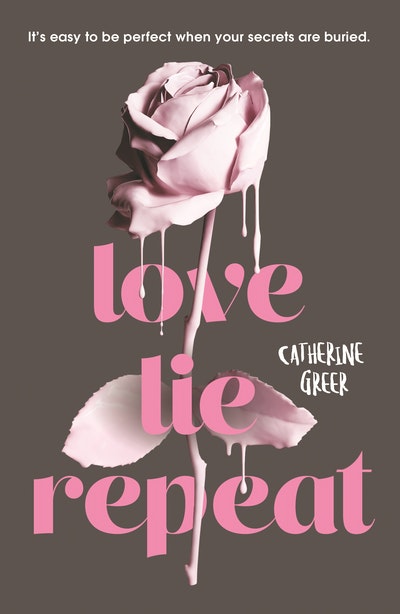 Published:

5 March 2019

ISBN:

9780143791225

Imprint:

Penguin

Format:

Paperback

Pages:

336

RRP:

$19.99
Love Lie Repeat
---
---
It's easy to be perfect when your secrets are buried.
Three girls, loyal to each other? That never happens. All the groups of three implode eventually. Two in, one out. Change. Betrayal. Again and again.
But not us. I make sure of it. I make Ash and Ruby see that our power is in our three-ness. We can do what no other trio can.
Together, we're strong.
Thick, thin, boys, mothers, divorce, other girls, secrets, lies, all of it.
I'll keep us safe. Whatever it takes.
Watch me.
Intoxicating and intense, lush and chilling, LOVE LIE REPEAT is the unmissable debut novel from Catherine Greer.
Published:

5 March 2019

ISBN:

9780143791225

Imprint:

Penguin

Format:

Paperback

Pages:

336

RRP:

$19.99
Praise for Love Lie Repeat
Greer has put together an intense and gripping narrative with many twists and turns and the ending is not to be missed.

Sue Warren, losangzopa.wordpress.com
Both a mystery and a psychological thriller, Love Lie Repeat is a remarkable debut novel, written with assurance and full of believable, fractured characters . . . Although targeted at a YA audience, the story will keep readers of all ages holding their breath, utterly gripped, fearful of what Annie will do next. It's completely unputdownable and sure to be on the shortlist for many awards this year.

Pauline Hosking, Magpies
Intoxicating and addictive, Annie, Ash, and Ruby's friendship is half dream half nightmare. With sweet lies, broken trust, and manipulation Annie keeps her best friends in line, carefully peeling them away from her unfaithful boyfriend with little lies, spilled secrets, and punishment. Meanwhile Trip romances each girl in turn in different ways . . . Love Lie Repeat will keep you on the edge of your seat as you try to uncover just what is driving Annie's need to be loved . . . Highly recommended for girls twelve and up. Teacher's notes are available.'

Kayla Gaskell, ReadPlus
Greer's writing is sharp and edgy . . . It is bold and innovative. The plotting was intense and fulfilling. I think this book will be easily appreciated by an audience from the mid to late teen years upwards.

Amanda Barrett, mrsbbookreviews.wordpress.com
Love Lie Repeat is a suspenseful, psychological drama, filled with complex characters . . . Love Lie Repeat is an addictive story which will keep readers guessing until the end.

Fiona Miller-Stevens, Reading Time
This is an intriguing debut from Australian author Catherine Greer, who explores the dark side of friendship, love and betrayal in a moving and relatable story. It is a haunting and curious piece of young adult fiction that proved very hard to put down.

Michael Popple, Canberra Weekly
Love Lie Repeat is the perfect book for anyone of any age to devour.

bluefairytales.com.au
A thrilling (and chilling) mystery that is compulsively readable

Libby Armstrong, Pittwater Life
This is an intriguing debut from Australian author Greer, who explores the dark side of friendship, love and betrayal in a moving and relatable story. It is a haunting and curious piece of young adult fiction that proved very hard to put down.

Michael Popple, Canberra Weekly