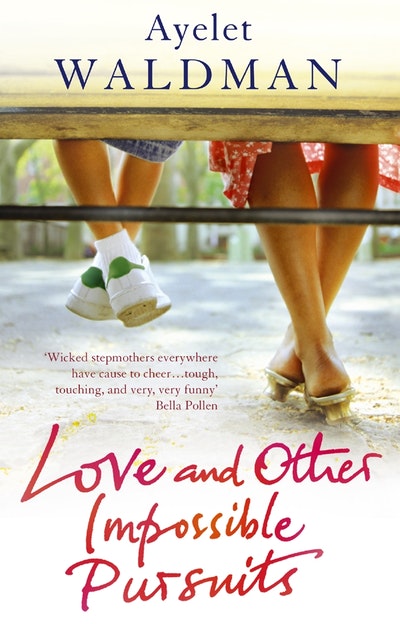 Published:

1 December 2006

ISBN:

9780552772921

Imprint:

Black Swan

Format:

Paperback

Pages:

336

RRP:

$32.99
Love And Other Impossible Pursuits
---
---
A superbly page-turning novel about modern parenthood and its pitfalls.
Is Emilia the wicked stepmother incarnate? Passionately in love with her husband, Emilia has a secret, guilty loathing for her precocious little stepson, William – a forty-year-old in a five-year-old's body, whom she picks up from nursery every Wednesday afternoon. He is lactose intolerant, she feeds him dairy products; he mustn't get cold, she pushes him – accidentally - into a pond in Central Park. How can she forgive William for living, when her own cherished child has gone?LOVE AND OTHER IMPOSSIBLE PURSUITS is funny, candid and raw, a humorous and emotional novel about family in today's fractured society. Set among high-achieving Manhattanites, it announces the arrival of an exciting new American voice.
Published:

1 December 2006

ISBN:

9780552772921

Imprint:

Black Swan

Format:

Paperback

Pages:

336

RRP:

$32.99
Praise for Love And Other Impossible Pursuits
'I felt utterly wrung out after I'd read it. Such powerful, honest writing ...All through the story Ayelet Waldman maintains the balance between candidly demonstrating all her heroine's flaws and yet never once losing our sympathy...Fantastic'

Kate Long, author of The Bad Mother's Handbook
Waldman hooks us from page one ... Tells it with a wittiness and pace which never slacken

Independent on Sunday
What is excellent about this book is its realism, crisp observations, and the easy identification it successfully invites

Guardian
'This book deals with a painful theme in the funniest, most touching and intelligent way. It charts the excruciatingly recognisable traits of mothering brilliantly. I read it in one sitting. I was filled with envy and awe

Arabella Weir, author of Does My Bum Look Big in This?
Very moving

Margaret Forster
'Sharp, painfully honest, and as funny as it is heartbreaking. I literally couldn't put it down'

Shane Watson, author of Other Peopleâ??s Marriages
Utterly brilliant.

OK!
In this interesting inversion of the wicked stepmother story the reader's sympathy is instantly engaged . . . Considerablr darker than its racy, pacy style suggests.

The Times
'I read in one sitting . . . A triumph.'

Diane Johnson, author of LE DIVORCE
A must for...any guilt-ridden, wicked stepmothers out there . . . Clever, honest...and very funny.

Glasgow Evening Times
Gripping ... Both candid and comic.'

Mail on Sunday
Ayelet Waldman isn't afraid to shock people. Quite the reverse. Her declaration last year that she loves her husband more than her children caused an international outcry and catapulted her on to Oprah Winfrey's show to defend herself. Her controversial new novel about the fractured state of family life looks set to do the same ... Honest, touching and acutely observed, it is impossible to put down. One moment I was laughing out loud...while the next I had tears pouring down my face ... But it's the growing relationship between Emilia and her stepson that forms the heart of this tale. Whether you're a parent or not, you can't fail to be moved by it.

Daily Express
·'Ayelet Waldman is an uplifting discovery: a fantastically enjoyable new writer with no pretensions and a genuine story-telling gift . . . An absolute delight . . . A light-hearted and human book that touches on crashing emotions with a combination of tenderness and irreverence.'

Sunday Times
·'Ayelet Waldman...has made it her mission to combat what she called "the perfect mother myth." . . . provocative and often rashly frank . . . Her literary models are Sue Miller and Dani Shapiro . . . shares some of British writer Rachel Cusk's acerbic wit . . . Can be gobbled up in just a sitting or two, zipping along toward its dependably cathartic climax.'

LA Times
'Compelling and artfully drawn . . . Emilia's voice is terrific - sharp, witty, funny, resilient, sarcastic, passionate and very angry.'

Washington Post
A moving and darkly funny read . . . Romantic, shocking and sometimes painful page-turner . . . says something new and interesting about women, families and love.

New York Times
A very good, very funny writer ... The perfect book for anyone who doesn't already know that motherhood is the hardest job in the world.

Irish Examiner
Wicked stepmothers everywhere have cause to cheer. Waldman tells it like it is: Tough, touching and very very funny

Bella Pollen, author of Hunting Unicorns