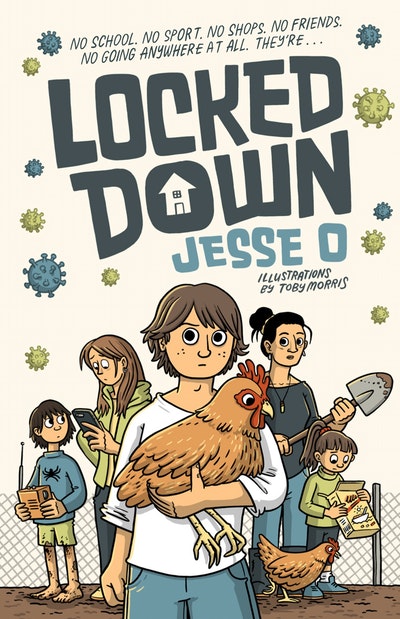 Published:

2 February 2021

ISBN:

9780143775331

Imprint:

Puffin

Format:

Paperback

Pages:

240

RRP:

$17.99
Locked Down
---
---
---
Jesse O's award-winning novel about a deadly pandemic and a family in lockdown, rereleased with all new illustrations by Toby Morris.
The deadly influenza pandemic XB276 is sweeping the country. Twelve-year-old Zac wakes up one morning to the news that everyone must stay home.
He can't leave the house for weeks, or even months. Pretty soon he's facing running out of food, with no electricity, no telephone and no internet. The only people he can count on are his family and closest neighbours.
As Zac faces each new challenge living under lockdown, he discovers resources he never knew he had - and mysteries begging to be solved.
This prescient and gripping novel about a nation in lockdown was written following the H1N1 global pandemic. It won a Storylines Junior Fiction Award in 2011.
Published:

2 February 2021

ISBN:

9780143775331

Imprint:

Puffin

Format:

Paperback

Pages:

240

RRP:

$17.99
[W]hat a mesmerising, totally excellent read...Highly recommended.

Naida Mulligan, The Southland Times
very believable

Angelique Simonsen, Good Reads
Half the fun is comparing the author's projections with the Covid-19 lockdowns in 2020 and now 2021. There are some notable differences, which actually serve to make the narrative more believable, and you can see how a few significant decisions coming from the Government would have dramatically changed the course....Locked Down doesn't shy away from tough topics. Dad's death in an accident some time before the pandemic is keenly rendered. Young Zac's journey of loss and acceptance is finely wrought, with the inclusion of his dad's diaries adding a wonderful voice. A mystery is rounded up in a satisfying conclusion, as Zac tries to find the identity of the "egg thief," a culprit who regularly steals their precious cargo of freshly laid eggs. Toby Morris's charming illustrations provide a lively addition to this story which, at its heart, is about the power that comes from strengthening bonds with your family and neighbours.

Angelique Kasmara, Kete Books
It is cool how Jesse manages to get so many personalities into one family, and even better when you get to read about how they all manage together in a lockdown. From a bossy, phone and boy-obsessed older sister, to a younger brother who thinks he's Spiderman, and an ancient French man who looks like he's ex-army, to an uncle who lives online and gets inside information about the pandemic, Jesse O has you covered!

Aimee, 13 years, Palmerston North, Hooked on NZ Books