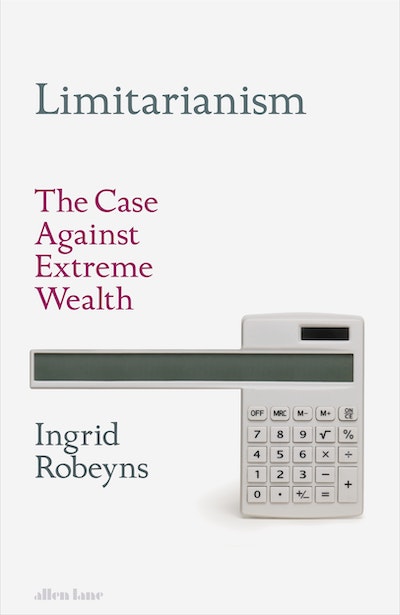 Published:

7 May 2024

ISBN:

9780241578193

Imprint:

Allen Lane

Format:

Hardback

Pages:

336

RRP:

$65.00
Limitarianism
The Case Against Extreme Wealth
---
---
How much is too much? £10 million
We all notice when the poor get poorer: when there are more rough sleepers and food bank queues start to grow. But if the rich become richer, there is nothing much to see in public and, for most of us, daily life doesn't change. Or at least, not immediately.
In this game-changing intervention, leading philosopher and economist Ingrid Robeyns exposes the true extent of our wealth problem, which has spent the past fifty years silently spiralling out of control. In moral, political, economic, social, environmental and psychological terms, she shows, extreme wealth is not only unjustifiable but harmful to us all - the rich included.
In place of our current system, Robeyns offers a breathtakingly clear alternative: limitarianism. The answer to so many of the problems posed by neoliberal capitalism - and the opportunity for a vastly better world - lies in placing a hard limit on the wealth that any one person can accumulate. Because nobody deserves to be a millionaire. Not even you.
Published:

7 May 2024

ISBN:

9780241578193

Imprint:

Allen Lane

Format:

Hardback

Pages:

336

RRP:

$65.00
There is a limit beyond which additional wealth can't do much to enhance its owner's life or happiness. But our economic system generates fortunes far beyond any such limit. Ingrid Robeyns makes a convincing case that an upper limit on wealth would be good for society as a whole and even for the wealthy themselves

John Quiggin, author of ZOMBIE ECONOMICS
There is a limit beyond which additional wealth can't do much to enhance its owner's life or happiness. But our economic system generates fortunes far beyond any such limit. Ingrid Robeyns makes a convincing case that an upper limit on wealth would be good for society as a whole and even for the wealthy themselves

John Quiggin, author of ZOMBIE ECONOMICS
There is a limit beyond which additional wealth can't do much to enhance its owner's life or happiness. But our economic system generates fortunes far beyond any such limit. Ingrid Robeyns makes a convincing case that an upper limit on wealth would be good for society as a whole and even for the wealthy themselves

John Quiggin, author of ZOMBIE ECONOMICS
There is a limit beyond which additional wealth can't do much to enhance its owner's life or happiness. But our economic system generates fortunes far beyond any such limit. Ingrid Robeyns makes a convincing case that an upper limit on wealth would be good for society as a whole and even for the wealthy themselves

John Quiggin, author of ZOMBIE ECONOMICS
There is a limit beyond which additional wealth can't do much to enhance its owner's life or happiness. But our economic system generates fortunes far beyond any such limit. Ingrid Robeyns makes a convincing case that an upper limit on wealth would be good for society as a whole and even for the wealthy themselves

John Quiggin, author of ZOMBIE ECONOMICS
There is a limit beyond which additional wealth can't do much to enhance its owner's life or happiness. But our economic system generates fortunes far beyond any such limit. Ingrid Robeyns makes a convincing case that an upper limit on wealth would be good for society as a whole and even for the wealthy themselves

John Quiggin, author of ZOMBIE ECONOMICS
There is a limit beyond which additional wealth can't do much to enhance its owner's life or happiness. But our economic system generates fortunes far beyond any such limit. Ingrid Robeyns makes a convincing case that an upper limit on wealth would be good for society as a whole and even for the wealthy themselves

John Quiggin, author of ZOMBIE ECONOMICS
There is a limit beyond which additional wealth can't do much to enhance its owner's life or happiness. But our economic system generates fortunes far beyond any such limit. Ingrid Robeyns makes a convincing case that an upper limit on wealth would be good for society as a whole and even for the wealthy themselves

John Quiggin, author of ZOMBIE ECONOMICS
There is a limit beyond which additional wealth can't do much to enhance its owner's life or happiness. But our economic system generates fortunes far beyond any such limit. Ingrid Robeyns makes a convincing case that an upper limit on wealth would be good for society as a whole and even for the wealthy themselves

John Quiggin, author of ZOMBIE ECONOMICS
The best case I've read for putting an upper limit on the accumulation of wealth. Even the super-rich might be glad if there was a finishing line!

Richard Wilkinson, author of THE SPIRIT LEVEL and THE INNER LEVEL
The best case I've read for putting an upper limit on the accumulation of wealth. Even the super-rich might be glad if there was a finishing line!

Richard Wilkinson, author of THE SPIRIT LEVEL and THE INNER LEVEL
The best case I've read for putting an upper limit on the accumulation of wealth. Even the super-rich might be glad if there was a finishing line!

Richard Wilkinson, author of THE SPIRIT LEVEL and THE INNER LEVEL
The best case I've read for putting an upper limit on the accumulation of wealth. Even the super-rich might be glad if there was a finishing line!

Richard Wilkinson, author of THE SPIRIT LEVEL and THE INNER LEVEL
The best case I've read for putting an upper limit on the accumulation of wealth. Even the super-rich might be glad if there was a finishing line!

Richard Wilkinson, author of THE SPIRIT LEVEL and THE INNER LEVEL
The best case I've read for putting an upper limit on the accumulation of wealth. Even the super-rich might be glad if there was a finishing line!

Richard Wilkinson, author of THE SPIRIT LEVEL and THE INNER LEVEL
The best case I've read for putting an upper limit on the accumulation of wealth. Even the super-rich might be glad if there was a finishing line!

Richard Wilkinson, author of THE SPIRIT LEVEL and THE INNER LEVEL
The best case I've read for putting an upper limit on the accumulation of wealth. Even the super-rich might be glad if there was a finishing line!

Richard Wilkinson, author of THE SPIRIT LEVEL and THE INNER LEVEL
The best case I've read for putting an upper limit on the accumulation of wealth. Even the super-rich might be glad if there was a finishing line!

Richard Wilkinson, author of THE SPIRIT LEVEL and THE INNER LEVEL
A compelling case for limiting extreme wealth, along economic, political and moral lines ... This argument has never been more important, and this book is a persuasive call to action

Jayati Ghosh, Professor of Economics, University of Massachusetts Amherst
A compelling case for limiting extreme wealth, along economic, political and moral lines ... This argument has never been more important, and this book is a persuasive call to action

Jayati Ghosh, Professor of Economics, University of Massachusetts Amherst
A compelling case for limiting extreme wealth, along economic, political and moral lines ... This argument has never been more important, and this book is a persuasive call to action

Jayati Ghosh, Professor of Economics, University of Massachusetts Amherst
A compelling case for limiting extreme wealth, along economic, political and moral lines ... This argument has never been more important, and this book is a persuasive call to action

Jayati Ghosh, Professor of Economics, University of Massachusetts Amherst
A compelling case for limiting extreme wealth, along economic, political and moral lines ... This argument has never been more important, and this book is a persuasive call to action

Jayati Ghosh, Professor of Economics, University of Massachusetts Amherst
A compelling case for limiting extreme wealth, along economic, political and moral lines ... This argument has never been more important, and this book is a persuasive call to action

Jayati Ghosh, Professor of Economics, University of Massachusetts Amherst
A compelling case for limiting extreme wealth, along economic, political and moral lines ... This argument has never been more important, and this book is a persuasive call to action

Jayati Ghosh, Professor of Economics, University of Massachusetts Amherst
A compelling case for limiting extreme wealth, along economic, political and moral lines ... This argument has never been more important, and this book is a persuasive call to action

Jayati Ghosh, Professor of Economics, University of Massachusetts Amherst
A compelling case for limiting extreme wealth, along economic, political and moral lines ... This argument has never been more important, and this book is a persuasive call to action

Jayati Ghosh, Professor of Economics, University of Massachusetts Amherst
Powerful – a must-read

Thomas Piketty, author of CAPITAL IN THE TWENTY-FIRST CENTURY
Powerful – a must-read

Thomas Piketty, author of CAPITAL IN THE TWENTY-FIRST CENTURY
Powerful – a must-read

Thomas Piketty, author of CAPITAL IN THE TWENTY-FIRST CENTURY
Powerful – a must-read

Thomas Piketty, author of CAPITAL IN THE TWENTY-FIRST CENTURY
Powerful – a must-read

Thomas Piketty, author of CAPITAL IN THE TWENTY-FIRST CENTURY
Powerful – a must-read

Thomas Piketty, author of CAPITAL IN THE TWENTY-FIRST CENTURY
Powerful – a must-read

Thomas Piketty, author of CAPITAL IN THE TWENTY-FIRST CENTURY
Powerful – a must-read

Thomas Piketty, author of CAPITAL IN THE TWENTY-FIRST CENTURY
Powerful – a must-read

Thomas Piketty, author of CAPITAL IN THE TWENTY-FIRST CENTURY
Ingrid Robeyns has written an essential book from a radical point of view. It is high time someone asked the question, "Is there such a thing as having too much money?" Along with its corollary question, 'So what are we going to do about it?' Robeyns tackles both with deep knowledge, experience and empathy

Abigail Disney, filmmaker, philanthropist, and activist
Ingrid Robeyns has written an essential book from a radical point of view. It is high time someone asked the question, "Is there such a thing as having too much money?" Along with its corollary question, 'So what are we going to do about it?' Robeyns tackles both with deep knowledge, experience and empathy

Abigail Disney, filmmaker, philanthropist, and activist
Ingrid Robeyns has written an essential book from a radical point of view. It is high time someone asked the question, "Is there such a thing as having too much money?" Along with its corollary question, 'So what are we going to do about it?' Robeyns tackles both with deep knowledge, experience and empathy

Abigail Disney, filmmaker, philanthropist, and activist
Ingrid Robeyns has written an essential book from a radical point of view. It is high time someone asked the question, "Is there such a thing as having too much money?" Along with its corollary question, 'So what are we going to do about it?' Robeyns tackles both with deep knowledge, experience and empathy

Abigail Disney, filmmaker, philanthropist, and activist
Ingrid Robeyns has written an essential book from a radical point of view. It is high time someone asked the question, "Is there such a thing as having too much money?" Along with its corollary question, 'So what are we going to do about it?' Robeyns tackles both with deep knowledge, experience and empathy

Abigail Disney, filmmaker, philanthropist, and activist
Ingrid Robeyns has written an essential book from a radical point of view. It is high time someone asked the question, "Is there such a thing as having too much money?" Along with its corollary question, 'So what are we going to do about it?' Robeyns tackles both with deep knowledge, experience and empathy

Abigail Disney, filmmaker, philanthropist, and activist
Ingrid Robeyns has written an essential book from a radical point of view. It is high time someone asked the question, "Is there such a thing as having too much money?" Along with its corollary question, 'So what are we going to do about it?' Robeyns tackles both with deep knowledge, experience and empathy

Abigail Disney, filmmaker, philanthropist, and activist
Ingrid Robeyns has written an essential book from a radical point of view. It is high time someone asked the question, "Is there such a thing as having too much money?" Along with its corollary question, 'So what are we going to do about it?' Robeyns tackles both with deep knowledge, experience and empathy

Abigail Disney, filmmaker, philanthropist, and activist
Ingrid Robeyns has written an essential book from a radical point of view. It is high time someone asked the question, "Is there such a thing as having too much money?" Along with its corollary question, 'So what are we going to do about it?' Robeyns tackles both with deep knowledge, experience and empathy

Abigail Disney, filmmaker, philanthropist, and activist
An urgent, thought provoking treatise that is both a compelling critique of limitless inequality and an imaginative account of a world without the superrich

Peter Geoghegan, author of DEMOCRACY FOR SALE: DARK MONEY AND DIRTY POLITICS
An urgent, thought provoking treatise that is both a compelling critique of limitless inequality and an imaginative account of a world without the superrich

Peter Geoghegan, author of DEMOCRACY FOR SALE: DARK MONEY AND DIRTY POLITICS
An urgent, thought provoking treatise that is both a compelling critique of limitless inequality and an imaginative account of a world without the superrich

Peter Geoghegan, author of DEMOCRACY FOR SALE: DARK MONEY AND DIRTY POLITICS
An urgent, thought provoking treatise that is both a compelling critique of limitless inequality and an imaginative account of a world without the superrich

Peter Geoghegan, author of DEMOCRACY FOR SALE: DARK MONEY AND DIRTY POLITICS
An urgent, thought provoking treatise that is both a compelling critique of limitless inequality and an imaginative account of a world without the superrich

Peter Geoghegan, author of DEMOCRACY FOR SALE: DARK MONEY AND DIRTY POLITICS
An urgent, thought provoking treatise that is both a compelling critique of limitless inequality and an imaginative account of a world without the superrich

Peter Geoghegan, author of DEMOCRACY FOR SALE: DARK MONEY AND DIRTY POLITICS
An urgent, thought provoking treatise that is both a compelling critique of limitless inequality and an imaginative account of a world without the superrich

Peter Geoghegan, author of DEMOCRACY FOR SALE: DARK MONEY AND DIRTY POLITICS
An urgent, thought provoking treatise that is both a compelling critique of limitless inequality and an imaginative account of a world without the superrich

Peter Geoghegan, author of DEMOCRACY FOR SALE: DARK MONEY AND DIRTY POLITICS
An urgent, thought provoking treatise that is both a compelling critique of limitless inequality and an imaginative account of a world without the superrich

Peter Geoghegan, author of DEMOCRACY FOR SALE: DARK MONEY AND DIRTY POLITICS
Effortlessly navigating between ethics, political theory, economics and public policy, Ingrid Robeyns' nuanced and persuasive defence of limitarianism is also a much-needed manifesto for reimagining political institutions

Lea Ypi, author of FREE: COMING OF AGE AT THE END OF HISTORY
Effortlessly navigating between ethics, political theory, economics and public policy, Ingrid Robeyns' nuanced and persuasive defence of limitarianism is also a much-needed manifesto for reimagining political institutions

Lea Ypi, author of FREE: COMING OF AGE AT THE END OF HISTORY
Effortlessly navigating between ethics, political theory, economics and public policy, Ingrid Robeyns' nuanced and persuasive defence of limitarianism is also a much-needed manifesto for reimagining political institutions

Lea Ypi, author of FREE: COMING OF AGE AT THE END OF HISTORY
Effortlessly navigating between ethics, political theory, economics and public policy, Ingrid Robeyns' nuanced and persuasive defence of limitarianism is also a much-needed manifesto for reimagining political institutions

Lea Ypi, author of FREE: COMING OF AGE AT THE END OF HISTORY
Effortlessly navigating between ethics, political theory, economics and public policy, Ingrid Robeyns' nuanced and persuasive defence of limitarianism is also a much-needed manifesto for reimagining political institutions

Lea Ypi, author of FREE: COMING OF AGE AT THE END OF HISTORY
Effortlessly navigating between ethics, political theory, economics and public policy, Ingrid Robeyns' nuanced and persuasive defence of limitarianism is also a much-needed manifesto for reimagining political institutions

Lea Ypi, author of FREE: COMING OF AGE AT THE END OF HISTORY
Effortlessly navigating between ethics, political theory, economics and public policy, Ingrid Robeyns' nuanced and persuasive defence of limitarianism is also a much-needed manifesto for reimagining political institutions

Lea Ypi, author of FREE: COMING OF AGE AT THE END OF HISTORY
Effortlessly navigating between ethics, political theory, economics and public policy, Ingrid Robeyns' nuanced and persuasive defence of limitarianism is also a much-needed manifesto for reimagining political institutions

Lea Ypi, author of FREE: COMING OF AGE AT THE END OF HISTORY
Effortlessly navigating between ethics, political theory, economics and public policy, Ingrid Robeyns' nuanced and persuasive defence of limitarianism is also a much-needed manifesto for reimagining political institutions

Lea Ypi, author of FREE: COMING OF AGE AT THE END OF HISTORY
Robeyns' argument that top heavy wealth is sinking living standards for the many, spreading economic fear that authoritarians exploit is sound and her thoughtful ideas for reining in extreme wealth are provocative

David Cay Johnston, Pulitzer Prize winner and bestselling author of PERFECTLY LEGAL, FREE LUNCH, and IT'S EVEN WORSE THAN YOU THINK
Robeyns' argument that top heavy wealth is sinking living standards for the many, spreading economic fear that authoritarians exploit is sound and her thoughtful ideas for reining in extreme wealth are provocative

David Cay Johnston, Pulitzer Prize winner and bestselling author of PERFECTLY LEGAL, FREE LUNCH, and IT'S EVEN WORSE THAN YOU THINK
Robeyns' argument that top heavy wealth is sinking living standards for the many, spreading economic fear that authoritarians exploit is sound and her thoughtful ideas for reining in extreme wealth are provocative

David Cay Johnston, Pulitzer Prize winner and bestselling author of PERFECTLY LEGAL, FREE LUNCH, and IT'S EVEN WORSE THAN YOU THINK
Robeyns' argument that top heavy wealth is sinking living standards for the many, spreading economic fear that authoritarians exploit is sound and her thoughtful ideas for reining in extreme wealth are provocative

David Cay Johnston, Pulitzer Prize winner and bestselling author of PERFECTLY LEGAL, FREE LUNCH, and IT'S EVEN WORSE THAN YOU THINK
Robeyns' argument that top heavy wealth is sinking living standards for the many, spreading economic fear that authoritarians exploit is sound and her thoughtful ideas for reining in extreme wealth are provocative

David Cay Johnston, Pulitzer Prize winner and bestselling author of PERFECTLY LEGAL, FREE LUNCH, and IT'S EVEN WORSE THAN YOU THINK
Robeyns' argument that top heavy wealth is sinking living standards for the many, spreading economic fear that authoritarians exploit is sound and her thoughtful ideas for reining in extreme wealth are provocative

David Cay Johnston, Pulitzer Prize winner and bestselling author of PERFECTLY LEGAL, FREE LUNCH, and IT'S EVEN WORSE THAN YOU THINK
Robeyns' argument that top heavy wealth is sinking living standards for the many, spreading economic fear that authoritarians exploit is sound and her thoughtful ideas for reining in extreme wealth are provocative

David Cay Johnston, Pulitzer Prize winner and bestselling author of PERFECTLY LEGAL, FREE LUNCH, and IT'S EVEN WORSE THAN YOU THINK
Robeyns' argument that top heavy wealth is sinking living standards for the many, spreading economic fear that authoritarians exploit is sound and her thoughtful ideas for reining in extreme wealth are provocative

David Cay Johnston, Pulitzer Prize winner and bestselling author of PERFECTLY LEGAL, FREE LUNCH, and IT'S EVEN WORSE THAN YOU THINK
Robeyns' argument that top heavy wealth is sinking living standards for the many, spreading economic fear that authoritarians exploit is sound and her thoughtful ideas for reining in extreme wealth are provocative

David Cay Johnston, Pulitzer Prize winner and bestselling author of PERFECTLY LEGAL, FREE LUNCH, and IT'S EVEN WORSE THAN YOU THINK
Many people accept that there is a threshold that no one should fall below. But few have thought that there is a threshold that no one should be free to soar above. In this wonderful book, Ingrid Robeyns presents a novel and nuanced set of arguments for just such an upper threshold. This is a model of how to bring rigorous analysis to bear on practical issues, and to do so in an engaging, humane and accessible way

Debra Satz, author of WHY SOME THINGS SHOULD NOT BE FOR SALE: THE MORAL LIMITS OF MARKETS
Many people accept that there is a threshold that no one should fall below. But few have thought that there is a threshold that no one should be free to soar above. In this wonderful book, Ingrid Robeyns presents a novel and nuanced set of arguments for just such an upper threshold. This is a model of how to bring rigorous analysis to bear on practical issues, and to do so in an engaging, humane and accessible way

Debra Satz, author of WHY SOME THINGS SHOULD NOT BE FOR SALE: THE MORAL LIMITS OF MARKETS
Many people accept that there is a threshold that no one should fall below. But few have thought that there is a threshold that no one should be free to soar above. In this wonderful book, Ingrid Robeyns presents a novel and nuanced set of arguments for just such an upper threshold. This is a model of how to bring rigorous analysis to bear on practical issues, and to do so in an engaging, humane and accessible way

Debra Satz, author of WHY SOME THINGS SHOULD NOT BE FOR SALE: THE MORAL LIMITS OF MARKETS
Many people accept that there is a threshold that no one should fall below. But few have thought that there is a threshold that no one should be free to soar above. In this wonderful book, Ingrid Robeyns presents a novel and nuanced set of arguments for just such an upper threshold. This is a model of how to bring rigorous analysis to bear on practical issues, and to do so in an engaging, humane and accessible way

Debra Satz, author of WHY SOME THINGS SHOULD NOT BE FOR SALE: THE MORAL LIMITS OF MARKETS
Many people accept that there is a threshold that no one should fall below. But few have thought that there is a threshold that no one should be free to soar above. In this wonderful book, Ingrid Robeyns presents a novel and nuanced set of arguments for just such an upper threshold. This is a model of how to bring rigorous analysis to bear on practical issues, and to do so in an engaging, humane and accessible way

Debra Satz, author of WHY SOME THINGS SHOULD NOT BE FOR SALE: THE MORAL LIMITS OF MARKETS
Many people accept that there is a threshold that no one should fall below. But few have thought that there is a threshold that no one should be free to soar above. In this wonderful book, Ingrid Robeyns presents a novel and nuanced set of arguments for just such an upper threshold. This is a model of how to bring rigorous analysis to bear on practical issues, and to do so in an engaging, humane and accessible way

Debra Satz, author of WHY SOME THINGS SHOULD NOT BE FOR SALE: THE MORAL LIMITS OF MARKETS
Many people accept that there is a threshold that no one should fall below. But few have thought that there is a threshold that no one should be free to soar above. In this wonderful book, Ingrid Robeyns presents a novel and nuanced set of arguments for just such an upper threshold. This is a model of how to bring rigorous analysis to bear on practical issues, and to do so in an engaging, humane and accessible way

Debra Satz, author of WHY SOME THINGS SHOULD NOT BE FOR SALE: THE MORAL LIMITS OF MARKETS
Many people accept that there is a threshold that no one should fall below. But few have thought that there is a threshold that no one should be free to soar above. In this wonderful book, Ingrid Robeyns presents a novel and nuanced set of arguments for just such an upper threshold. This is a model of how to bring rigorous analysis to bear on practical issues, and to do so in an engaging, humane and accessible way

Debra Satz, author of WHY SOME THINGS SHOULD NOT BE FOR SALE: THE MORAL LIMITS OF MARKETS
Many people accept that there is a threshold that no one should fall below. But few have thought that there is a threshold that no one should be free to soar above. In this wonderful book, Ingrid Robeyns presents a novel and nuanced set of arguments for just such an upper threshold. This is a model of how to bring rigorous analysis to bear on practical issues, and to do so in an engaging, humane and accessible way

Debra Satz, author of WHY SOME THINGS SHOULD NOT BE FOR SALE: THE MORAL LIMITS OF MARKETS
Robeyns proves that in a true democracy there are no rights without duties – no wealth without limits. Limitarianism offers a way to re-democratise wealth and thus re-socialise the richest 1%.

Marlene Engelhorn, co-founder of taxmenow
Robeyns proves that in a true democracy there are no rights without duties – no wealth without limits. Limitarianism offers a way to re-democratise wealth and thus re-socialise the richest 1%.

Marlene Engelhorn, co-founder of taxmenow
Robeyns proves that in a true democracy there are no rights without duties – no wealth without limits. Limitarianism offers a way to re-democratise wealth and thus re-socialise the richest 1%.

Marlene Engelhorn, co-founder of taxmenow
Robeyns proves that in a true democracy there are no rights without duties – no wealth without limits. Limitarianism offers a way to re-democratise wealth and thus re-socialise the richest 1%.

Marlene Engelhorn, co-founder of taxmenow
Robeyns proves that in a true democracy there are no rights without duties – no wealth without limits. Limitarianism offers a way to re-democratise wealth and thus re-socialise the richest 1%.

Marlene Engelhorn, co-founder of taxmenow
Robeyns proves that in a true democracy there are no rights without duties – no wealth without limits. Limitarianism offers a way to re-democratise wealth and thus re-socialise the richest 1%.

Marlene Engelhorn, co-founder of taxmenow
Robeyns proves that in a true democracy there are no rights without duties – no wealth without limits. Limitarianism offers a way to re-democratise wealth and thus re-socialise the richest 1%.

Marlene Engelhorn, co-founder of taxmenow
Robeyns proves that in a true democracy there are no rights without duties – no wealth without limits. Limitarianism offers a way to re-democratise wealth and thus re-socialise the richest 1%.

Marlene Engelhorn, co-founder of taxmenow
Robeyns proves that in a true democracy there are no rights without duties – no wealth without limits. Limitarianism offers a way to re-democratise wealth and thus re-socialise the richest 1%.

Marlene Engelhorn, co-founder of taxmenow
Limiting extreme wealth is an idea whose time has surely come and Ingrid Robeyns makes a powerful case for why this should be a priority for public and political debate. Limitarianism builds on what the epidemiology shows so clearly - inequality damages all of us and it needs to be tackled with the greatest urgency

Kate Pickett
Limiting extreme wealth is an idea whose time has surely come and Ingrid Robeyns makes a powerful case for why this should be a priority for public and political debate. Limitarianism builds on what the epidemiology shows so clearly - inequality damages all of us and it needs to be tackled with the greatest urgency

Kate Pickett
Limiting extreme wealth is an idea whose time has surely come and Ingrid Robeyns makes a powerful case for why this should be a priority for public and political debate. Limitarianism builds on what the epidemiology shows so clearly - inequality damages all of us and it needs to be tackled with the greatest urgency

Kate Pickett
Limiting extreme wealth is an idea whose time has surely come and Ingrid Robeyns makes a powerful case for why this should be a priority for public and political debate. Limitarianism builds on what the epidemiology shows so clearly - inequality damages all of us and it needs to be tackled with the greatest urgency

Kate Pickett
Limiting extreme wealth is an idea whose time has surely come and Ingrid Robeyns makes a powerful case for why this should be a priority for public and political debate. Limitarianism builds on what the epidemiology shows so clearly - inequality damages all of us and it needs to be tackled with the greatest urgency

Kate Pickett
Limiting extreme wealth is an idea whose time has surely come and Ingrid Robeyns makes a powerful case for why this should be a priority for public and political debate. Limitarianism builds on what the epidemiology shows so clearly - inequality damages all of us and it needs to be tackled with the greatest urgency

Kate Pickett
Limiting extreme wealth is an idea whose time has surely come and Ingrid Robeyns makes a powerful case for why this should be a priority for public and political debate. Limitarianism builds on what the epidemiology shows so clearly - inequality damages all of us and it needs to be tackled with the greatest urgency

Kate Pickett
Limiting extreme wealth is an idea whose time has surely come and Ingrid Robeyns makes a powerful case for why this should be a priority for public and political debate. Limitarianism builds on what the epidemiology shows so clearly - inequality damages all of us and it needs to be tackled with the greatest urgency

Kate Pickett
Limiting extreme wealth is an idea whose time has surely come and Ingrid Robeyns makes a powerful case for why this should be a priority for public and political debate. Limitarianism builds on what the epidemiology shows so clearly - inequality damages all of us and it needs to be tackled with the greatest urgency

Kate Pickett
Is it possible to meet the needs of all people within the means of the living planet? Definitely not in a world dominated by extreme wealth, as Ingrid Robeyns powerfully argues. This landmark book combines meticulous logic with compelling personal stories to draw everyone - from the super-rich to the super-riled - into one of the most critical public debates of our times. Read it.

Kate Raworth, author of DOUGHNUT ECONOMICS
Is it possible to meet the needs of all people within the means of the living planet? Definitely not in a world dominated by extreme wealth, as Ingrid Robeyns powerfully argues. This landmark book combines meticulous logic with compelling personal stories to draw everyone - from the super-rich to the super-riled - into one of the most critical public debates of our times. Read it.

Kate Raworth, author of DOUGHNUT ECONOMICS
Is it possible to meet the needs of all people within the means of the living planet? Definitely not in a world dominated by extreme wealth, as Ingrid Robeyns powerfully argues. This landmark book combines meticulous logic with compelling personal stories to draw everyone - from the super-rich to the super-riled - into one of the most critical public debates of our times. Read it.

Kate Raworth, author of DOUGHNUT ECONOMICS
Is it possible to meet the needs of all people within the means of the living planet? Definitely not in a world dominated by extreme wealth, as Ingrid Robeyns powerfully argues. This landmark book combines meticulous logic with compelling personal stories to draw everyone - from the super-rich to the super-riled - into one of the most critical public debates of our times. Read it.

Kate Raworth, author of DOUGHNUT ECONOMICS
Is it possible to meet the needs of all people within the means of the living planet? Definitely not in a world dominated by extreme wealth, as Ingrid Robeyns powerfully argues. This landmark book combines meticulous logic with compelling personal stories to draw everyone - from the super-rich to the super-riled - into one of the most critical public debates of our times. Read it.

Kate Raworth, author of DOUGHNUT ECONOMICS
Is it possible to meet the needs of all people within the means of the living planet? Definitely not in a world dominated by extreme wealth, as Ingrid Robeyns powerfully argues. This landmark book combines meticulous logic with compelling personal stories to draw everyone - from the super-rich to the super-riled - into one of the most critical public debates of our times. Read it.

Kate Raworth, author of DOUGHNUT ECONOMICS
Is it possible to meet the needs of all people within the means of the living planet? Definitely not in a world dominated by extreme wealth, as Ingrid Robeyns powerfully argues. This landmark book combines meticulous logic with compelling personal stories to draw everyone - from the super-rich to the super-riled - into one of the most critical public debates of our times. Read it.

Kate Raworth, author of DOUGHNUT ECONOMICS
Is it possible to meet the needs of all people within the means of the living planet? Definitely not in a world dominated by extreme wealth, as Ingrid Robeyns powerfully argues. This landmark book combines meticulous logic with compelling personal stories to draw everyone - from the super-rich to the super-riled - into one of the most critical public debates of our times. Read it.

Kate Raworth, author of DOUGHNUT ECONOMICS
Is it possible to meet the needs of all people within the means of the living planet? Definitely not in a world dominated by extreme wealth, as Ingrid Robeyns powerfully argues. This landmark book combines meticulous logic with compelling personal stories to draw everyone - from the super-rich to the super-riled - into one of the most critical public debates of our times. Read it.

Kate Raworth, author of DOUGHNUT ECONOMICS
A withering critique of the ethical, moral, and fiscal harms of unlimited wealth concentration . . . [This] caustic but balanced attack offers an equitable economic compromise

Kirkus Reviews
A withering critique of the ethical, moral, and fiscal harms of unlimited wealth concentration . . . [This] caustic but balanced attack offers an equitable economic compromise

Kirkus Reviews
A withering critique of the ethical, moral, and fiscal harms of unlimited wealth concentration . . . [This] caustic but balanced attack offers an equitable economic compromise

Kirkus Reviews
A withering critique of the ethical, moral, and fiscal harms of unlimited wealth concentration . . . [This] caustic but balanced attack offers an equitable economic compromise

Kirkus Reviews
A withering critique of the ethical, moral, and fiscal harms of unlimited wealth concentration . . . [This] caustic but balanced attack offers an equitable economic compromise

Kirkus Reviews
A withering critique of the ethical, moral, and fiscal harms of unlimited wealth concentration . . . [This] caustic but balanced attack offers an equitable economic compromise

Kirkus Reviews
A withering critique of the ethical, moral, and fiscal harms of unlimited wealth concentration . . . [This] caustic but balanced attack offers an equitable economic compromise

Kirkus Reviews
A withering critique of the ethical, moral, and fiscal harms of unlimited wealth concentration . . . [This] caustic but balanced attack offers an equitable economic compromise

Kirkus Reviews
A withering critique of the ethical, moral, and fiscal harms of unlimited wealth concentration . . . [This] caustic but balanced attack offers an equitable economic compromise

Kirkus Reviews