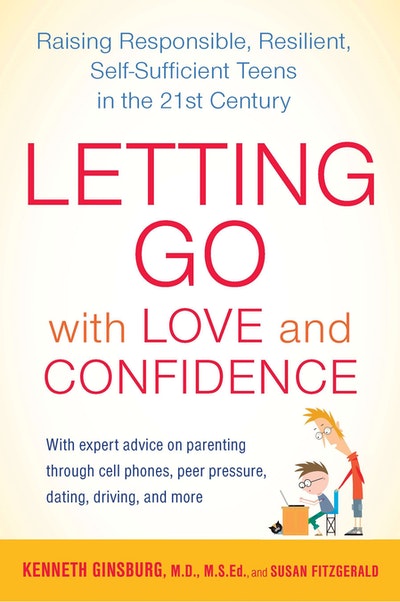 Published:

28 September 2011

ISBN:

9781583334294

Imprint:

Avery

Format:

Trade Paperback

Pages:

368

RRP:

$45.00
Letting Go with Love and Confidence: Raising Responsible, Resilient, Self-Sufficient Teens in the 21st Century
---
---
'An eminently readable, down-to-earth, and spot-on book . . . You'll end up feeling that Ginsburg is sitting right in your living room (and wishing he were!), handing out wise, practical advice, reminding you that there is no much more right with your teen than wrong.  Letting Go with Love and Confidence is likely to end up being your teen years bible.'
- MADELINE LEVINE, PH.D., author of THE PRICE OF PRIVILEGE
For parents, 'letting go' and nurturing teens in today's world to become healthy, well-adjusted adults is more challenging now than ever before.  There are many new pressures and opportunities for kids to grow up faster than they should.  Here, renowned adolescent medicine specialist Kenneth Ginsburg, M.D., and award-winning journalist Susan FitzGerald offer parents a practical, thoughtful strategy for guiding children through all the turning points on the way to adulthood-the 'whens' and 'hows' of adolescence.
As Dr. Ginsburg explains, it is these everyday decisions and conversations that have the greatest potential to foster resilience and build confidence.  From cell phones and the Internet to handling issues surrounding sex, friends, dating, driving, staying home alone and more, Ginsburg's three-step litmus test can apply to any decision: Is it safe?  Is it practical?  Does it meet my standards for morality and decency?
Letting Go with Love and Confidence provides fresh, positive guidance and deals with the ordinary but still important issues of parenting-not just the painful extremes.  Empowering and groundbreaking, with stories from real parents, this book is a comprehensive, one-stop resource to parenting teens in the twenty-first century.
'A wonderful guide . . . refreshingly up-to-date and down to earth.  Dr Ginsburg is deeply respectful of both parents and teenagers.'
- WENDY MOGEL, PH.D., author of THE BLESSING OF A SKINNED KNEE

Published:

28 September 2011

ISBN:

9781583334294

Imprint:

Avery

Format:

Trade Paperback

Pages:

368

RRP:

$45.00