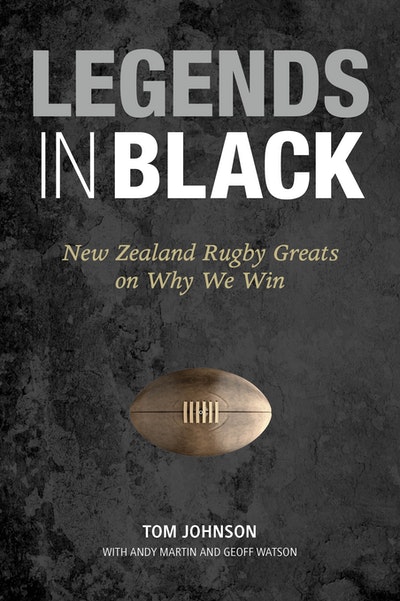 Published:

23 July 2014

ISBN:

9780143571803

Imprint:

Penguin

Format:

Trade Paperback

Pages:

304

RRP:

$34.99
Legends in Black: New Zealand Rugby Greats on Why We Win
---
---
---
Up close and personal with All Black greats - Meads, Lochore, Haden, Shelford and others - as they reveal the secrets to our winning ways.

In the world of rugby, the All Blacks have an unsurpassed legacy of success. We are the best of the best.
Legends in Black comprises frank, no-holds-barred interviews with New Zealand rugby greats, each sharing their thoughts on every aspect of what it means to be an All Black: first selection, the haka, international and provincial rugby, professionalism, team culture, camaraderie, technical advances, coaching and leadership.
A one-of-a-kind account of New Zealand rugby, Legends in Black draws on unprecedented access to some of the biggest names in the game – revealing the secrets to why we win.
'The winning ethos was so fundamental to the culture and had been ingrained for years, and it just keeps going. The wonderful thing about the All Blacks is the tradition of its history, the belief by players in what happened before. Winning was something that was an absolute focus.'
—John Hart
'Leadership is within the team. I had a role as a fixer, if there was trouble going on – not a dirty role, but as the one able to talk to the opposition and tell them, 'I wouldn't do that again, if I were you.'''
—Colin Meads
'Winning becomes a habit, because success is fantastic, but when you take those platitudes you've also got to learn how to lose, lose well and graciously, and learn from your losses.'
—Wayne 'Buck' Shelford
'It was about working out who you played the game for . . . it's not the name of the team or the colour of the jersey, but the people around you.'
—Andy Haden
Also available as an eBook

Published:

23 July 2014

ISBN:

9780143571803

Imprint:

Penguin

Format:

Trade Paperback

Pages:

304

RRP:

$34.99
Praise for Legends in Black: New Zealand Rugby Greats on Why We Win
'Johnson has managed to capture the essence of these All Black legends . . . a must-read for a very different spin on our game.'

PRH, PRH
—Tony Nielsen, Oamaru Mail

PRH, PRH
'This is, by some distance, the best New Zealand rugby book in many years.'

PRH, PRH
—Graeme Barrow, Kapiti Weekly News

PRH, PRH