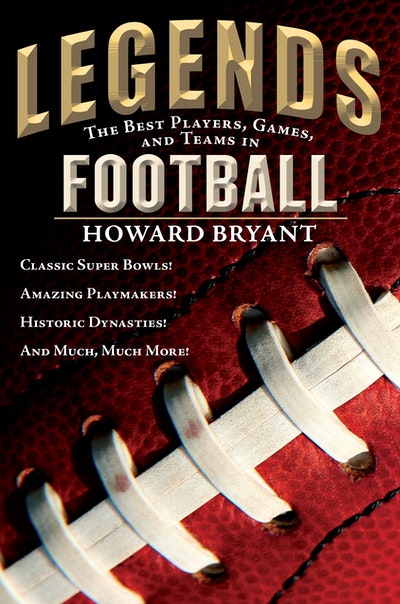 Published:

15 January 2017

ISBN:

9780147512567

Imprint:

Puffin

Format:

Hardback

Pages:

320

RRP:

$15.99
Legends
Best In Basketball
---
---
---
From Wilt Chamberlain to LeBron James; from the Celtics dynasty led by Bill Russell to the Bulls dynasty led by Michael Jordan—here is the ultimate hardwood-court handbook for young middle-grade sports fans, from ESPN personality and award-winning writer Howard Bryant.
From Lombardi's Packers through Brady and the Patriots, here is the ultimate look at the greatest sporting event in America -- the Super Bowl -- through its greatest quarterbacks, coaches, and highlight-reel plays.
In the second book of the LEGENDS series, ESPN's Howard Bryant delivers THE gridiron guide to the most exciting event in sports: the Super Bowl!
In this day and age, the gridiron reigns supreme. Football is America's most popular sport and the NFL's star players are instant celebrities with die-hard fans who live and die with each win or loss. And our collective obsession with the game begins when we're just kids and culminates each year on what has become the equivalent of a national holiday—Super Bowl Sunday.
Recounting momentous stories of football's past and present, and accompanied by iconic photos, Top Ten Lists to chew on and debate, and a Top 40-style Timeline of Key Moments, this comprehensive collection details twenty of the greatest Super Bowls in NFL history—and expands on their relevance within the larger scope of dynasties, giants of the coaching world, and marquee players making history. From the upsets to the blowouts to the nail-biting finishes, this is the perfect book for young fans eager to kick off their football schooling."With the LEGENDS series, Howard Bryant brings to life the best that sports has to offer—the heroes, the bitter rivalries, the moments that every sports-loving kid should know."—Mike Lupica, #1 bestselling author of Travel Team, Heat, and Fantasy League

Published:

15 January 2017

ISBN:

9780147512567

Imprint:

Puffin

Format:

Hardback

Pages:

320

RRP:

$15.99
"With the LEGENDS series, Howard Bryant brings to life the best that sports has to offer—the heroes, the bitter rivalries, the moments that every sports-loving kid should know."—Mike Lupica, #1 bestselling author of Travel Team, Heat, and Fantasy League