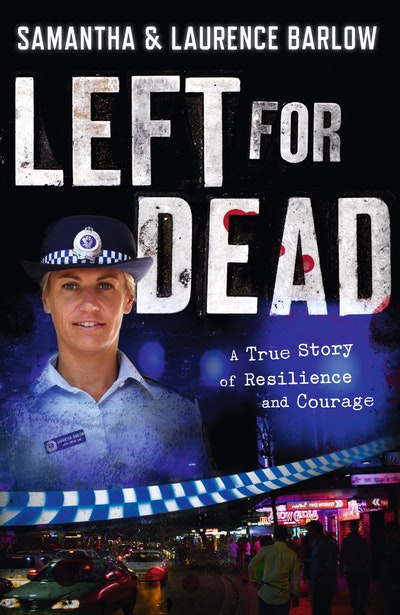 Published:

21 August 2013

ISBN:

9781743481110

Imprint:

Penguin eBooks

Format:

EBook

Pages:

312
Left for Dead: A True Story of Resilience and Courage
---
---
A gritty policing story with triumph over adversity at its heart – the true story of a female cop who was bashed on her way to work and her incredible recovery.
'Samantha Barlow doesn't stand a chance. As she walks briskly past the start of Arthur Park on her left, she can't see a dark figure slinking out of the shadows towards her. The first she knows of his presence is when she feels a blow, hard to the back of her head, delivered with such force, it actually dents her skull.'
Samantha Barlow's life changed the day she was brutally attacked on the way to work in Sydney's notorious Kings Cross. The popular, confident young woman was left for dead, dragging herself to a lonely bus stop, desperate to stay alive for her two young children. The police who attended the crime scene didn't recognise their colleague.
Inspector Laurence Barlow watched helplessly as his wife's life lay in the balance. He'd spent his career stopping violent offenders, but now found himself on the other side of a crisis.
Samantha was a highly respected sergeant, but she could have been any woman - her attacker was a junkie after money. Her story touched people everywhere: her resilience, her indomitable spirit and her triumphant return to work after 22 months of rehab is an inspiration to all Australians. This is a brave family's journey to recovery.
Published:

21 August 2013

ISBN:

9781743481110

Imprint:

Penguin eBooks

Format:

EBook

Pages:

312