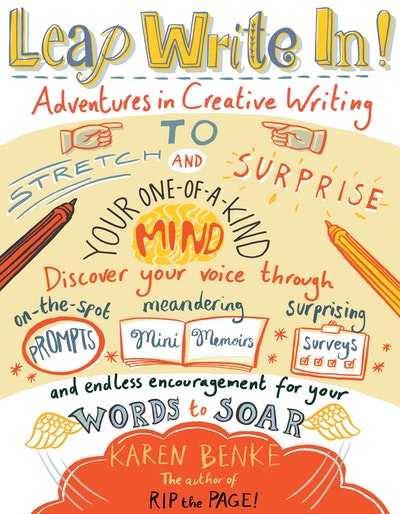 Published:

1 July 2013

ISBN:

9781611800159

Imprint:

Roost Books

Format:

Paperback

Pages:

256

RRP:

$32.99
Leap Write In!
---
---
Writing is inspired by life, and life can be understood through writing. Get your writing to flow off the page by exploring the inner treasures of your life. This book presents an inward-bound adventure—a way to shake things up from the inside and unleash what you most need and want to say.
Leap Write In! is a passport to the wild country of your expanding heart and widening imagination. Stamped on these pages are the exercises, ideas, and prompts that will help you to explore all the wacky, confusing, brave, soul-stirring wonderings and wanderings of your life in a way that will unleash your writing.
The ideas, experiments, exercises, and lessons include:
   • ON-THE-SPOT DROPS that offer quick "free-fall" prompts on different themes, such as short-winded poems and seven-line stories
   • SURPRISE-YOURSELF SURVEYS for those who think they know everything about themselves
   • STORY STANZAS that explore feelings and states of being like Fear, Compassion, Kindness, Anxiety, Anger, Jealousy, Happiness, and so on
   • UNTIE-YOUR-MIND WORD LISTS to jump-start stalled imaginations
   • MINI MEMOIRS to unlock personal stories
   • DEFINITION DECODERS to introduce new ideas and styles of writing
Here you'll find all of the inspiration you need to create one-of-a-kind poems, stories, imaginative fragments, and real-life on-the-spot sketches to share, or not. Take a breath, relax, reset, and leap write in!
Published:

1 July 2013

ISBN:

9781611800159

Imprint:

Roost Books

Format:

Paperback

Pages:

256

RRP:

$32.99