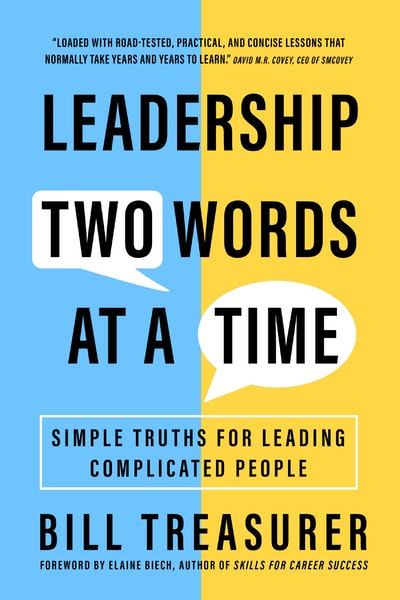 Published:

15 November 2022

ISBN:

9781523003174

Imprint:

Berrett-Koehler

Format:

Paperback

Pages:

240

RRP:

$42.99
Leadership Two Words at a Time
Simple Truths for Leading Complicated People
---
---
For newcomers and management alike, leadership can be overwhelming and overcomplicated. By building core tenets of leadership around two key words in each chapter, Bill Treasurer simplifies the equation.
Congratulations, new leader! You've joined the ranks at during an exceptionally complicated time.
Our current workplace climate is fraught with political divisions, economic disparities, and ever-shifting social dynamics. Leaders are managing remote teams across larger geographic distances and facing new roadblocks to onboarding, giving performance feedback, and nurturing healthy relationships. With only a meager amount of leader development support and training across organizations, leaders are simply not being set up for success.
Leadership Two Words at a Time speaks directly to the plight of new leaders. Rather than overintellectualize the practice of leadership, Bill Treasurer breaks it the concept up into essential and understandable nuggets of information, summed up by a two-word header, that provide the practical guidance and support that organizations often lack. The result is time-tested wisdom that new leaders can grasp immediately and implement easily—and, with a little practice, master completely.
This book gives you the basic building blocks to gain both competence and confidence, take on greater responsibility, and earn the long-time trust of your organization.
Published:

15 November 2022

ISBN:

9781523003174

Imprint:

Berrett-Koehler

Format:

Paperback

Pages:

240

RRP:

$42.99