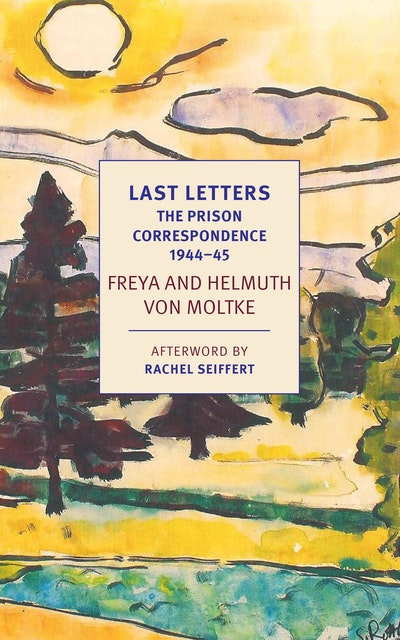 Published:

17 September 2019

ISBN:

9781681373812

Imprint:

NY Review Books

Format:

Paperback

Pages:

380

RRP:

$32.99
Last Letters
The Prison Correspondence between Helmuth James and Freya von Moltke, 1944-45
---
---
Available for the first time in English, a moving prison correspondence between a husband and wife who resisted the Nazis.
Tegel Prison, Berlin, in the fall of 1944. In a cell and shackled for most of the day, Helmuth James von Moltke is awaiting trial for his leading role in the Kreisau Circle, one of the most important German resistance groups against the Nazis. By a near miracle, the prison chaplain at Tegel is Harald Poelchau, a friend and co-conspirator of Helmuth and his wife Freya. From Helmuth's arrival at Tegel in late September until the day of his execution by the Nazis on January 23, 1945, Poelchau would carry Helmuth's and Freya's letters in and out of prison daily, risking his own life. Freya would safeguard these letters for the rest of her own long life, considering them a treasure too intimate to share with the public before her death. Published to great acclaim in Germany in 2011, this volume now makes available this deeply moving correspondence for the first time in English.
Last Letters is a profoundly personal record of the couple's love, faith, and courage in the face of Fascism. Written during the final months of World War II and in the knowledge that each letter could be the last, the correspondence is at once a set of love letters written in extremis and a historical document of the first order. Helmuth and Freya draw closer together than ever as they await his trial and execution. They navigate both the mundane details of life in and out of prison during wartime, and their own profound swings between despair, hope, and elation as Helmuth prepares and revises his own defense and Freya tries to intercede on his behalf. Throughout, the two letter-writers are sustained by their conviction, by their faith, and by the knowledge, as Freya writes, that "after all, except for your life there is nothing they can take from you."
Published:

17 September 2019

ISBN:

9781681373812

Imprint:

NY Review Books

Format:

Paperback

Pages:

380

RRP:

$32.99