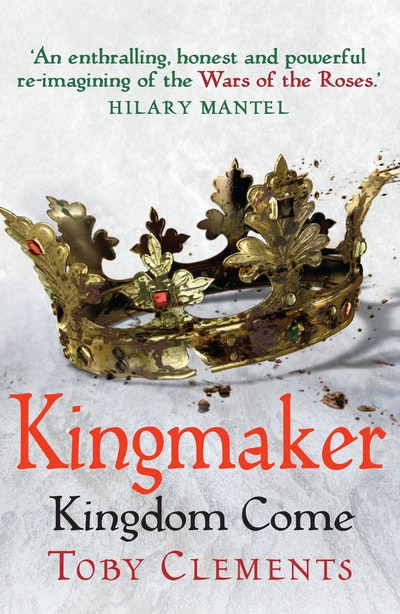 Published:

2 April 2018

ISBN:

9781784752620

Imprint:

Arrow

Format:

Paperback

Pages:

464

RRP:

$19.99
Kingmaker: Kingdom Come
(Book 4)
---
---
Toby Clements's fourth and final instalment in the Kingmaker historical series, set during England's bloody and brutal War of the Roses. If you liked Conn Iggulden's Stormbird, you will love Toby Clements' Kingmaker novels.
1470
The recent tensions between King Edward and his great ally the Earl of Warwick lie forgotten these past months, but even as winter tightens her grip on the land, the peace is shattered by a vicious attack on one of the King's allies.
Long buried secrets are brought to the surface, and Thomas and Katherine must finally decide where their loyalties lie and to choose between fight or flight, knowing either choice will incur a terrible price.
From Lincoln to Bruges, from Barnet to the great battle at Tewkesbury, both must play their part in one of the most savage wars in history.
The wars of the roses.
'Should be required reading for fans of historical fiction' The Times
'Toby Clements does it again with another powerhouse of a book: thrilling and literate, engaging, passionate, deeply moving and full of historical detail of the sort that fills me with awe for the fortitude of our ancestors and yet makes me so glad I live in the safety of the twenty-first century. This is going to be one of the stellar series of our generation, redefining that period of history that we think we know, and discover we really don't. Bravo!' Manda Scott
'A major achievement in historical fiction' Historia Magazine
'Clements is so convincing on the detail of his characters' lives that it is difficult to believe that he never walked in the brutal, messy world he conjures up on the page' The Times
'Toby Clements' Kingmaker series is historical fiction at its very finest - and Kingdom Come is the best of them all.' William Ryan
Published:

2 April 2018

ISBN:

9781784752620

Imprint:

Arrow

Format:

Paperback

Pages:

464

RRP:

$19.99
Praise for Kingmaker: Kingdom Come
Toby Clements does it again with another powerhouse of a book: thrilling and literate, engaging, passionate, deeply moving and full of historical detail of the sort that fills me with awe for the fortitude of our ancestors and yet makes me so glad I live in the safety of the twenty-first century. This is going to be one of the stellar series of our generation, redefining that period of history that we think we know, and discover we really don't. Bravo!

- Manda Scott
Should be required reading for fans of historical fiction

The Times
A major achievement in historical fiction

Historia Magazine
Clements is so convincing on the detail of his characters' lives that it is difficult to believe that he never walked in the brutal, messy world he conjures up on the page

The Times
Toby Clements' Kingmaker series is historical fiction at its very finest - and Kingdom Come is the best of them all.

William Ryan
Exhilarating… spine-chilling depiction of medieval warfare and surgery

Sunday Express
Toby's battle scenes remain some of the best in hist-fict…Clements should be awarded laurels for this historical fiction series

The Bookbag
A fine historical novelist

World of Cruising