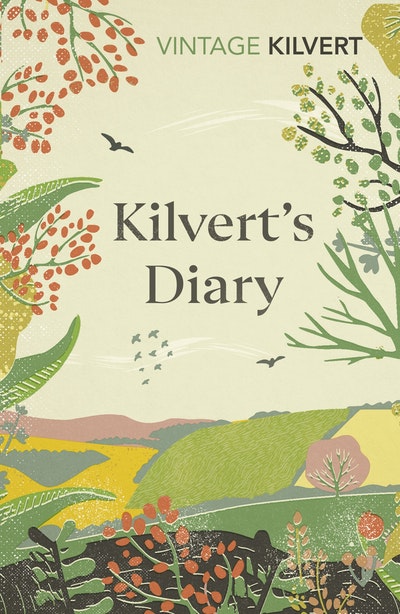 Published:

5 November 2019

ISBN:

9781784875718

Imprint:

Vintage Classics

Format:

Paperback

Pages:

528

RRP:

$7.99
Kilvert's Diary
---
---
The sweet-natured, gossipy diaries of a Victorian country clergyman with a full introduction and archive material detailing the history of the diary. This is the only proper edition of Kilvert's Diary.
Few have written more beautifully about the British countryside than Francis Kilvert. A country clergyman born in 1840, Kilvert spent much of his time visiting parishioners, walking the lanes and fields of Herefordshire and writing in his diary. Full of passionate delight in the natural world and the glory of the changing seasons, his diaries are as generous, spontaneous and vivacious as Kilvert himself. He is an irresistible companion.
This new edition of William Plomer's original selection contains new archival material as well as a fascinating introduction illuminating Kilvert's world and the history of the diaries.
'One of the best books in English' Sunday Times
'Kilvert has touched and delighted (and mildly shocked) readers of his diaries ever since they were first published. New readers are in for a treat' Alan Bennett
Published:

5 November 2019

ISBN:

9781784875718

Imprint:

Vintage Classics

Format:

Paperback

Pages:

528

RRP:

$7.99
Praise for Kilvert's Diary
Kilvert has touched and delighted and (mildly shocked) readers of his diaries ever since they were first published. New readers are in for a treat

Alan Bennett
One of the most enchanting portraits of English rural life ever written...Kilvert's lyrical nature writing is recognised for its Wordsworthian sensibility

Guardian
One of the best books in English

Sunday Times
Funny, lyrical, witty and wise, Robert Kilvert's diaries are a treasure-house of vital fieldwork and social observation. Parochial is the best sense, he joyed in the natural wonders of his parish, recording the trials and splendours of his day-to-day. As such, the diary is a marvel of observance; a hybrid hymn to a world now lost and a vibrant counterpoint to fellow poet-cleric, Gerard Manley Hopkins

Dan Richards
The best picture of quiet vicarage life in Victorian England that has yet been given to us

John Betjeman
Each page, each entry is luxurious and at the end of reading these nearly 500 pages, the book is already battered with folded corners marking passages that are so warming or funny or beautiful that I want to read them again. Instead of being shelved with the nature writers, Robert Kilvert now sits tightly on my poetry shelf near to John Clare and Edward Thomas where he belongs and where he is available to be dipped into over and over again. It is beautiful.

Marc Hamer
Diarist, churchman, nature lover, and neighbour, Francis Kilvert inhabited a time and a place unlike any other. From the pages of his carefully crafted diaries emerges a world of shepherds and parlour maids, aristocrats and hermits. A snapshot of rural Britain at the height of the Victorian period, acutely observed and lovingly told.

Oliver Balch
When we read Kilvert's Diary today, we can imagine ourselves restored to a vanished Arcadia, to a world of beauty and peace, where only the threshing machine and steam engine puncture the countryside's silence, to a society where the ties of community are still interdependent and strong… The diary is the best example I know of a literary panacea. Its spirit is imbued with the joy that Kilvert found in his surroundings, a feeling of wonder

Mark Bostridge, Daily Telegraph